TD-6 INTERNATIONAL CRAWLER NAMED
"CURSE OF REVERSE"
ON THIS PAGE OF THE KING OF OBSOLETE WEB SITE I WILL TELL YOU ABOUT THE TD-6 INTERNATIONAL CAT KNOWN AS "CURSE OF REVERSE". HE GOT HIS NAME FROM THE FACT THAT WHEN I BOUGHT HIM THE REVERSE GEAR WAS BROKEN.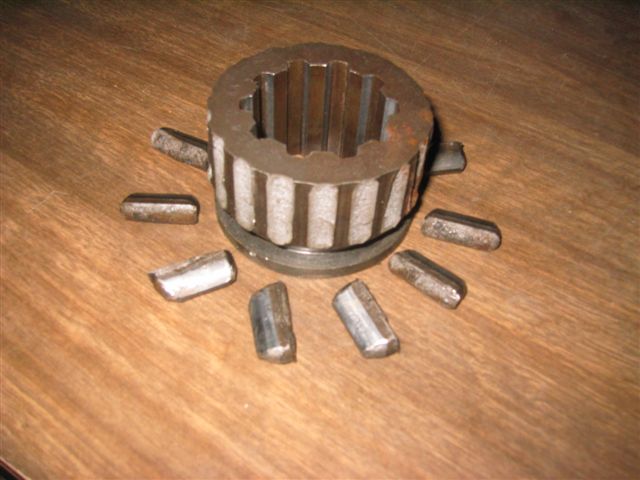 IN ALL MY YEARS OF WORKING ON OLD EQUIPMENT I HAVE NEVER SEEN A GEAR WHERE ALL THE TEETH FELL OFF LIKE IT WAS NO BIG WOW. SO WITHIN 10 MINUTES ON THE INTERNET WEBSITE RED POWER BB, I HAD A GEAR COMING FROM AUSTRALIA. YES, A FELLOW IN THE LAND OF OZ NAMED JIMINOZ WAS SENDING ME A GEAR IN TRADE FOR CHEESE WHIZ AND CLODHOPPERS CANDY. WHAT DEAL AND I STILL CAN'T BELIEVE IT TO THIS DAY.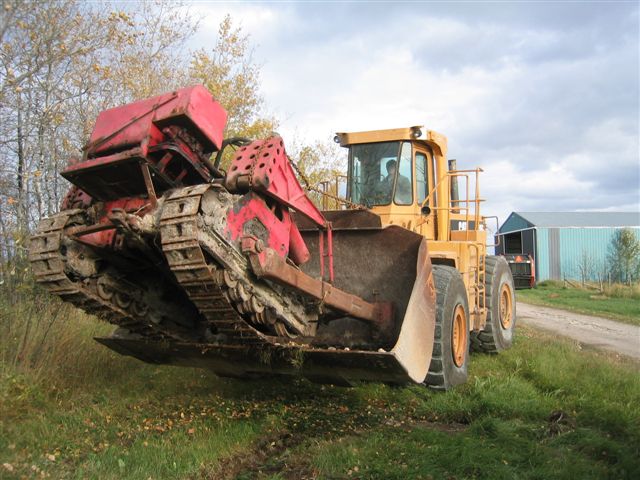 THIS IS HOW WE LOADED THE TD-6 KNOWN AS "CURSE OF REVERSE" IN TO MY SEMI FOR THE 1000 KM TRIP TO THE "KINGDOM". IT IS GOOD TO KNOW A FELLOW WHO IS HAS BIG EQUIPMENT. HIS 16 YEAR OLD SON CRIS IS ONE EXCELLENT OPERATOR AND HAS BRIGHT FUTURE AHEAD.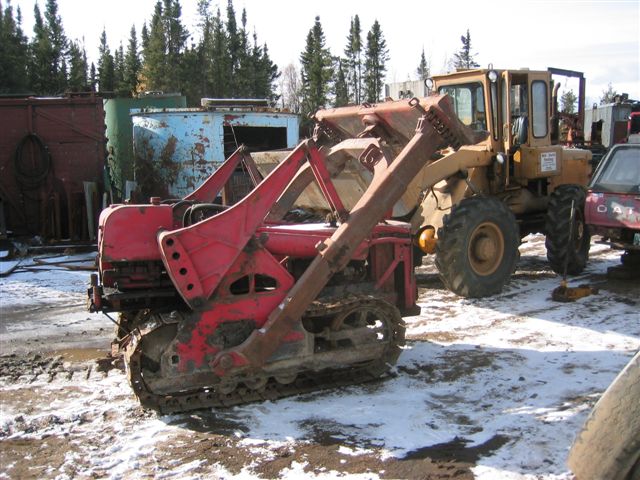 WHEN I BOUGHT "CURSE OF REVERSE" HE HAD AN OVER SHOT LOADER ON HIM, WHICH MEANS THAT THE BLADE WILL GO RIGHT OVER THE OPERATOR'S HEAD. THIS IS NOT THE GREATEST THING ANY MORE, MAYBE 50 YEARS AGO IT WAS STATE OF ART EQUIPMENT, BUT IN 2004 IT IS SCRAP METAL. I TORCHED OFF ALL THE BIG UGLY CYLINDERS AND KEEP THE C-FRAME WITH THE BLADE.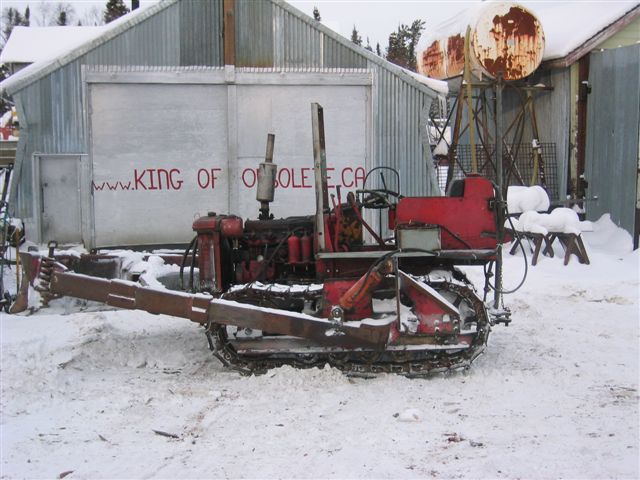 THIS IS "CURSE OF REVERSE" OUT SIDE THE SHOP IN THE "KINGDOM". HE IS ALSO A COMPLETED WINTER FREIGHTING CAT WITH HIS TAIL, WINDSHIELD, LIGHT HYDRAULIC CYLINDERS. MORE TO COME, THANSK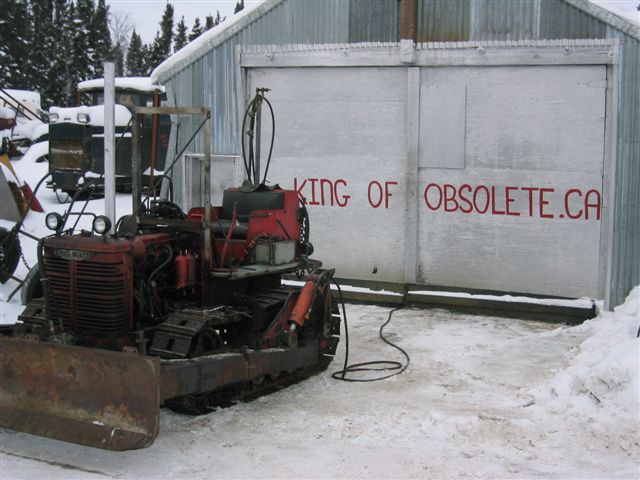 JAN 18 2005, TOOK THE TD-6 KNOWN AS "CURSE OF REVERSE" OR "WHAT THE HELL" OUT FOR A SPIN IN THE SNOW TO TRY AND GET IT TO RUN BETTER. WELL AFTER TESTING IT OUT, I REMOVED THE INJECTION PUMP AND SENT IT SOUTH FOR REPAIRS. THE "CURSE OF REVERSE" IS CONTINUING AND IT HAS COME TO LIGHT HOW THIS POOR CAT WAS CURSED.
I FOUND THIS POSTING AT RED POWER BB, WHERE JIMINOZ CONFESSES TO THE CURSE.
I rarely sell spare gears....last one I sold was to a big, hairy Canadian guy with a TD6 called "Hellcat" (??).Before I sent it to him, I did a VOODOO dance around it & cursed the H--L out of it!! Not sure if curse worked??
NOW I KNOW WHY THIS TD-6 HAS BECOME THE MOST EXPENSIVE CAT IN THE "KINGDOM". THANSK
UPDATE, APRIL 2005
THE "CURSE OF REVERSE" DID VERY WELL ON HIS FIRST WINTER FREIGHTING JOB. TO SEE MORE ON HIS ADVENTURES CLICK ON THE TATE ISLAND TOUR.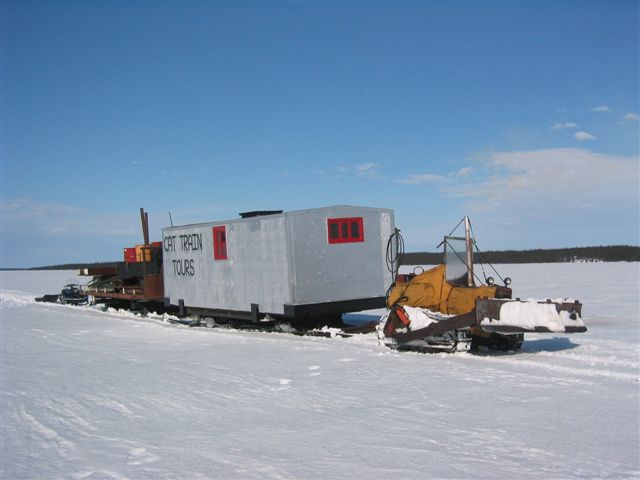 TO READ MORE ON THE "CURSE OF REVERSE" CLICK ON ISSUE #34 AND ISSUE #35 OF THE CAT TRAIN NEWSLETTER. THANSK
JANUARY 30 2016
UPDATED THE REPAIRS AND FUN OF THE MOST EXPENSIVE CAT IN THE "KINGDOM"
CURSE of REVERSE UPDATES -- JAN 30 2016