"TOON BARGE" COMPLETION 2007
JUNE 2007
WE HAD A WORK BEE FOR 3 WEEKS AND GOT THE "TOON BARGE" COMPLETE WITH THE HELP OF BOB THE WELDER AND RICHARD THE WELDER. BOB THE WELDER WAS INSIDE THE "TOON BARGE" FOR 4 DAYS WELDING.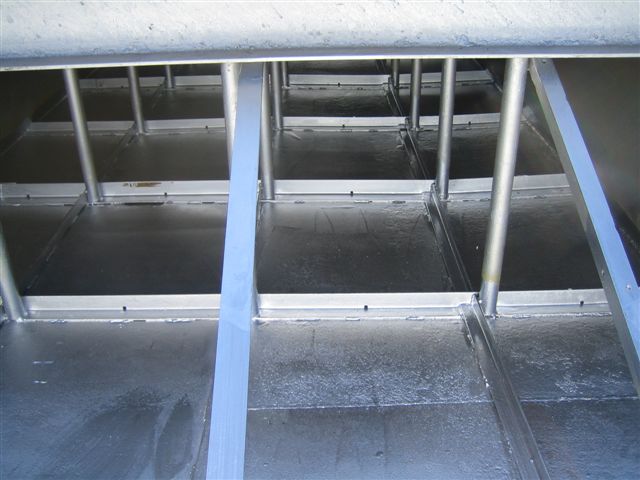 BOB THE WELDER TAKING A BREAK FROM GETTING THE LAST TOP SHEET IN PLACE.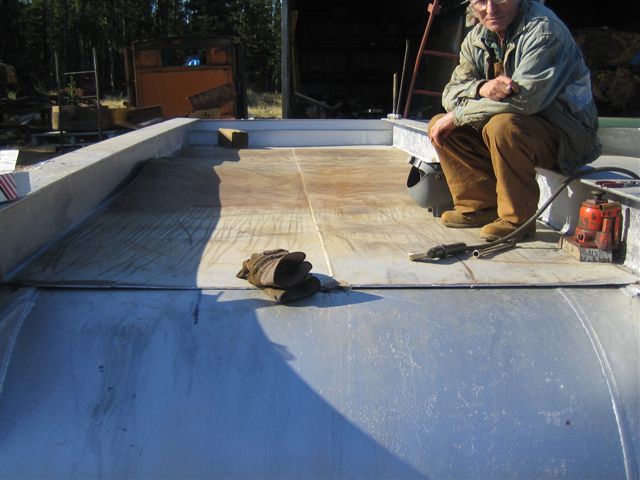 TO GET IN THE "BARGE" PART OF THE "TOON BARGE", A RECYCLED MANHOLE FROM A BULK FUEL TANK WORKED VERY WELL.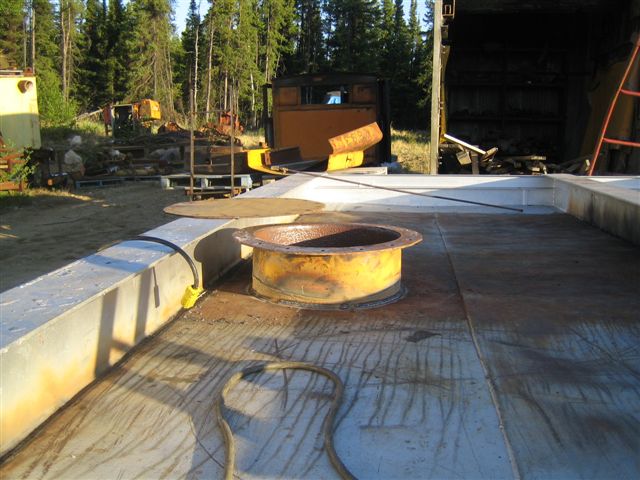 HERE IS THE START OF THE WEDGE WHICH IS THE 6TH AIR TIGHT COMPARTMENT ON THE "TOON BARGE". THAT IS RICHARD THE WELDER IN THE BACKGROUND WHILE THE KoO IS DOING THE SET UP WELDS.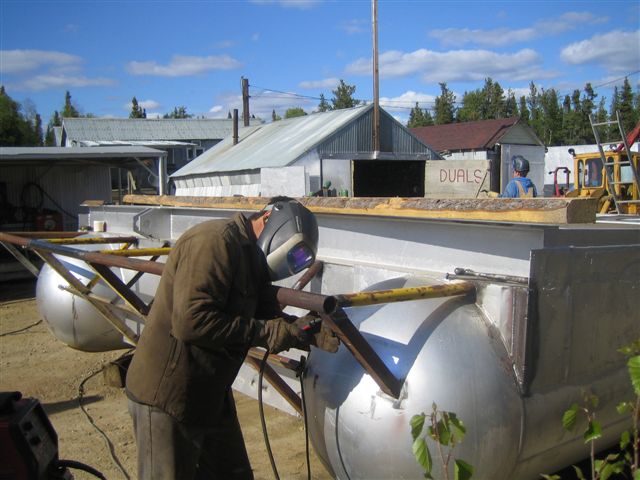 THE FRONT OF THE BOAT REMINDS ME OF A BREAST FEEDING BRA FOR SOME REASON.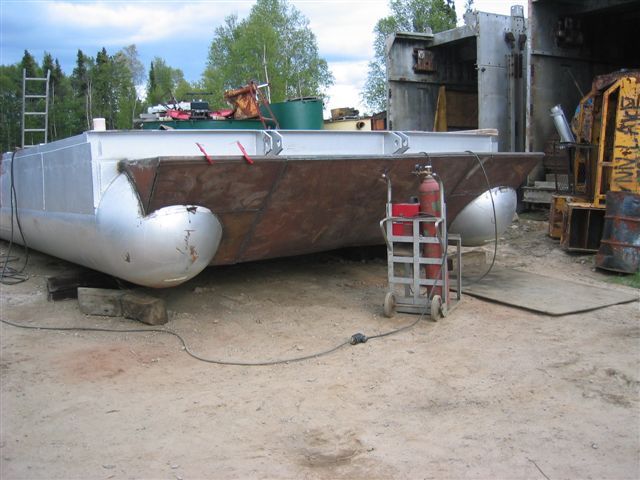 BUDDY BARRY HAD TO COME OVER AND HELP LOAD THE "TOON BARGE" ON THE SEMI FOR THE 10 HOUR TRIP TO WHERE IT WILL SPEND 2 YEARS HAULING BEFORE RETURNING TO THE "KINGDOM".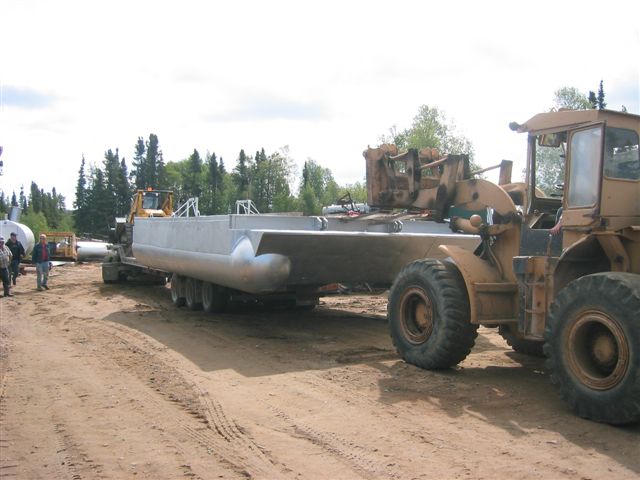 THIS IS THE ONLY PICTURE WE HAVE OF THE MOTOR MOUNTS THAT ARE ADJUSTABLE FOR THE DIFFERENT HEIGHTS THE "TOON BARGE' WILL FLOAT AT. PLUS THE "KING" WITH SMOOTH FACE AND BEER BELLY, LOL.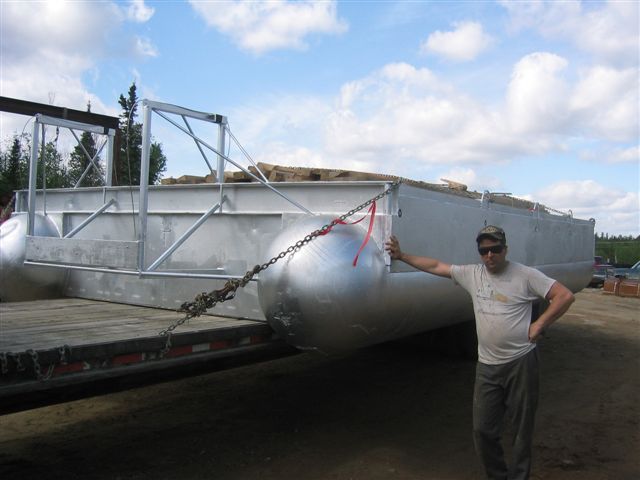 THE "TOON BARGE" GOING BYE BYE.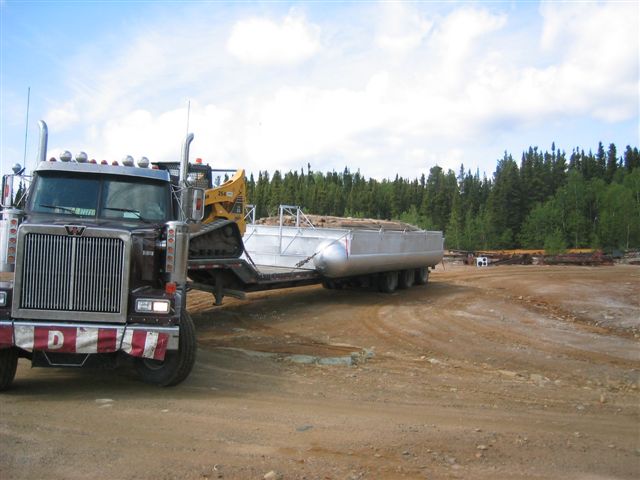 THE PICTURES OF THE MAIDEN TRIP ACROSS THE 10 MILE LAKE WERE LOST WHEN THE CAMERA FELL IN THE LAKE. BUT A FRIEND OF A FRIEND OF A FRIEND SNAP A PICTURE OF THE "TOON BARGE" TIED UP A THE DOCK. SURE DOES RIDE HIGH IN THE WATER FOR A BUNCH OF SCRAP STEEL WELDED TOGETHER, LOL.
MORE TO COME AS THE PICTURES COME IN.
ALSO A BIG THANK YOU TO THE GUYS ON THE BBs THAT HELPED BUILD THE "TOON BARGE" WITH THEIR COMPUTERS. THESE GUYS ARE AROUND THE WORLD AND THEY GAVE IDEAS AND POINTERS TO THE "KING"
THANSK
JOEY AND XENA
http://www.shopfloortalk.com/forums/index.php?
http://www.machinebuilders.net/forum/default.asp
BACK TO PAGE ONE 2006 CONSTRUCTION