TD-9 INTERNATIONAL CAT
"BAD BUSINESS"
THIS IS A TYPICAL TD-9 CAT FROM ASHERN MANITOBA WHICH HAD A BLOWN FINAL. A FELLOW PHONED ME AND SAID HIS SON HAD PICKED THIS CAT UP FOR SCRAP. THEY THOUGHT IT WOULD LOOK BETTER IN THE "KINGDOM" THEN IN THE MELTING POT AT THE RECYCLING PLANT. SO A DEAL WAS STRUCK AND THE TD-9 KNOWN AS "BAD BUSINESS" WAS HEADING TO THE "KINGDOM" IN THE GREAT WHITE NORTH.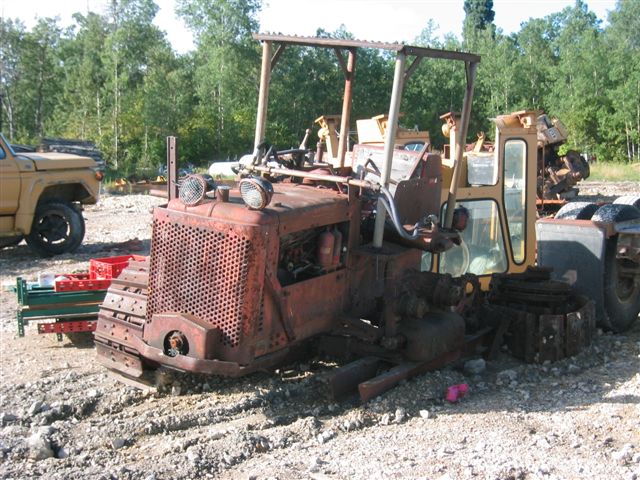 THE DAY THE "KING" SEEN THE SAD LOOKING TD-9 KNOWN AS "BAD BUSINESS". I TORCHED ALL THE SCRAP METAL OFF THE MACHINE BEFORE I LOADED ON THE SEMI TO HEAD NORTH TO THE "KINGDOM"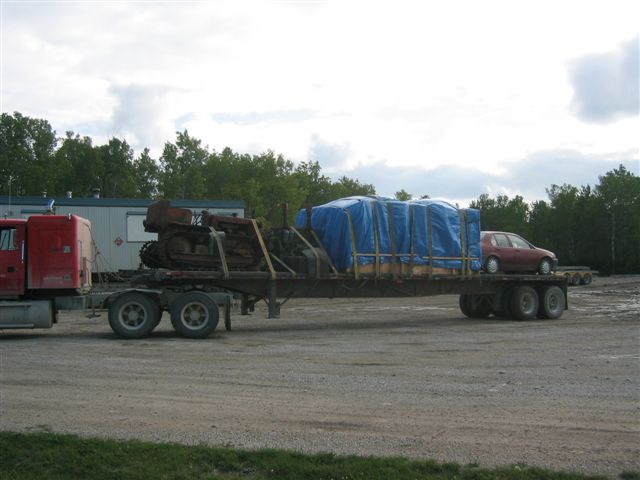 LOADED AND READY TO HEAD NORTH TO THE "KINGDOM". WHAT AN EXCELLENT LOAD, "BAD BUSINESS", TD-18 MOTOR, SOUTHERN BELLE'S FURNITURE AND HER CAR WHICH WE CALL THE "SH*TBOX". THE ROAD TO LYNN LAKE, MB WAS SO BAD IN SEPT, THAT WE LOADED HER CAR ON THE SEMI THEN HAVE IT BREAK DOWN ON THE ROAD OR GET STUCK IN A MUD HOLE.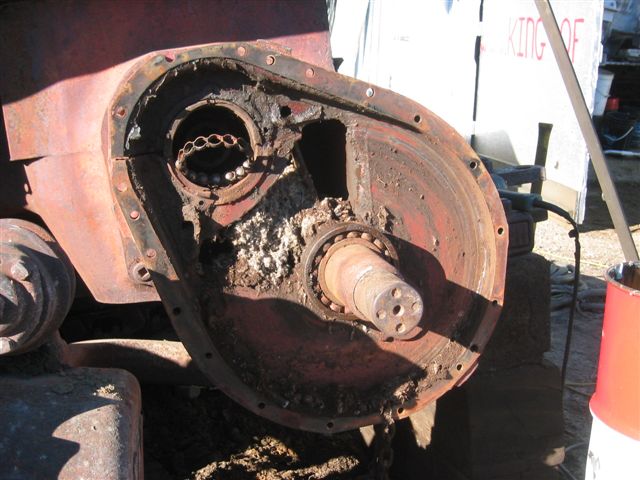 THIS IS THE COMMON PROBLEM WITH THE TD-9 INTERNATIONALS, LACK OF OIL CAUSING THE FINAL DRIVE TO BLOW UP. NO PROBLEM, HAD A PARTS CAT FROM FLIN FLON WHICH I USED FOR PARTS.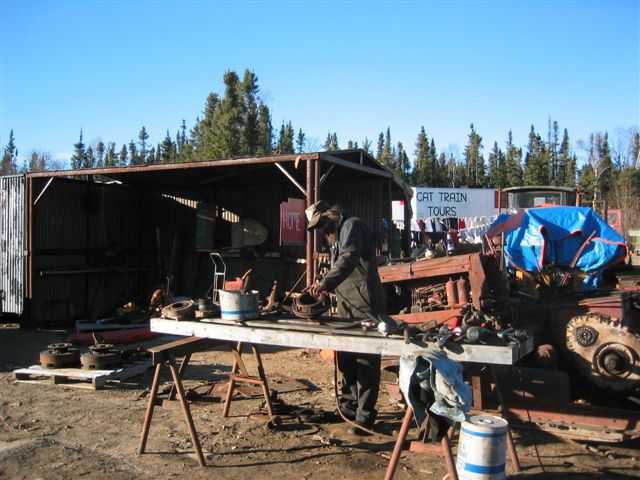 ENJOYING THE FALL SUNSHINE CLEANING THE PARTS, PLEASE NOTE SOUTHERN BELLE'S UNDIES ON THE CLOTHES LINE.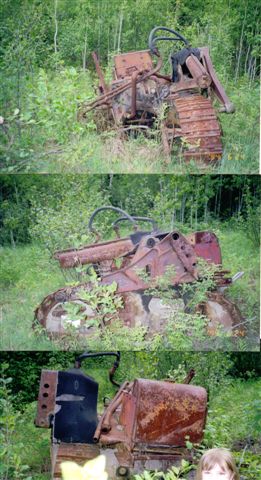 THIS IS A PARTS CATS THAT CAME FROM FLIN FLON MANITOBA. IT WAS A GOOD DONOR CAT WITH ALL THE PARTS I NEEDED TO FIX "BAD BUSINESS" AND A BIG THANK YOU TO KURT Z. FOR SCORING THE DEAL FOR ME. (OH! THAT IS NOT HIM IN THE PICTURE BUT HIS DAUGHTER, LOL)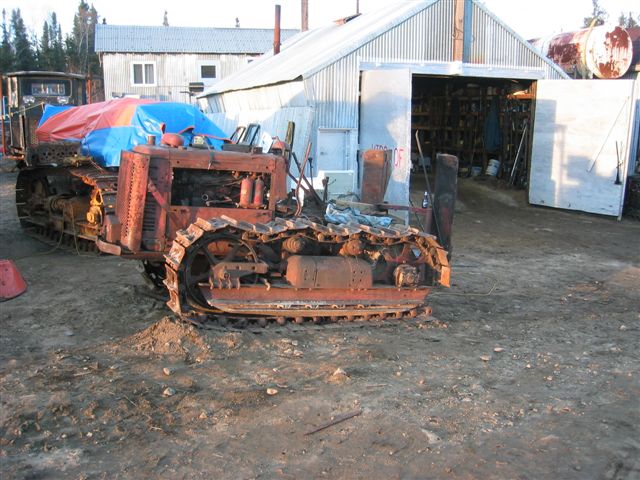 "BAD BUSINESS" READY TO GO IN THE SHOP THIS WINTER FOR THE "DUAL" SEAT COMBINATION THAT WE WILL BE HAVING ON THE "CAT TRAIN TOURS".
UPDATE NOVEMBER 2005 THE CAT KNOWN AS "BAD BUSINESS" IS NOW RUNNING AND HAD HIS FIRST TEST DRIVE. SINCE I HAD THE D6 9U KNOWN AS "ROLLER-LESS" IN THE SHOP, IT WAS A LITTLE TRICKY GETTING "BAD BUSINESS" IN THE LITTLE SHOP I HAVE.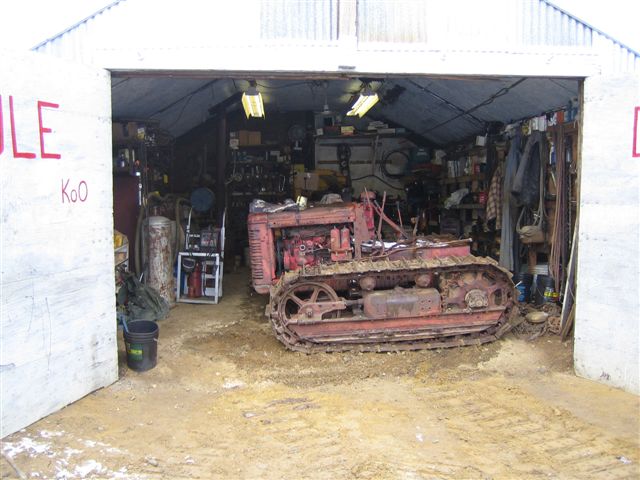 RAIN HAD GOTTEN DOWN THE UNCOVERED EXHAUST PIPE AND ONE CYLINDER HAD TO BE CLEANED UP.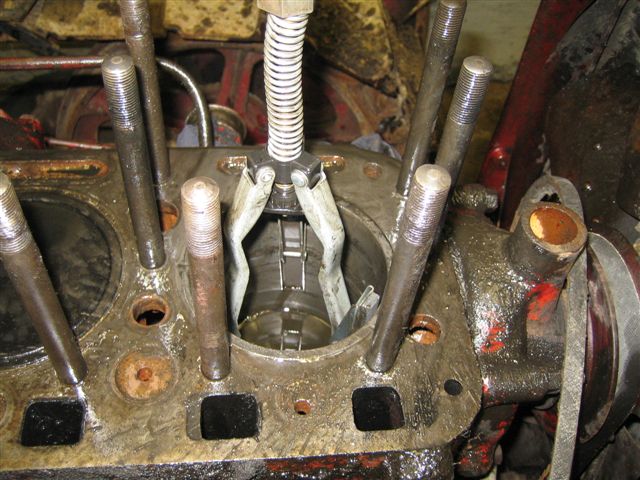 THE "KING" REASSEMBLING THE ENGINE IN THE LITTLE SHOP WITH THE NEW LOGO PAINTED ON THE DOORS.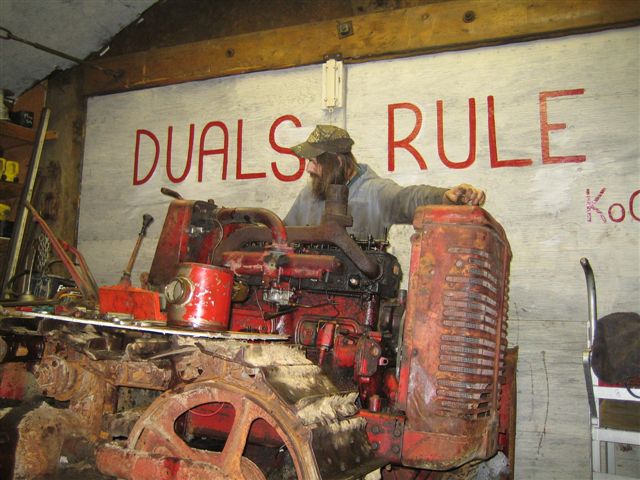 THE FIRST TEST DRIVE IN THE "KINGDOM" AS SOUTHERN BELLE TAKES PICTURES OF HER CAT.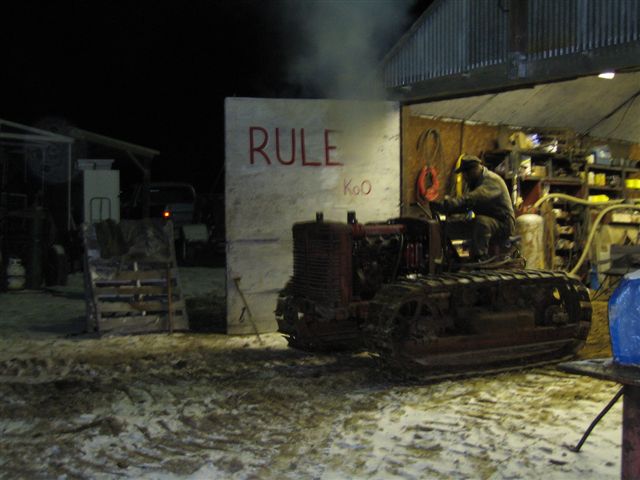 DECEMBER 2005
CHANGED THE STEERING CLUTCH SEALS IN MY LITTLE SHOP. IT WAS A LITTLE TIGHT FOR SPACE WITH THE D6 9U KNOWN AS "THE HOOD" IN THERE TOO.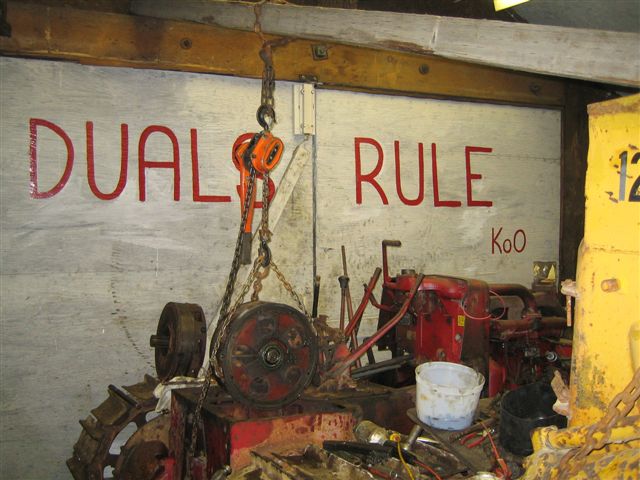 THANSK