Dominatrix School
7th Book
3rd Book Naughty Natalie Series
Jan 27 2021 -- Dominatrix School: Failing Military Marriage (Naughty Natalie Series Book 3) - Kindle edition by Barnes, Joey. Health, Fitness & Dieting Kindle eBooks @ Amazon.com. (as of july 2021, the Ebook is on for $4.99 usa money)
Jan 27 2021 -- Naughty Natalie Series (3 book series) Paperback Edition (amazon.com)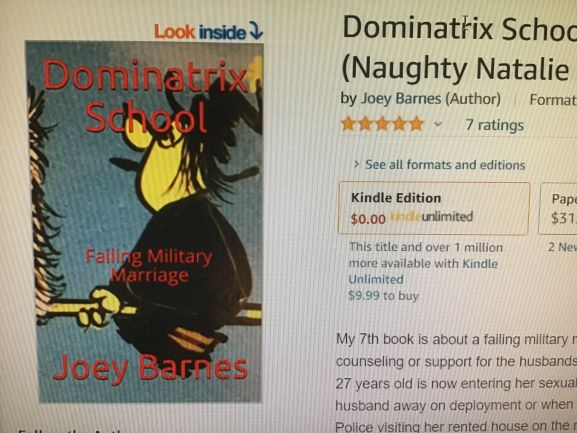 as of July 2021, i have never personally seen any of my books on amazon due to the covid 19 lock down rules and not being able to mail author's copies to northern canada.
My 7th book is about a failing military marriage in the mid 1980s when the military did not have much counseling or support for the husbands and wives serving our country. The wife named Liz at the age of 27 years old is now entering her sexual peak which creates confusion and frustration for her with her husband away on deployment or when he returns. It was also difficult times for her with the Military Police visiting her rented house on the military base looking for drugs which there was never any drugs. To escape the boring life of waiting for her husband to return. Liz joined Naughty Natalie and I which I am the 18 year old male looking like a 14 year old "Virgin". We traveled Canada in private jet performing high class Dominatrix shows. With Liz being a married woman never showed anything because it is the art of the tease that the audience gets to enjoy. For the show I am wearing a fake beard and mustache to look like a 28 year old English Gentleman. When the show ends I have now been stripped from my Tux and Top Hat down to my silk underwear and socks on stage. Naughty Natalie and Liz dressed as Dominatrix Ladies remained fully clothed as to the high standards the shows were performed.
The book is written through my colour blind eyes as an 18 years old male with my long time girlfriend Naughty Natalie. Naughty Natalie and Liz had the prefect bodies to be featured on the pages of Playboy Magazine. The owner of the sex shop that employed us to perform was a great business woman because she explained to us how she ran her business to be a success. As young adults we learned a lot from the owner on how to treat people and how money is made. I also explain in details the aviation world, military life, communications with no cell phones or hand held devices plus the new VHS movies, computers and microwave popcorn. This book written about the mid 1980s has to include the Disco Queens which my sister was one of them with the hair sprayed hair which was up and out. Plus the book has lots of details about being Canadian and freezing almost to death in the cold Canadian Manitoba winters. This is the weather we grew up in and figure it was normal but Liz was from the east coast of Canada thought we were nuts.
it took 34 days of non stop writing to get the 7th book completed and it is left open to continue for another book of great fun we had in the mid 1980s. to refresh my memory i found this picture on the internet which is about 99% close to being Liz when her hair was dyed black to be a Dominatrix. also the padlock is prefect because she was married and the facial expression too.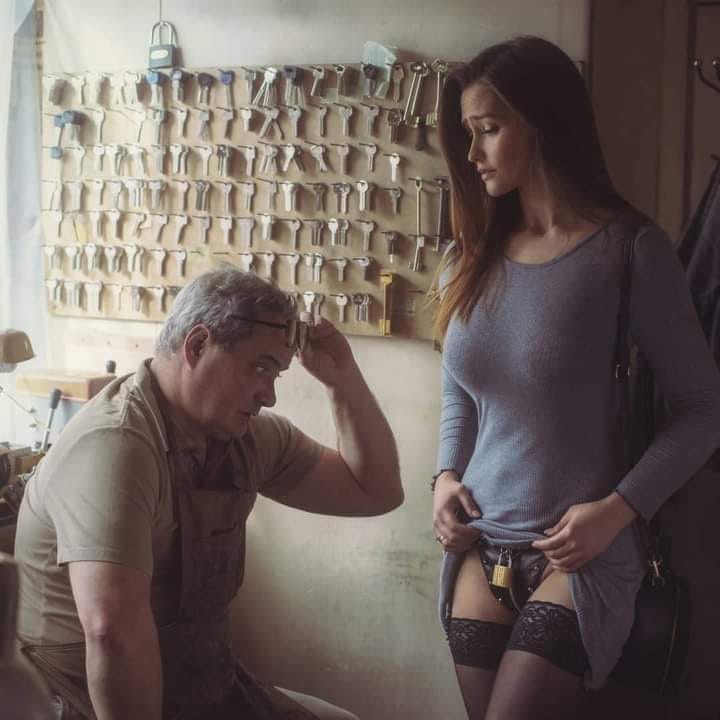 proofreading the 7th book the song of choice to listen to over and over is Steelheart "Everyone Loves Eileen". excellent song and words plus the fellow can sing. my grandma (dad's mother) was named Eileen and a school teacher who carried a red pen in her hand bag. she would pull out the red pen and correct the spelling on menus to obituaries. grandma should have corrected her own obituary 10 years ago because being the 4th grand child i was to added at the bottom of the obituary where they thank everyone involved from the cater to the funeral home. the hatred my family has for me unreal and i hope these books become Hollywood Films then my family will be portrayed as who they really are. also grandma was married her whole life to a man 10 years older then she was. grandpa was like dad and everyone loved him too. now the song by Billy Idol comes to mind "rock the cradle of love".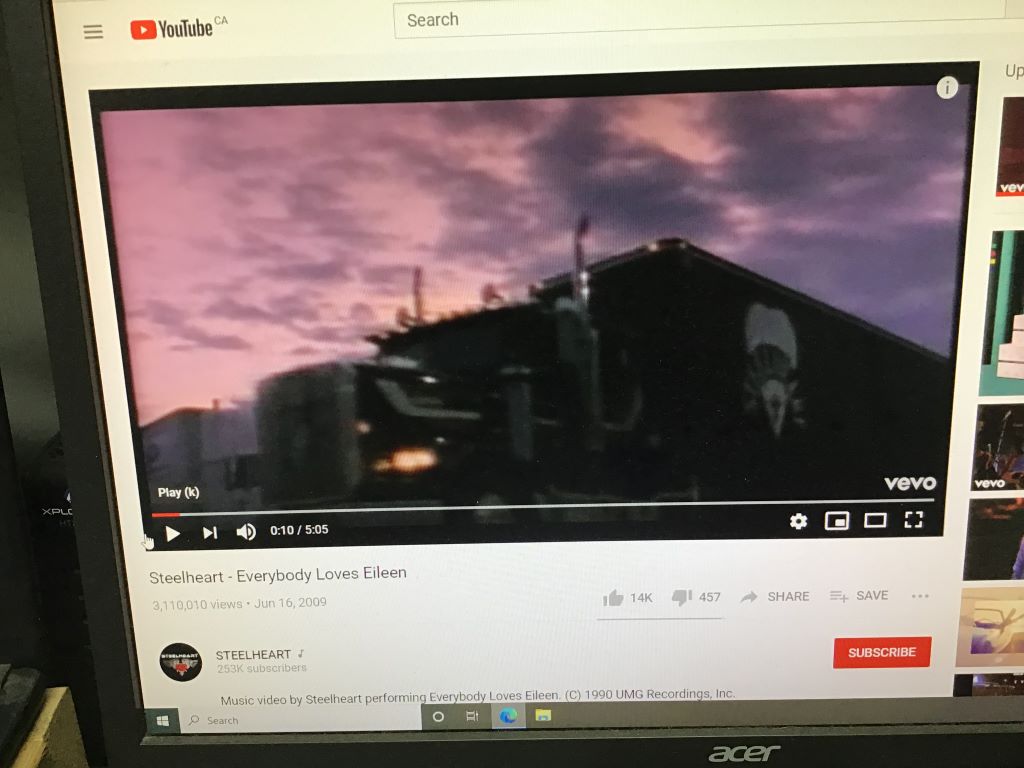 we are still locked down at the end of the world so i whipped a little video to show and explain items in my 7th book Dominatrix School. the 7th book is written for the ladies in Europe to enjoy what happened in Canada 35 years ago when i was 18 years old but looked like a 14 years old "Virgin"
the 4th and final book in the Naughty Natalie Series is soon to be written
Other Books Written By King of Obsolete
April 04 2021 -- Joey Barnes KoO Book Author Page