8V-71 DETROIT DIESEL ENGINE
MAY 2006
ON THIS PAGE OF THE KING OF OBSOLETE'S WEBSITE I WOULD LIKE TO SHARE MY SCREAMING 318 ENGINE IN THE 1974 FORD 9000 SEMI TRUCK. YES THIS ENGINE IS A DYING BREED WITH THE HIGH COST OF FUEL AND OIL. YOU CAN'T FORGET OIL WHEN YOU DRIVE THIS ENGINE BECAUSE IT LOVES OIL BY DRIPPING, BURNING OR AS THE OLD TIMERS SAY SLOBBERING A GALLON A DAY. THE ENGINE IS NOT HAPPY UNLESS IT IS COVERED IN OIL. WHEN YOU PARK THIS TRUCK, THERE IS ALWAYS OIL PUDDLES UNDERNEATH AND THAT IS NORMAL. YOU DON'T KNOW HOW MANY PEOPLE HAVE STOPPED ME TO SAY MY TRUCK IS LEAKING OIL. WHEN YOU TELL THEM IT IS NORMAL THEY LOOK AT YOU FUNNY. BUT 32 YEARS AGO IT WAS NORMAL TO LEAK OIL BECAUSE OIL WAS CHEAP. NOW DAYS IT IS A CRIME AND TOO EXPENSE TO HAVE A MODERN ENGINE DO THAT. PLUS THE FUEL THIS ENGINE USES IS UNREAL COMPARED TO A MODERN COMPUTERIZED ENGINE. BUT THIS ENGINE WILL RUN ON BAD FUEL WERE AS A NEW STYLE ENGINE WILL DIE AND COST LOTS TO FIX WITH A LITTLE BAD FUEL. SO HERE ARE SOME PICTURES OF MY "SCREAMING FORD" WITH THE 318 DETROIT ENGINE THAT YOU HEAR IT COMING BEFORE YOU SEE IT. LOL
I bought the truck from Mckeen Trucking in Flin Flon Manitoba back in the early 1990s and it was well used. After using the truck for many years as a yard truck, it was time to get it safetied. That was easier said then done because of the age of the truck and how much was need to be fixed. In 1996 the truck was safetied and used to haul scrap around Lynn Lake, MB. with a custom end dump trailer. Here is a picture from October 1998 showing all my new style equipment.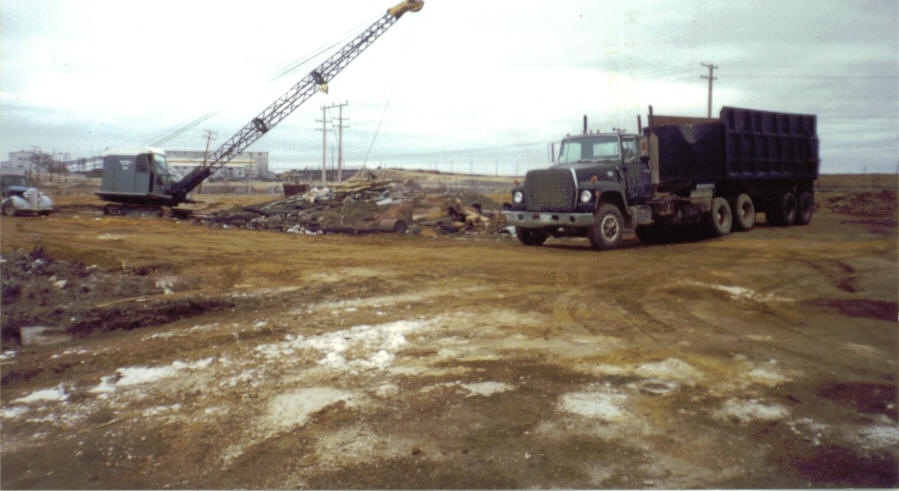 This next picture shows the Screaming Ford with the weight box on and heading south with collectables in 2003. (note no decking behind the cab)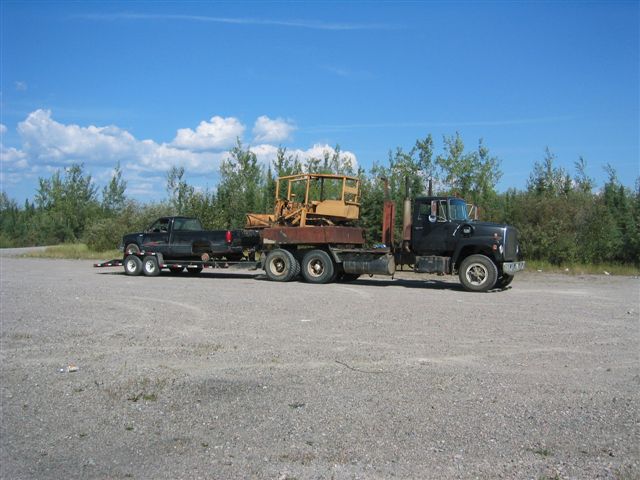 April 2004 we went on a little trip to deliver some bombardiers and bring home some collectables. Of course it snowed, LOL.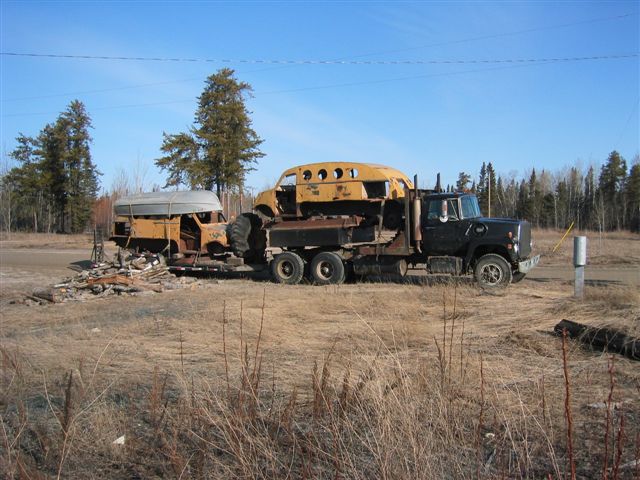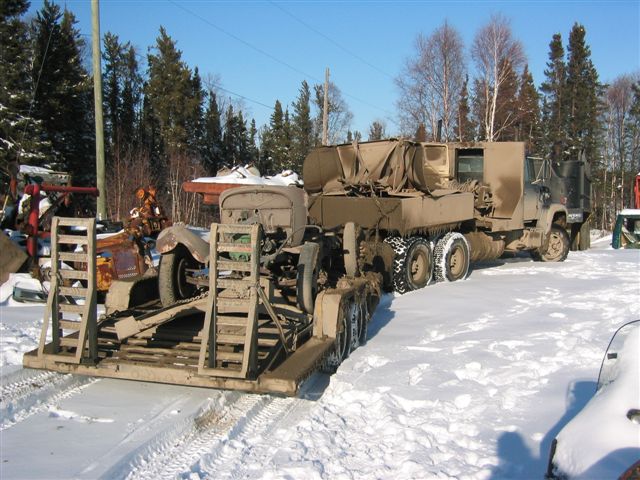 March 2005, we did a little shopping trip in the Screaming Ford which is known as the FORD DOUBLE DUALLY when the weight box is on.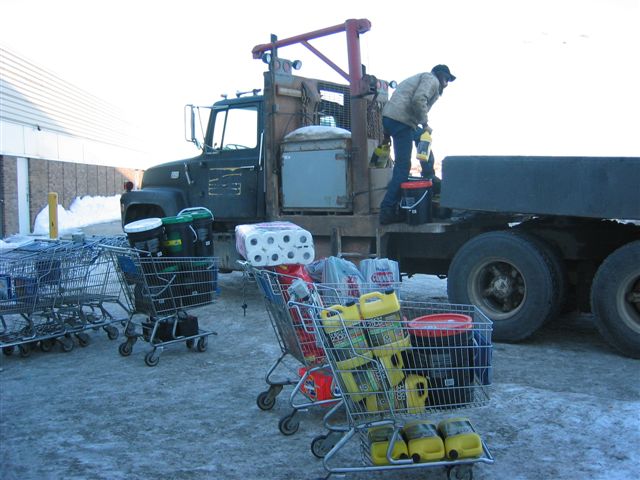 The Screaming Ford all painted up to go fishing on Reindeer Lake in August 2006.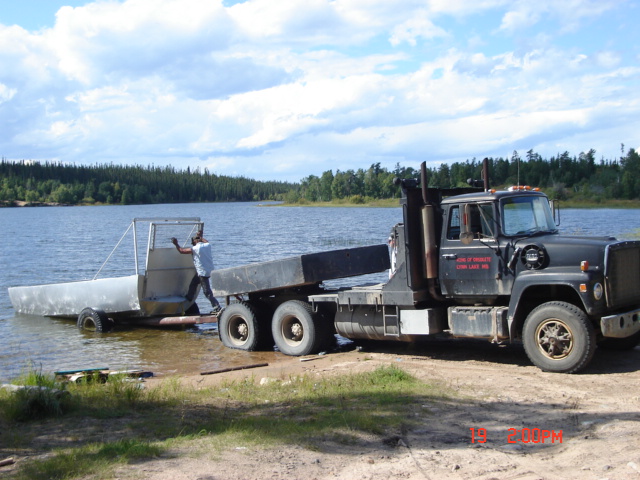 The toughest hardest trip the SCREAMING FORD was the ITUNA TOUR in September of 2006 which was a 4 day non stop tour. Even got to bond with the scale boys for 2.5 hours and they were impressed with the old ford.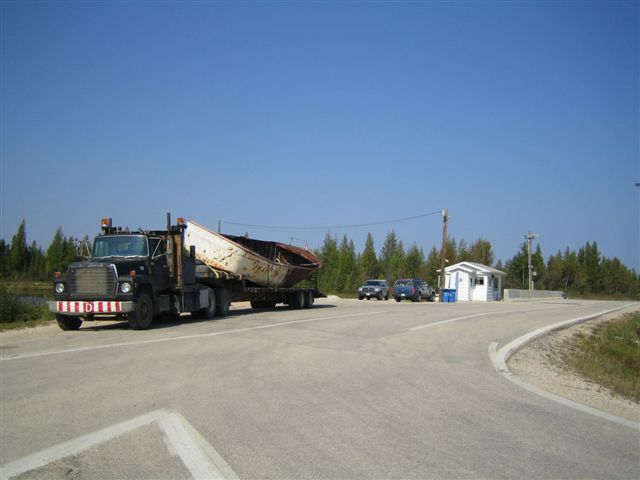 November 2006 we did a little plowing for a fellow who owns a fox farm, so the SCREAMING FORD was the DOUBLE DUALLY on this trip.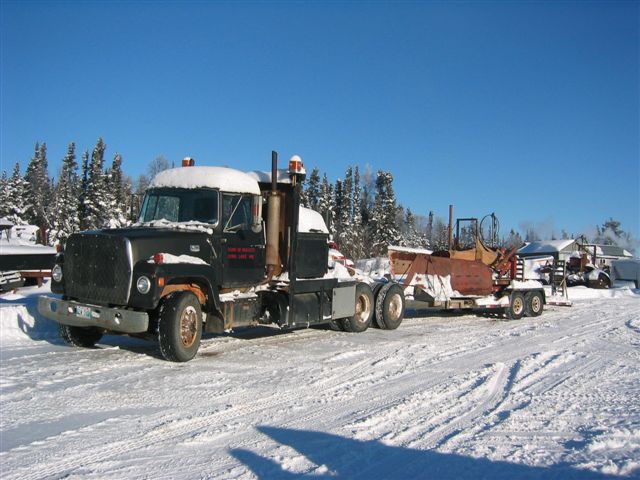 TO SEE MORE ON THE TRIPS WE HAVE DONE CLICK ON