RAMP BOAT TO REINDEER LAKE TOUR
AUGUST 2006
WELL THIS TOUR STARTED OFF BECAUSE I LOANED MY RAMP BOAT TO A FELLOW AND THE BALL HITCH POPPED OFF. YES POPPED OFF AND THE RAMP BOAT ON THE TRAILER GOT DRAGGED ALONG BY THE SAFETY CHAINS. "WOW" IS ALL I HAVE TO SAY WHEN I SEEN HOW FAR IT DUG DOWN. THIS TIME WE BROUGHT THE SCREAMING FORD WHICH WE CALL THE "DOUBLE DUALLY" WHEN WE HAVE THE WEIGHT BOX ON FOR TRACTION AND A NICE RIDE. PLUS USED THE PINTLE HITCH SO THE TRAILER WON'T COME UNHITCHED AGAIN ON THESE ROUGH ROADS.
LOOKING OUT AT THE MIRROR OF "DOUBLE DUALLY" AS WE CROSS A NARROW BRIDGE, ONLY IN THE GREAT WHITE NORTH.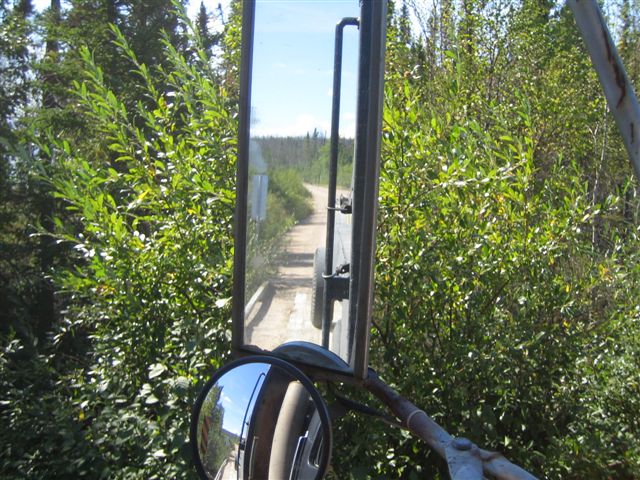 STOPPED FOR A PEE BREAK. THIS TRUCK AND BOAT IS ONE OF A KIND SO IT HAS TO BE THE KING OF OBSOLETE.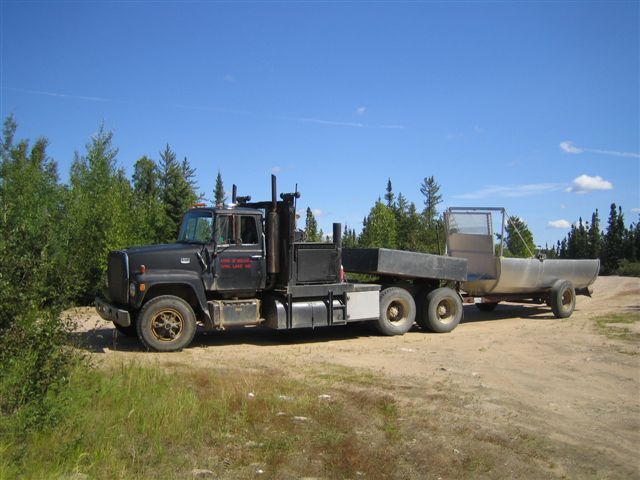 FOR SOME REASON MY "DOUBLE DUALLY" IS A LITTLE OUT OF PLACE COMPARED TO THE OTHER FISHING VEHICLES PARKED IN THE PARKING AREA.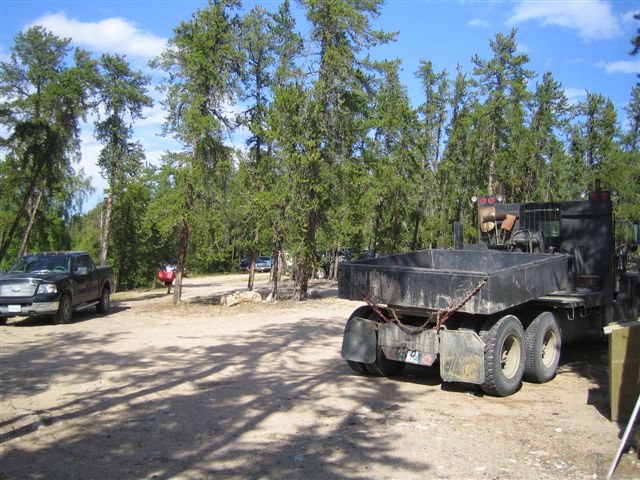 EVEN THE RAMP BOAT LOOKS DIFFERENT TOO, LOL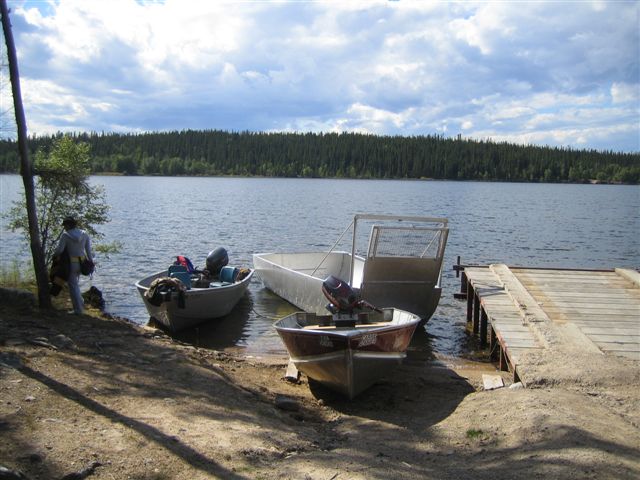 SINCE THE RAMP BOAT WAS NOW AT THE LAKE, THE FELLOW TOOK US FISHING AND EXPLORING AS A THANK YOU FOR GETTING THE RAMP BOAT TO REINDEER LAKE.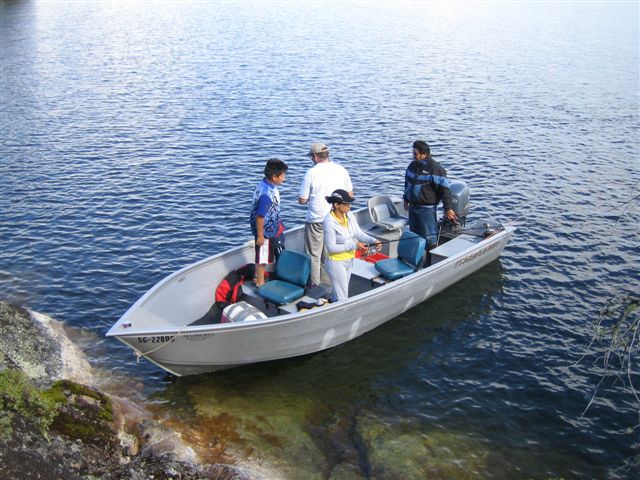 WHILE MY BUDDY MARK AND FAMILY FISHED, I DID THE EXPLORING AND FOUND THIS PLAQUE THAT DEDICATES THIS ISLAND TO A FELLOW WHO DID RETURN FROM THE WAR. IT IS A VERY NICE GESTURE ON THE PART OF THE CANADIAN GOVERNMENT.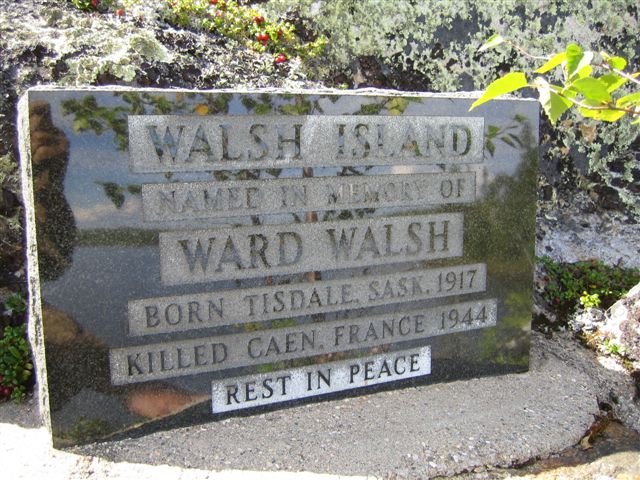 AFTER FISHING THERE FOR A BIT, WE HEAD NORTH AND EVEN MEET TRAFFIC ON SUCH A BIG LAKE.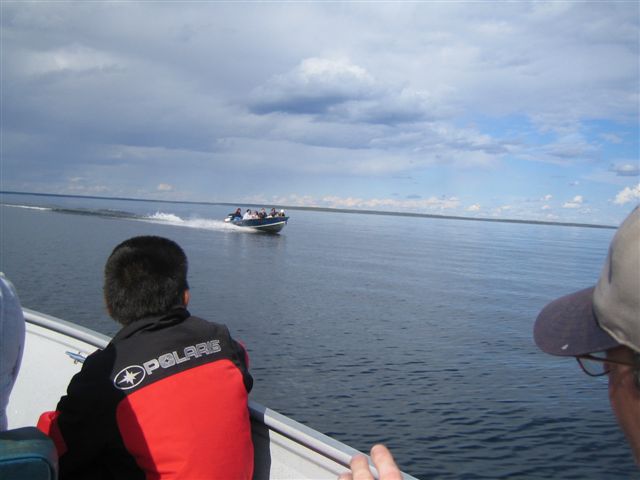 WHAT A BEAUTIFUL SIGHT SEEING SUCH A SMOOTH LAKE.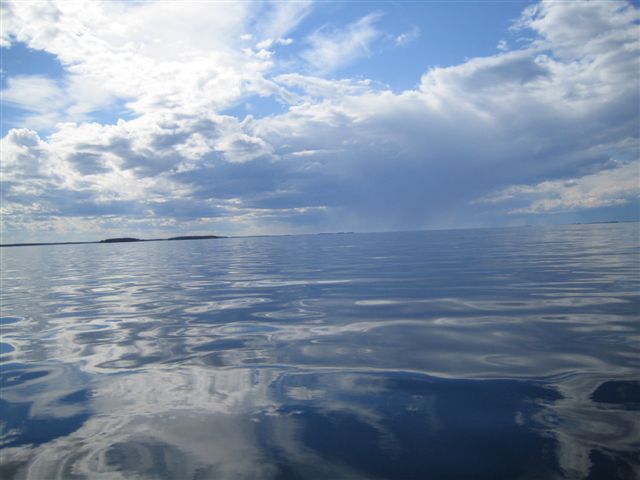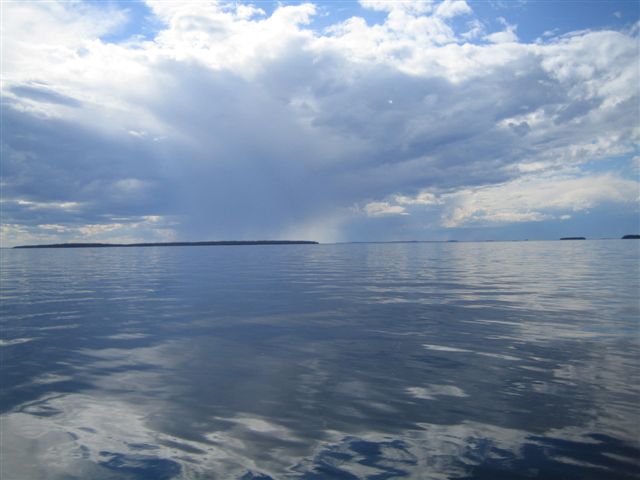 I HAD HEARD ABOUT THIS MODEL T TRUCK THAT WAS MADE IN TO A BOMBARDIER AND SURE ENOUGH HERE IT IS.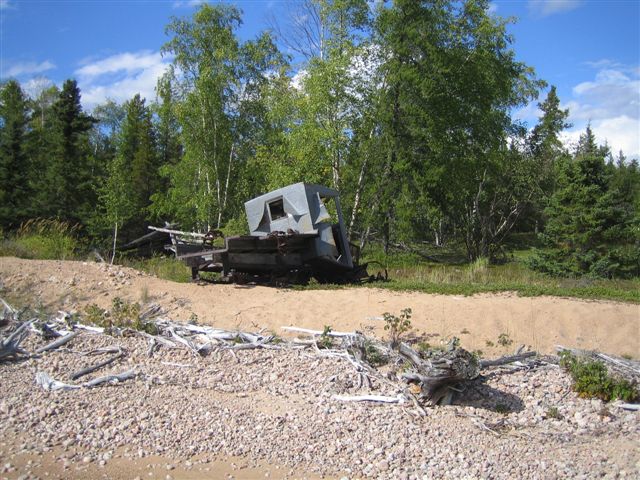 RIGHT ON THE SHORE LINE WHERE THEY DROVE IT ABOUT 60 YEARS AGO.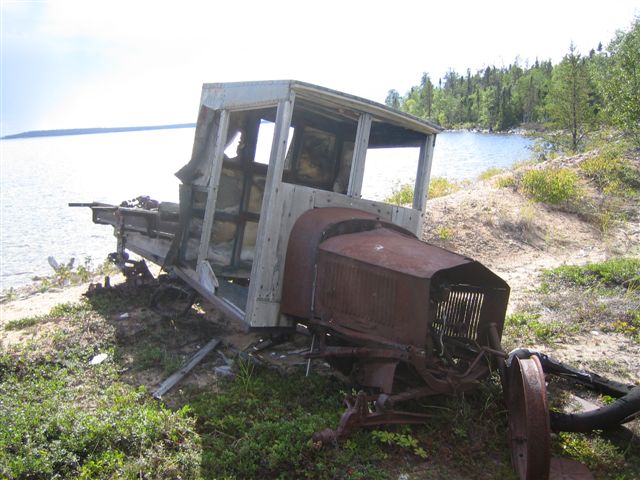 ONE THING WE ALL TALKED ABOUT WAS THE WORKMANSHIP IN THE CAB AND TIN WORK. THEY DON'T MAKE THEM LIKE THIS ANYMORE. (to see more pictures on this truck click on)
THE LOG BUILDING WERE EVEN MADE WITH AN AXE NOT A CHAINSAW.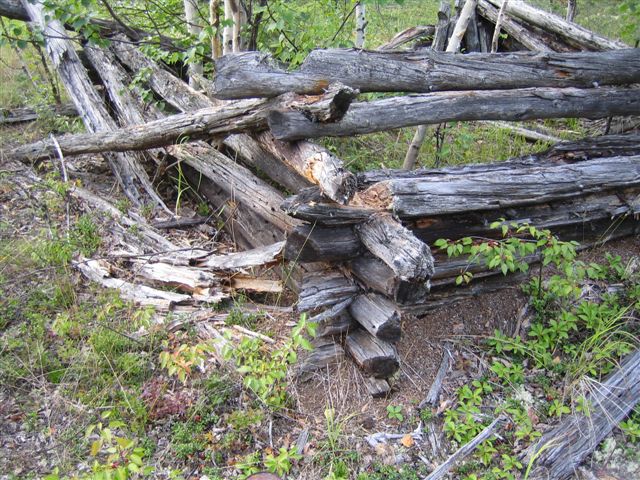 THESES ARE DOG HOUSES FOR YOUR DOG SLED TEAM.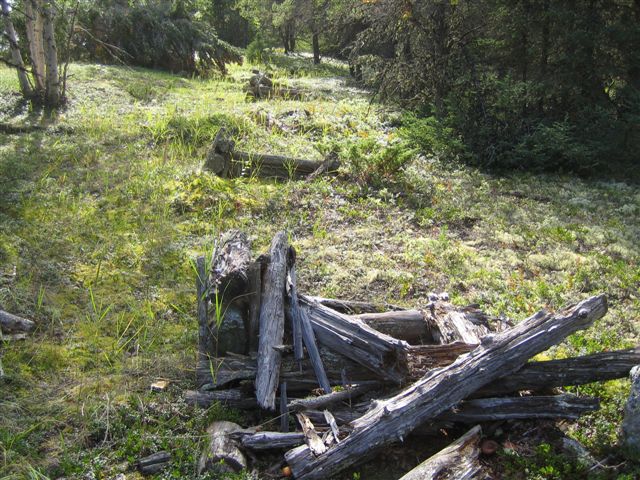 THIS WHOLE ISLAND IS COVERED WITH BLUE BERRIES AND THEY ARE VERY VERY TASTY.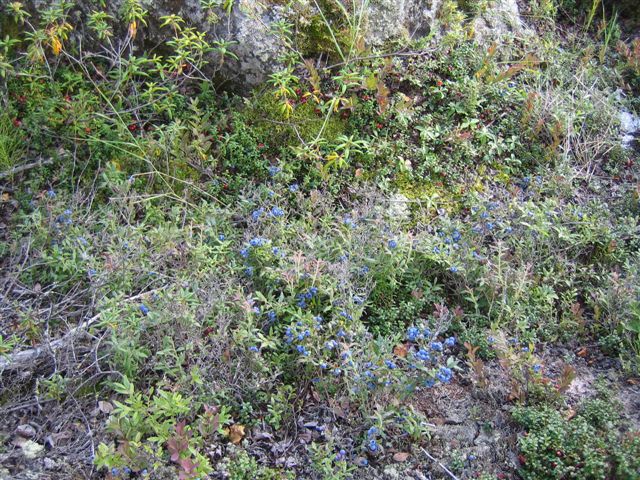 WHEN WE WENT TO LEAVE THE ISLAND, THIS WAS A PERFECT SHOT THAT I COULD NOT PASS UP.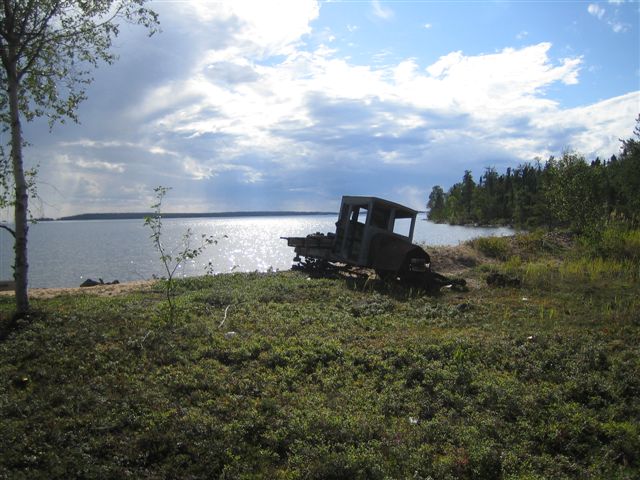 HEADING BACK WE RAN IN TO RAIN, SO THE TARP IS VERY HANDY TO KEEP FROM GETTING WET.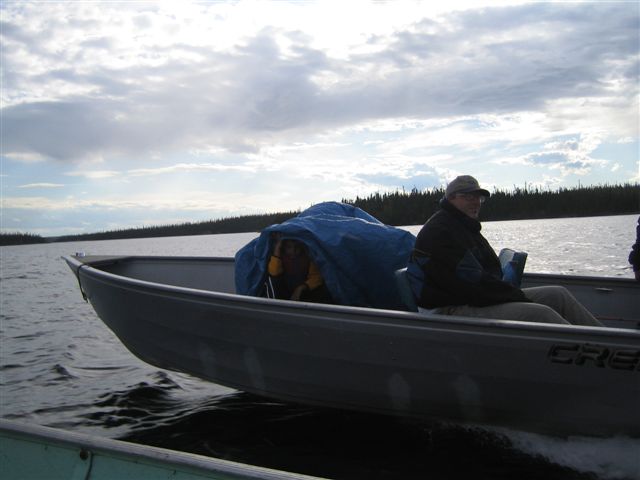 SO THAT IS ALL ON THIS QUICK TRIP THAT WAS NOT PLANNED, IT WAS AN EXCELLENT TRIP BECAUSE IT WAS NOT PLANNED.
THANSK