SIGFUSSON'S CAT SALVAGE
JANUARY 2006
I WAS GIVEN A VHS TAPE WHICH IS A COPY OF A COPY OF AN OLD 8MM FILM ON THE SIGFUSSON TRANSPORT COMPANY SALVAGING A TD-18 CAT IN 90 FEET OF WATER. I HAVE TRIED OVER THE YEARS TO LOCATE A GOOD COPY OR THE ORIGINAL FILM BUT GOT NOWHERE. I THINK I HAVE TO TRAVEL TO OTTAWA AND SEE THE PEOPLE AT CBC OR THE NATIONAL FILM BOARD IN PERSON BECAUSE PHONE CALLS AND EMAILS GO NOWHERE. WE HAVE BOUGHT (OK FINANCED THRU DELL COMPUTERS) A FEW EXPENSIVE PIECES FOR THE COMPUTER SO WE CAN TAKE THE VHS TAPE AND HAVE STILL PICTURES ON THE COMPUTER SCREEN.
I HOPE WITH GETTING THESE PICTURES OUT IN COMPUTER LAND, WE ARE ABLE TO LOCATE A BETTER COPY OR THE ORIGINAL FILM. A FILM LIKE THIS MUST BE SHARED BECAUSE THE GENERATION THAT WORKED ON THE CAT TRAINS IS GETTING SMALLER EVERY YEAR IN NUMBERS. THERE IS ONLY ONE BOOK WRITTEN THAT I KNOW OF ON THE CAT TRAINS AND IT IS CALLED SIGFUSSON ROADS. IN THE FUTURE I HOPE THAT THERE ARE MORE BOOKS WRITTEN TO TELL THE STORIES OF THE MEN WHO RISKED IT ALL TO GET THE FREIGHT DELIVERED BY CAT TRAINS.
TO PURCHASE A COPY OF SIGFUSSON'S ROAD JUST CLICK ON
http://www.mcnallyrobinson.com/product.php?txtProdID=184636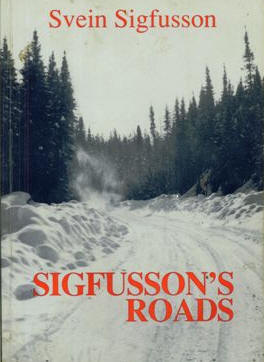 THIS IS THE COVER OF THE FIRST EDITION BOOKS. THEY HAVE CHANGED HE COVER ON THE BOOKS THEY ARE PRINTING NOW.
SO HERE ARE THE PICTURES FROM THE MOVIE. PLEASE ENJOY AND REMEMBER I WAS NOT THERE SO I WILL NOT ADD COMMENTS TO THE PICTURES.
THANSK
KoO