HYDRO LINE 2009
FEBRUARY 2009
I GOT ASKED TO PLOW A ROAD DOWN THE HYDRO LINE TO WHERE A CREW HAD FINISHED BRUSHING THE TOOTHPICK TREES. I GUESS THEY PHONED ME BECAUSE I HAD THE MOST EXPERIENCE BECAUSE I WROTE A CHAPTER IN MY "CAT TRAIN NEWSLETTERS" BOOK. OF COURSE I HAVE TO GET BUDDY BARRY INVOLVED WITH HIS VISA TO FUND THIS ADVENTURE PLUS USE HIS 1999 JOHN DEERE 650G CAT WITH THE POWERFUL WINCH. THE WINCH WAS USED TO DRAG THE ROAD DRAG THROUGH THE TOUGH SPOTS WHERE TRACTION IS A SLIGHT PROBLEM. SINCE GOD HAS GIVEN US LOTS OF SNOW THIS WINTER, I DECIDE TO MOUNT A VEE-PLOW ON THE D6 9U KNOWN AS "THE HOOD" TO MAKE PLOWING EASIER.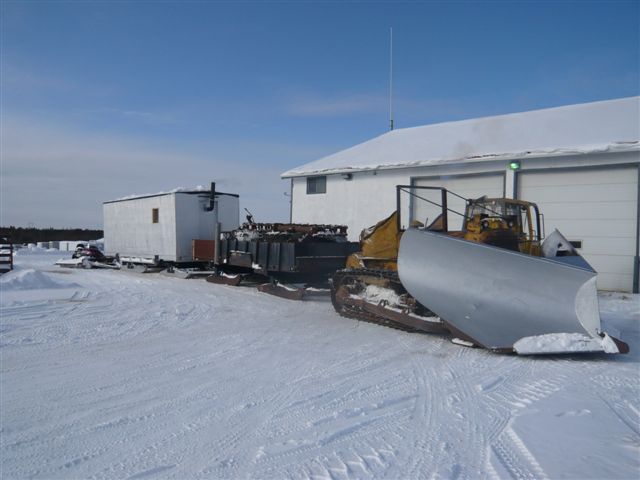 I ASKED FLOYD FROM www.grandslamlodge.com TO RUN BUDDY BARRY'S CAT KNOWN AS THE "LEMON SISTER" WHICH HE HAD A LOT OF FUN DOING. WE MADE IT 20 kms OUT OF TOWN AND SPENT THE NIGHT AT STORY LAKE CREEK. IT WAS NICE AND COLD IN THE MORNING WHEN WE WOKE UP WHICH IS GOOD FOR PLOWING SNOW.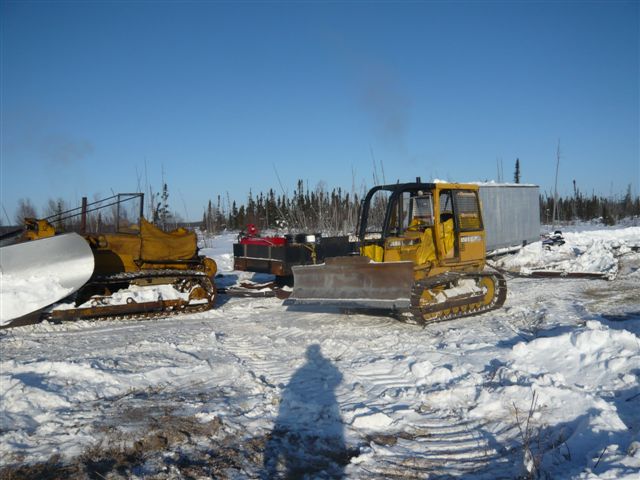 OUR ROAD IS NOT VERY STRAIGHT BUT IT IS THE ONLY WAY AROUND THE ROCKS AND HILLS IN THE GREAT WHITE NORTH.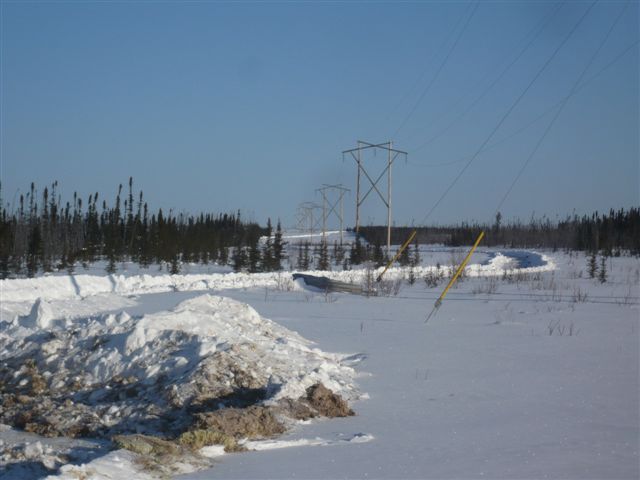 HERE IS A GOOD PICTURE OF THE TOOTHPICK TREES OF THE GREAT WHITE NORTH AFTER A FOREST FIRE 10 YEARS AGO.
FLOYD IS WIDEN THE ROAD A BIT WITH THE "LEMON SISTER" PLUS PULLING THE ROAD DRAG TO MAKE A SMOOTH ROAD.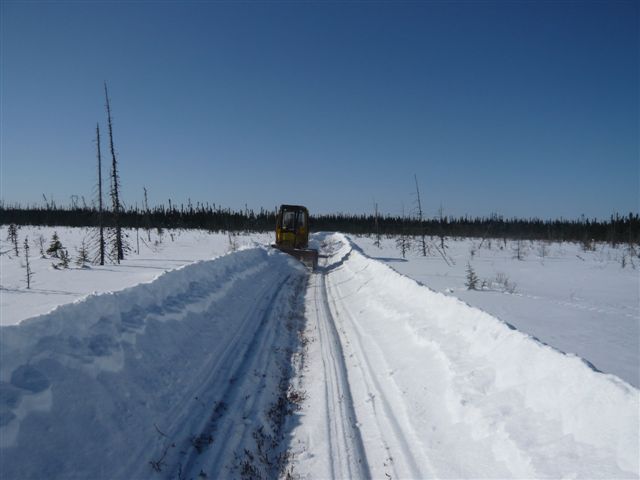 AT THIS ONE CREEK CROSSING, WE HAVE TO PUSH UP A SNOW BRIDGE AND FLOOD IT WITH WATER TO MAKE IT ROCK HARD. PLAYING WITH WATER AT -29c IS ALWAYS FUN.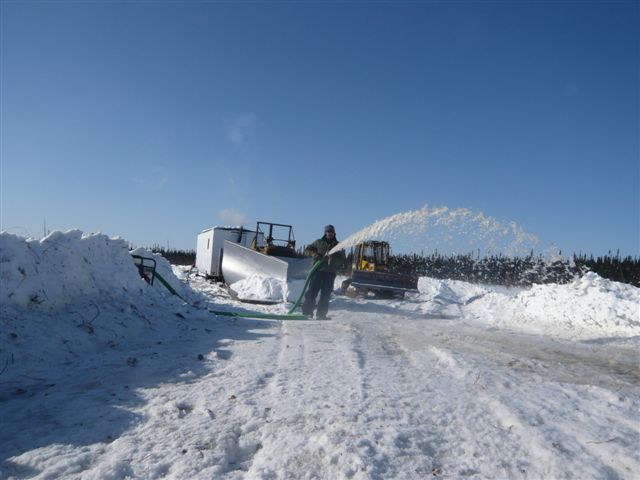 THIS PICTURE WILL GIVE YOU AN IDEA OF HOW MUCH SNOW WE WERE PLOWING TO MAKE A ROAD.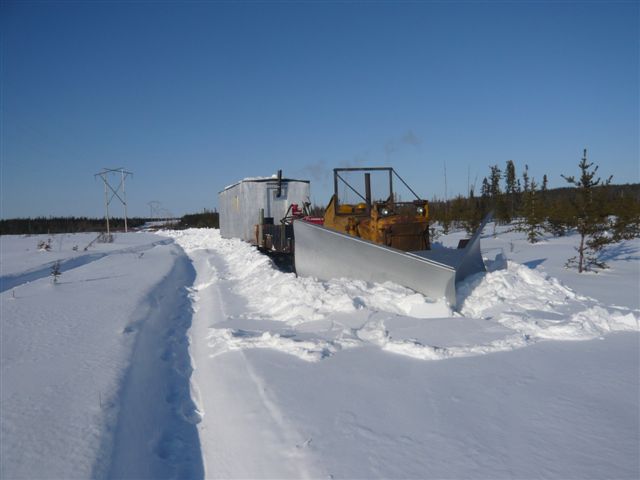 THIS WILL GIVE YOU AN IDEA OF WHAT THE GREAT WHITE NORTH LOOKS LIKE.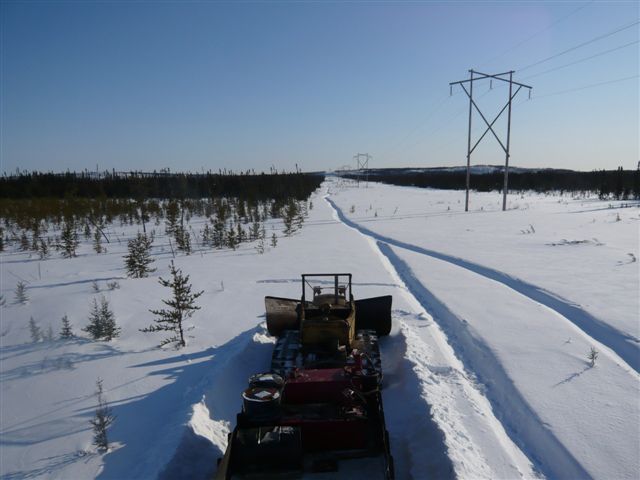 THE "LEMON SISTER'S" WINCH SURE WORKED GOOD FOR GETTING THE ROAD DRAG UP AND OVER THE TOUGH SPOTS.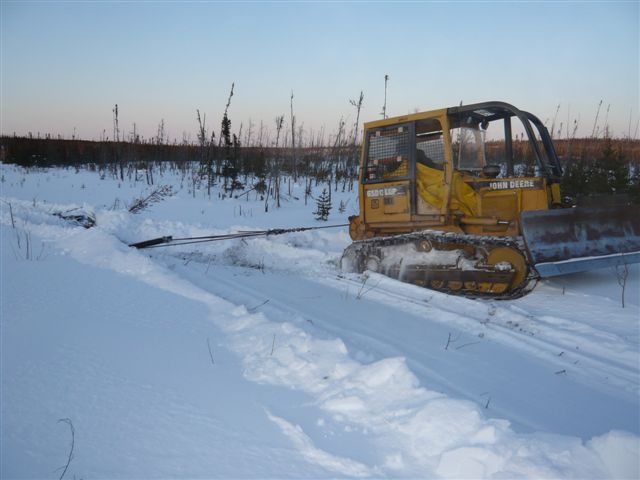 A QUICK PICTURE OF THE ROAD DRAG, NO WONDER IT WAS SO HARD TO PULL.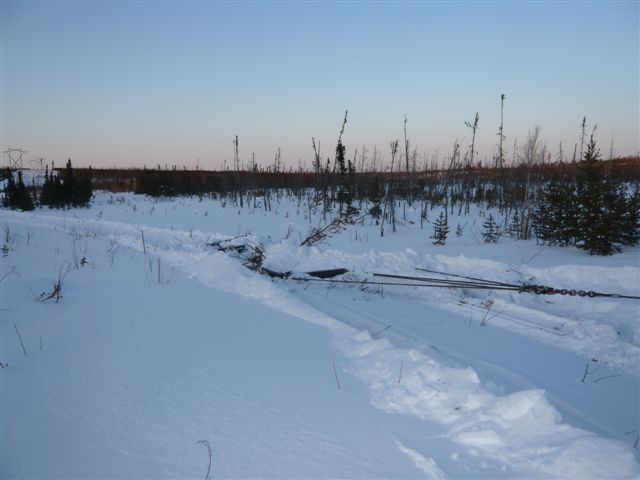 ONCE WE WENT TO THE SPOT WHERE WE WERE TO GO, WE TURNED AROUND AND WIDEN THE ROAD AGAIN.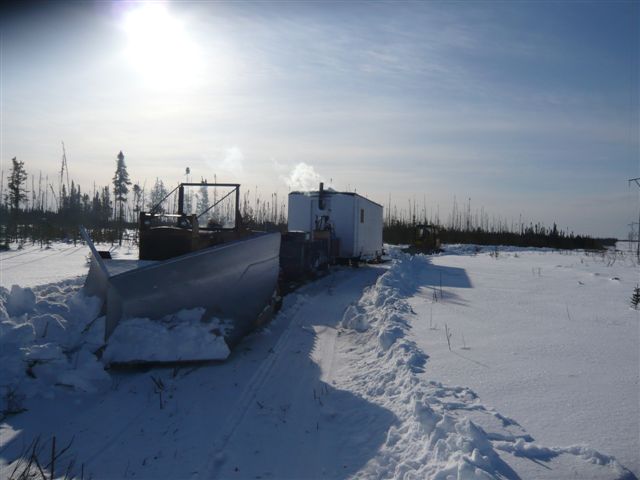 HERE IS A NICE PICTURE SHOWING A CAT TRAIN AT IT'S FINEST.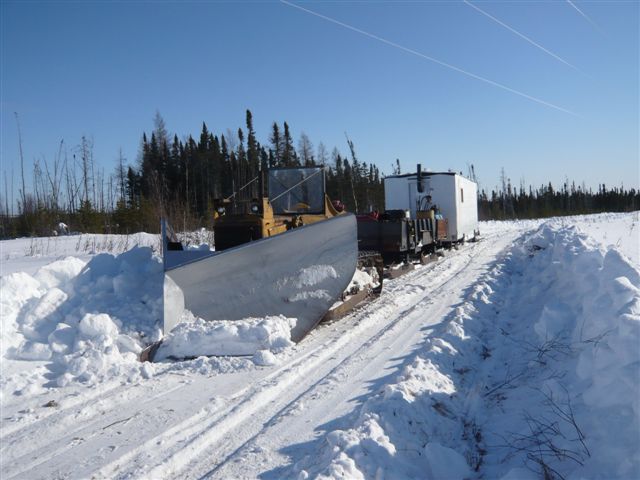 HERE IS THE LAST PICTURE I TOOK BEFORE IT GOT DARK. WE MADE IT BACK TO THE "KINGDOM" AT 6 AM IN THE MORNING AFTER 4 DAYS IN THE BUSH.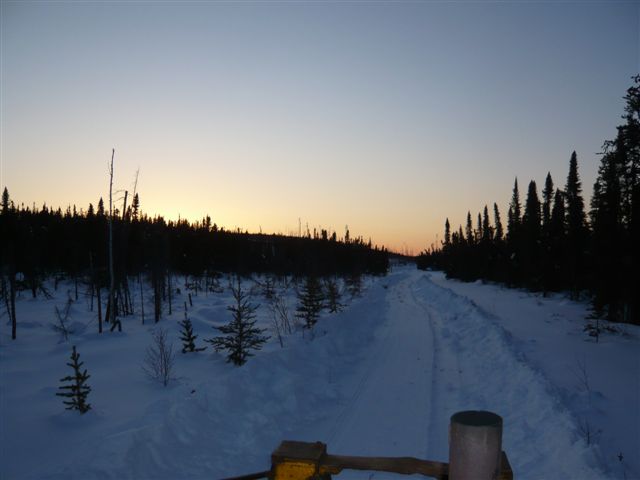 THANSK