GREGG SLEIGH DESIGN
THE GREGG SLEIGH DESIGN IS THE MOST POPULAR SLEIGH STYLE ONE WILL FIND IN THE GREAT WHITE NORTH. IT WAS THE SLEIGH THAT MOVED THE TOWN OF LYNN LAKE, MB. THANSK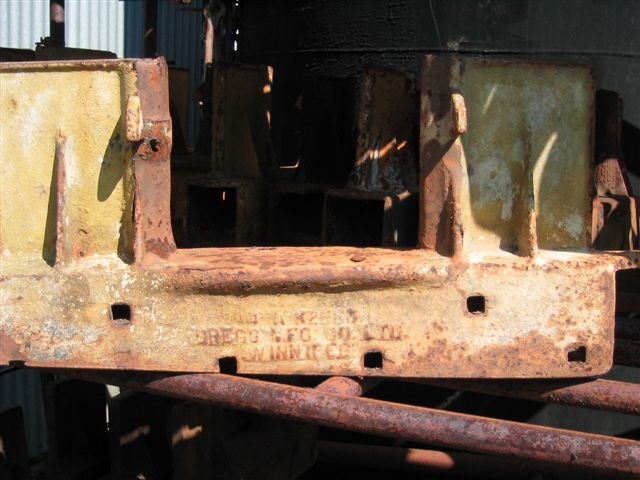 I LIKE THIS SLEIGH SADDLE BECAUSE THE SKI BROKE AND THEY JUST DRAGGED IT ANY WAYS, SO THAT IS WHY THE BOLT HOLES ARE HALF GONE. ANYTHING GOES IN THE GREAT WHITE NORTH.
MAY 2005
JUST STARTED A GREGG SKI FOR THE KITCHEN CABOOSE FOR THE CAT TRAIN TOURS. WILL POST MORE PICTURES AS I PROGRESS.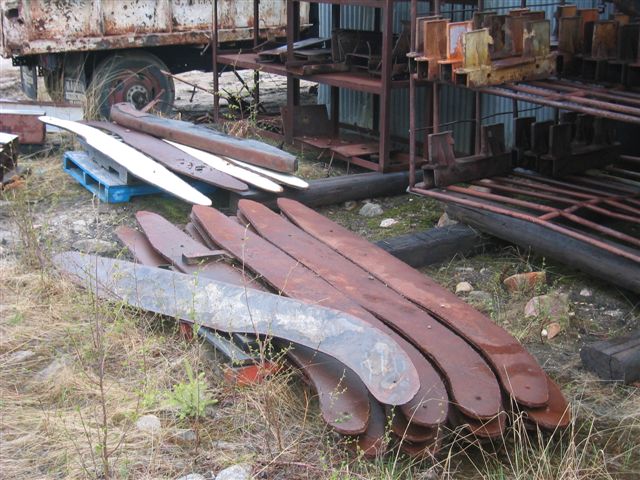 THIS IS WHAT I START WITH, PANEL THAT I CUT OUT OVER 8 YEARS AGO.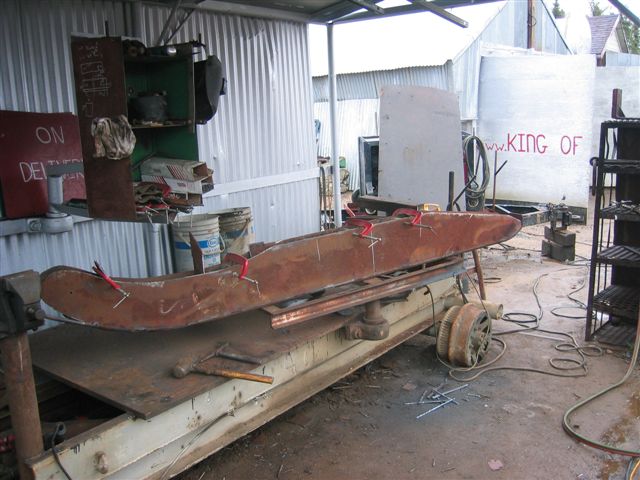 GETTING THE PANELS TO LINE UP AND READY FOR THE GREGG SADDLE.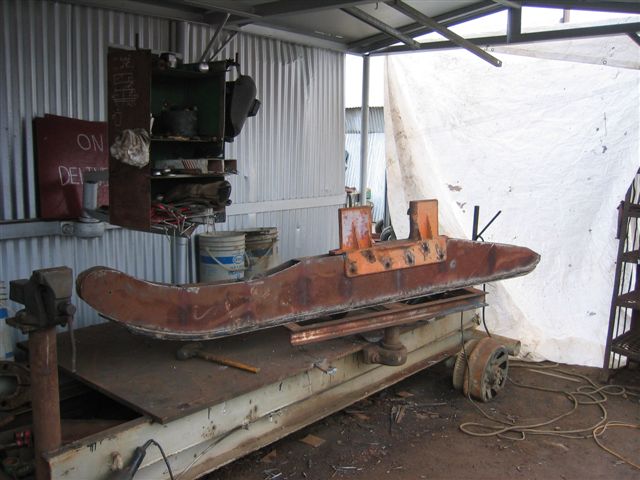 THE SKIS ARE ALL THE SAME EXCEPT FOR THE SADDLES, I USE DIFFERENT SADDLES TO SHOW THE HISTORY OF THE FREIGHTING SKI.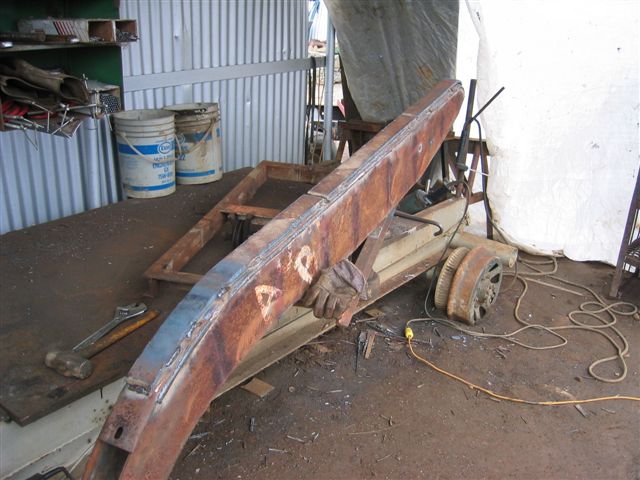 SINCE THE SHOEING IS OVER 60 YEARS OLD, I RESHOE IT WITH AR PLATE I GET IN THE SCRAP METAL RECYCLING. HOPING TO GET ANOTHER 60 YEARS OUT OF THESE SKIS WHEN COMPLETED.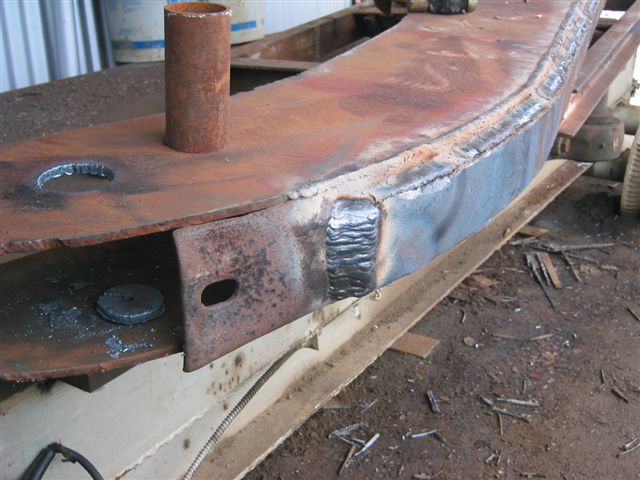 WHERE THE 2 SHOEINGS MEET, I LIKE AN UPHAND WELD TO CONTROL THE BUILD UP OF MATERIAL AND TO CUT THE EDGE DOWN TO MAKE IT SMOOTH AS POSSIBLE. LESS GRINDING THAT WAY. "GRINDERS WERE MADE FOR WELDERS WHO CAN'T CONTROL GRAVITY".
UPDATE AUGUST 2006
WE ONLY WORK ON THE SLEIGHS IN THE SUMMER IT SEEMS SO IT HAS BEEN A YEAR SINCE I WORKED ON THE GREGG SLEIGH. THIS SLEIGH WHEN COMPLETED WILL BE THE "CUDDLE CABOOSE" ON THE CAT TRAIN TOURS. SO HERE ARE SOME PICTURES FROM THIS SUMMERS BUILDING.
I WAS ONE SKI SHORT FROM LAST SUMMER, SO I WHIPPED ONE UP ON A COLD RAINY DAY.
NEXT I BUILT THE SLEIGH BUNKS AS WE CALL THEM FROM SCRAP STEEL TOO.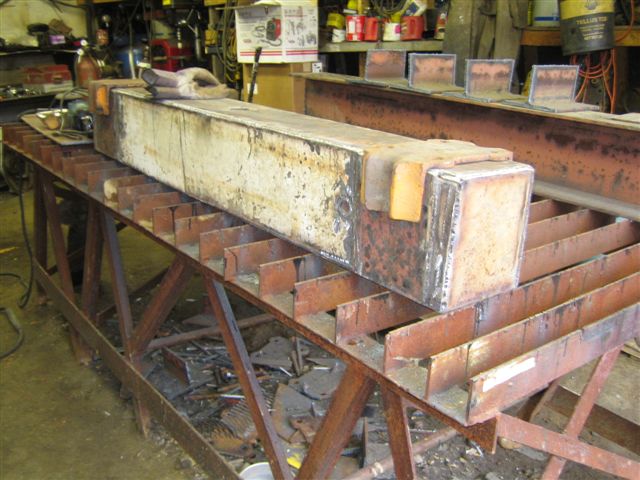 HERE IS THE ALMOST COMPLETE GREGG SLEIGH ON THE SLEIGH TABLE. NOTE THE WOODEN SLEIGH THAT IS USED AS PARTS IN FRONT OF THE TABLE.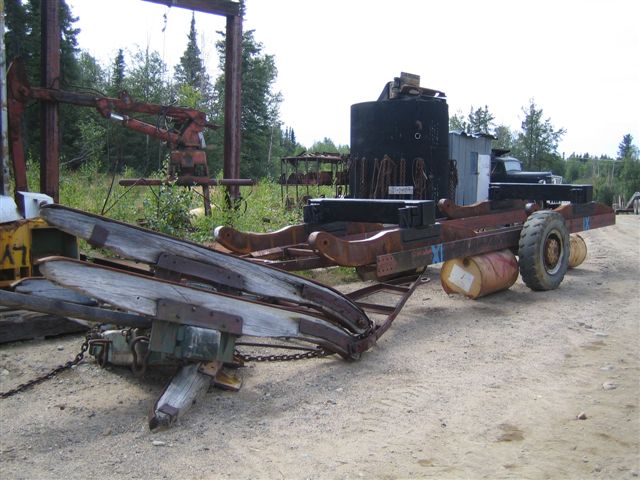 MORE TO COME AS WE BUILD THE "CUDDLE CABOOSE"
THANSK