DISCOVERY OF THE DC3 AIRPLANE
JULY 2006
WE WERE BORED IN THE "KINGDOM" ON A SUNNY DAY SO WE ORDERED A FLOAT PLANE FROM www.lynnlakeair.com TO FLY US AROUND THE GREAT WHITE NORTH. THE PLANE IS A 206 CESSNA WITH AN EXTRA CLEAN WINDSHIELD THANSK TO THE PILOT WHO WE WILL CALL PETE. EVEN THE DOCK-HAND DOG THINKS THE PLANE IS VERY CLEAN.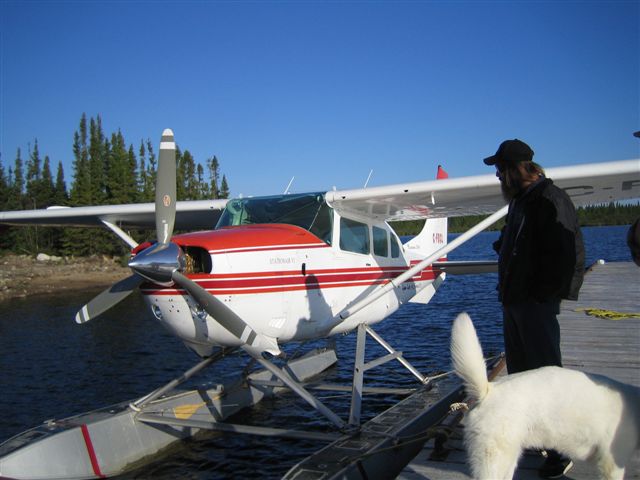 ONCE UP IN THE AIR IT IS VERY NICE COUNTRY AND IT IS HARD TO BELIEVE HOW MUCH WATER.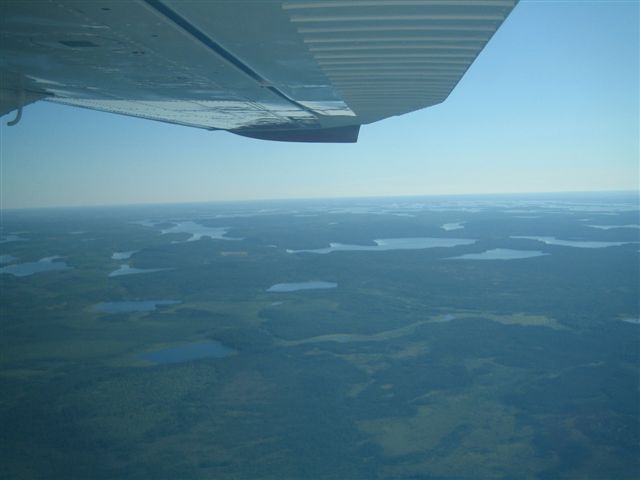 ANOTHER PICTURE OF THE NOT SO WHITE "GREAT WHITE NORTH". IN THESE PICTURES YOU CAN TELL I NEED A BETTER CAMERA FOR NATURE SHOTS.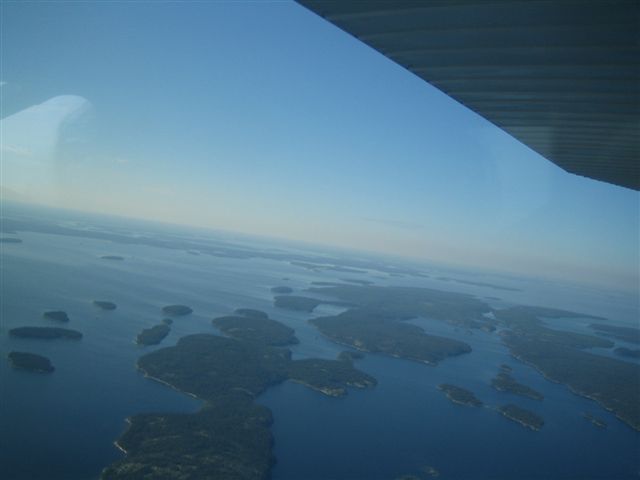 WE FLY OVER www.tateislandlodge.com WHERE WE WILL BE HAVING BREAKFAST THIS MORNING. YOU CAN SEE IN THE PICTURE THE NEW MAIN LODGE THAT WE HAULED THE BUILDING MATERIALS IN ON THE CAT TRAINS. (to read more on this adventure click on)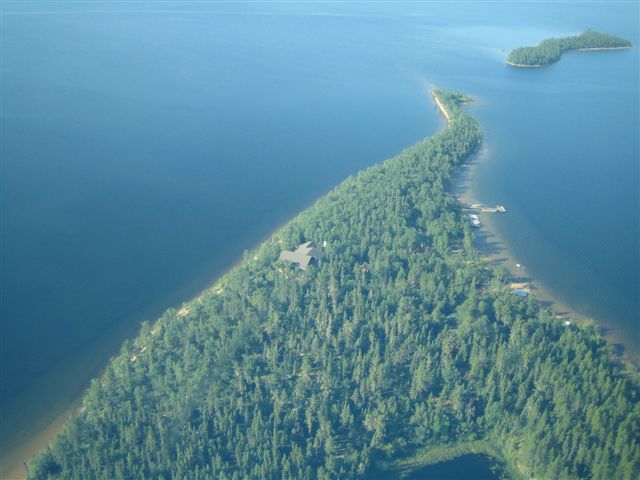 THE FANCY NEW BOATS THAT WE HAULED ON THE "TWO VALVE TOUR" SURE DO LOOK BETTER IN THE WATER THAN ON A SEMI TRUCK.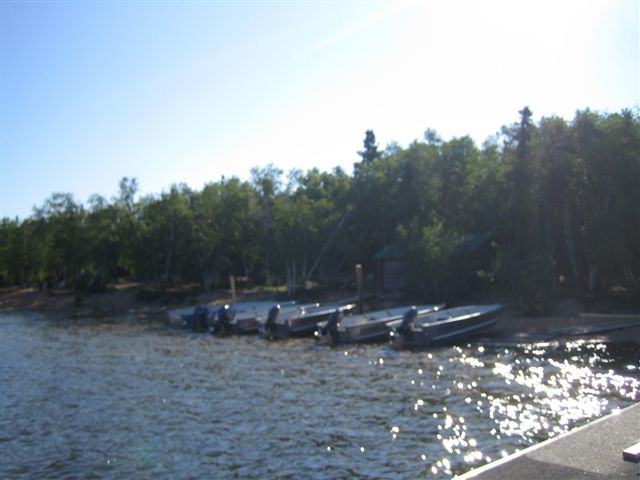 THE LODGE OWNER JIM HAS BEEN VERY HANDY AT BUILDING STUFF WITH WHAT HE HAS. ALL HE NEEDS IS SOME CANADIAN DUCT TAPE AND YOU WILL THINK RED GREEN BUILT IT HIMSELF. REMEMBER THIS IS A WORK BOAT NOT FOR THE FISHING GUESTS.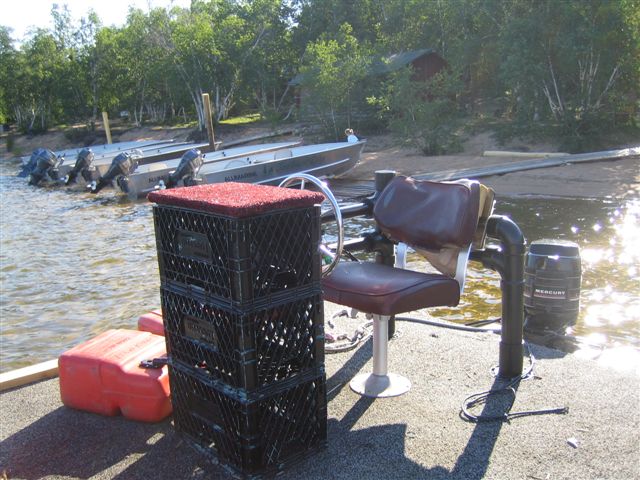 TATE ISLAND LODGE WAS BUILT BACK IN THE LATE 1950S AND HAS A LOT OF HISTORY IN THE OLDER BUILDINGS. THIS FIREPLACE IS A WORK OF ART AND LOTS OF PEOPLE OVER THE YEARS HAVE SIGNED THESE ANTLERS MAKING IT EVEN MORE INTERESTING.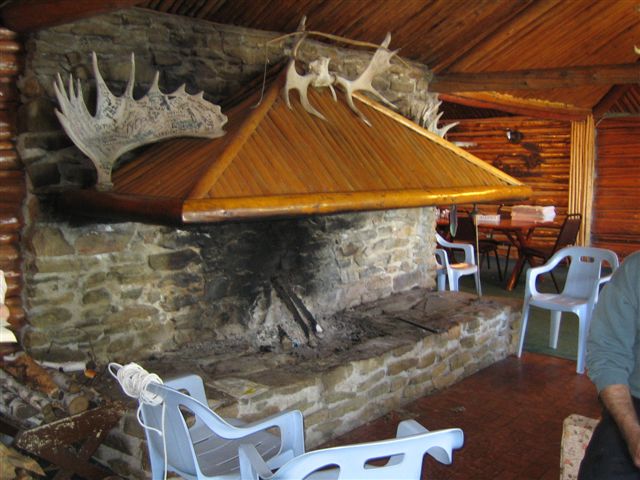 AFTER A GOOD BREAKFAST AND A TOUR OF THE LODGE WE HEADED SOUTH TO FLY OVER www.arcticlodges.com WHICH LIKE TATE ISLAND LODGE WAS BUILT BY THE SAME FELLOW. WE DID NOT HAVE TIME TO LAND AND MEET THE OWNERS BECAUSE OUR PLANE WAS BOOKED FOR AFTERNOON FLIGHTS. THE ORIGINAL OWNER FRED LOCKHART BUILT AND RAN THESE LODGES IN THE 50s AND 60s AND THEN THEY WERE SOLD TO RUN AS SEPARATE BUSINESSES.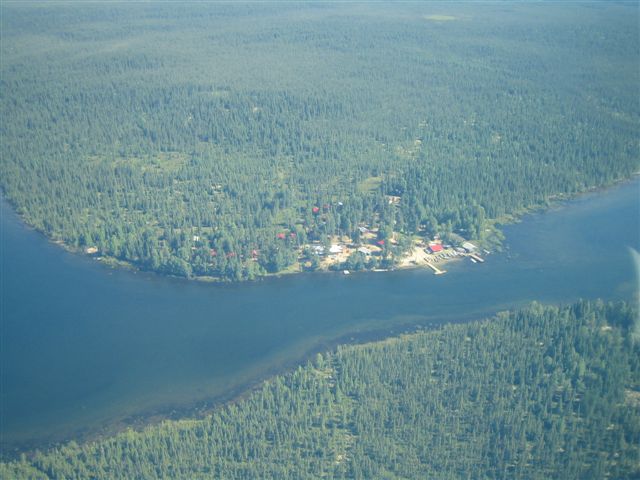 WHAT MAKES THESE 2 LODGES UNIQUE IS THE AIRSTRIP THAT FRED LOCKHART BUILT FOR HIS PLANES TO LAND ON WITH HIS GUESTS. IT IS HARD TO BELIEVE THAT 50 YEARS AGO THIS AIR STRIP WAS BUILT WITH VERY BASIC EQUIPMENT. IT IS A VERY NICE RUNWAY AND WILL BE USED FOR LOTS OF YEARS TO COME.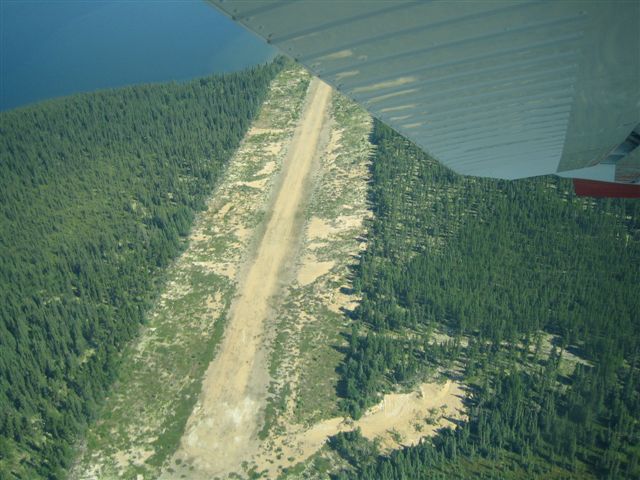 THE ONLY PROBLEM THEY HAD WAS THAT A DC3 AIRPLANE CRASHED ON TAKE OFF BUT IT WAS NO BIG DEAL BACK IN THE 1960s. THIS OLD PLANE IS OF INTEREST TO THE "KING OF OBSOLETE" FOR RECYCLING AND FOR THE STORY OF GETTING IT OUT.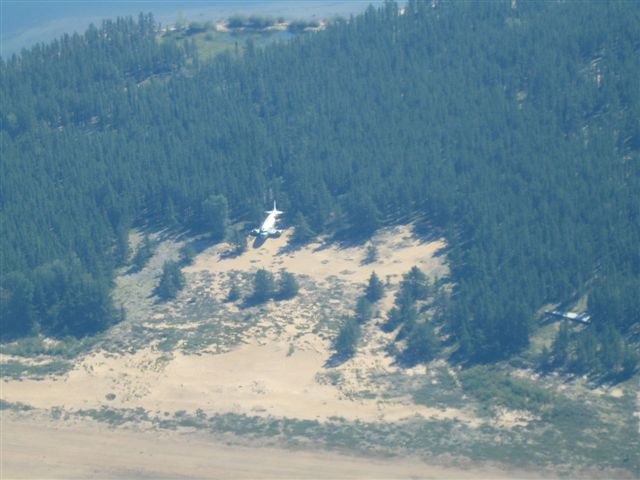 WOW EH!!!!! TALK ABOUT A BIG PLANE AND IT WOULD BE BIGGER IF IT HAD ITS LANDING GEAR. THANSK TO A FELLOW IN THE LAND DOWN UNDER, HERE IS THE CRASH REPORT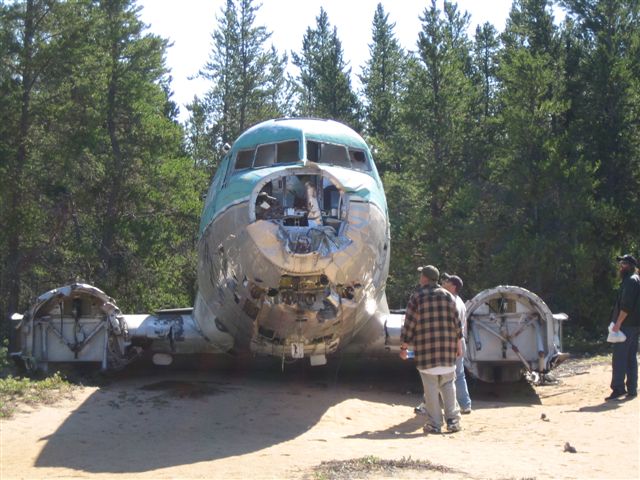 I EVEN TESTED OUT THE PILOT'S SEAT TO SEE HOW I WOULD LIKE FLYING SOMETHING THIS BIG.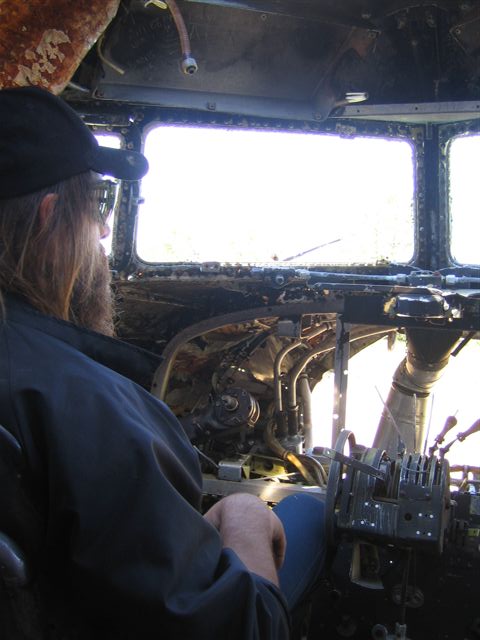 WHAT A VIEW FROM THE COCKPIT, IT EVEN HAD WINDSHIELD WIPERS NOT LIKE MY OLD VEHICLES, LOL.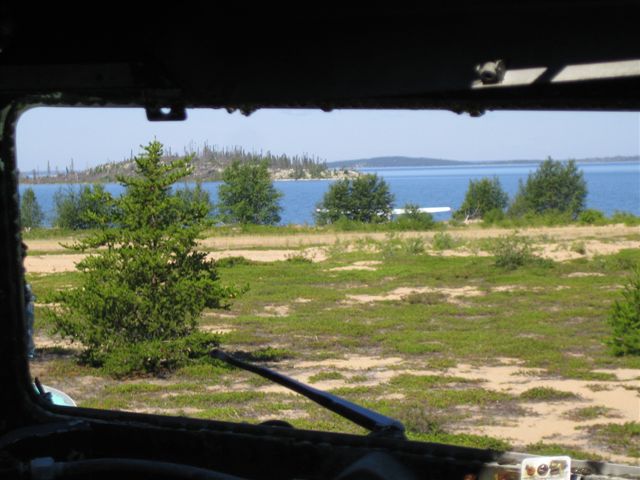 EVEN PETE THE PILOT HAD TO TEST OUT THE PILOT SEAT PLUS HE HAD A STEWARDESS (SOUTHERN BELLE) ON THIS FLIGHT BUT I THINK IT WILL TAKE MORE THAN A SET OF BOOSTER CABLES TO GET THIS PLANE AIRBORNE. THE PLANE WAS OWNED BY OZARK AIRLINES AND THE REGISTRATION NUMBER IS N139D.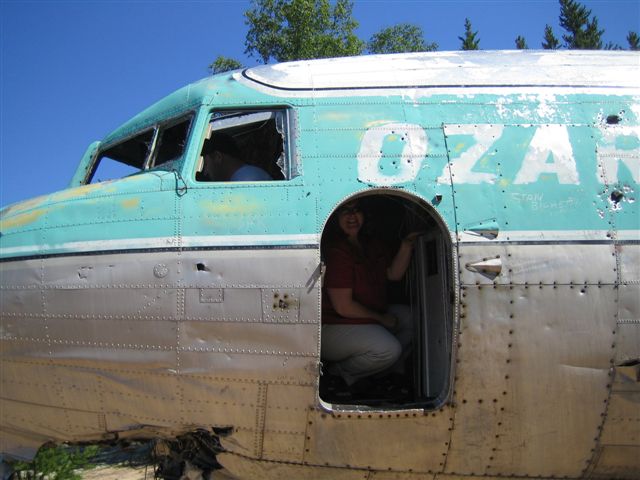 AT THE END OF THE RUNWAY I FOUND THE TD-9 INTERNATIONAL CAT I WAS LOOKING FOR. I HAVE PICTURES OF THIS CAT ON A WINTER FREIGHTING SLEIGH BEING HAULED TO THE AIRSTRIP BECAUSE THE STREET PADS MADE THE CAT USELESS IN SNOW FOR SOME REASON. I HEARD MANY STORIES FROM THE OLD CAT SKINNERS ABOUT THIS CAT CAUSING THEM PROBLEMS BECAUSE IT WAS NOT MADE FOR TRAVELING IN SNOW. IT WAS GOOD TO SEE IT AND NOW I HAVE A PICTURE OF IT AFTER 50 YEARS.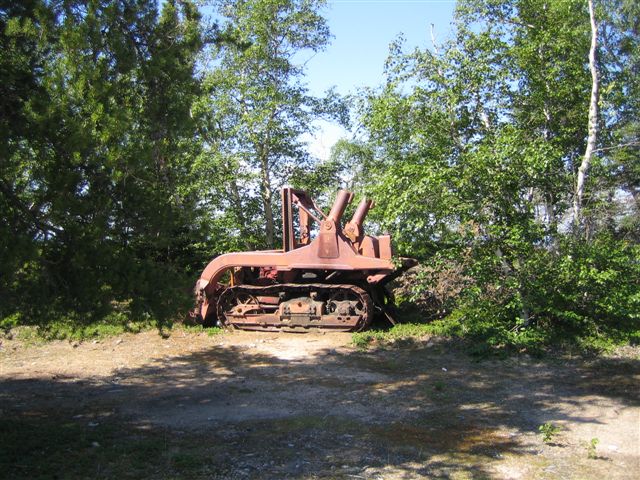 THE LAST AND FINAL PICTURE BEFORE THE CAMERA DIED BECAUSE I DIDN'T CHARGE THE BATTERY GOOD ENOUGH. I'M NO LONGER IN CHARGE OF THAT JOB BECAUSE I'M NOT QUALIFIED. LOL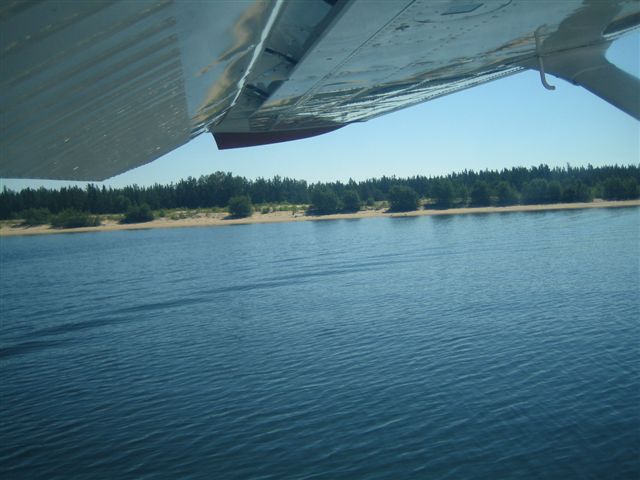 THANSK