V-12 GMC 702
SCHOOL BOY'S DREAM
JULY 2005
This may seem like a different name for a truck with an engine that is very unique in its design but it is true. It is a School Boyís Dream because of all the DUALS. Yes I mean DUAL everything on this engine because it is a V-12 with DUAL carbs, DUAL coils, and DUAL distributors because GMC used 2 V-6 engines to make the V-12 at 702 cubic inches of raw gas guzzling horse power. As a single axle transport truck one can get 1.5 miles per gallon which is not bad back in the late 1960ís when everything was cheap. But in todayís world with a barrel of oil at $62.00 U.S. money this truck could not be driven across the KINGDOM for less then $10.00 cdn in gas since we are buying gas at $1.00 a litre. So do the math and figure out that this truck is a museum piece because only Donald Trump could afford to drive it down the highway pulling a 40 000 lbs payload.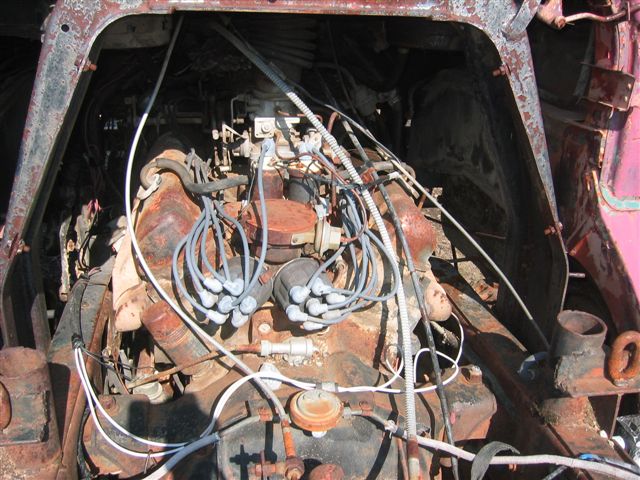 So I will now tell you more on this truck and the adventure I had to bring it home to the KINGDOM because it was part of the Kip collection. I first saw it in March of 2003 when I did the first inspection tour in Ilford, Mb of the Kip collection. I walked around this truck with snow over my knees and I really didnít pay attention to the ugly cab-over truck with all the windows smashed out of it. Lack of windows is a signature in the great white north; I donít know why kids smash the windows out? Someday they will own a house or car and have windows in it that some little kid will smash out. I guess it is called pay back for when they were kids and smashed windows out as a form of entertainment. So this truck is windowless and ugly and I never paid much attention to it until I returned in the fall of 2003 to start cleaning up the collection.
When I pushed all the debris down and dragged the poor ugly truck out that is when I got to see what a unique truck engine this was. When I looked under the cab to see what the engine looked like I just thought it was a V-8 and thought nothing of it. But Kip Thompson said take another look and see what you are really getting. Well the DUAL distributor was kind of a give away, but it was not until I raised the cab up to see what every School Boyís Dream of, yes DUALS. (ok for those who have not figured out what a School Boyís Dream is, it is a womanís DUALS and it is not eye lashes) to see that engine with DUAL everything made my heart thump. This was not a truck to be scrapped. So I asked Kip what he did with this truck with such a big engine. Kip told me that when you have 60 semi trailers being all over the north and used on the winter roads you need a good yard truck that is short and got power to move frozen trailers around for unloading and loading. He also said it had lots of power because it sure liked breaking the rear axles when the power was too great for the traction. So Iím glad I saved this truck from the scrap pile.
Now all I have to do is get this School Boyís Dream back to the KINGDOM which is only 500 km across winter roads and the so called provincial highways. First thing I did is load the truck up with a swamp buggy and then put it in the lineup by the loading ramp for the trucks to arrive on the winter roads. Well we arrived on a cold dark night to pick up a semi load of collectables for Ilford, Mb and it was cold. We loaded on one semi a grader for my buddy Barry and on the second semi went the School Boyís Dream with some other collectables. Then we had an interesting trip on the winter road with 2 semis and fresh snow. Letís just say it took a lot longer than planned to arrive back in the KINGDOM. Once we arrived home, we unloaded the semi and then slept for the first time in 30 hours. What a trip that was but it was worth it since Iím getting old and my bald spot is getting bigger, so in another 20 years I definitely wonít be doing these kind of trips.
With the School Boyís Dream unloaded off the semi, it would be almost 6 months before I got to really have a look and see what the DUAL engine is all about. What an engineering feature they had back then. I got to hand it to them, but Iíll try and out do the engineers by mounting that V-12 in the TD-18 known as TD-18x2. SOUTHERN BELLE and I decided that it would be only fitting to mount the V-12 known for DUALS in the TD-18 that is x2. I decided not to fix the truck because of the insurance and fuel costs plus I would have to have a vehicle safety every 6 months. Also the fact is, it is a cabover truck, so that means that you are the first at the scene of the accident if you are in the accident. So with the V-12 in a TD-18 that would really make good DUAL stackers plus on the TD-18 motor I canít afford the $4000.00 cdn cylinder heads so this is a cheap way out or recycling at it best?
thansk