RED CAT WHICH IS A T-9 WITH A TRACKSON SWING CRANE
The Red Cat I bought back in the mid 1980s from a fellow in Brandon, Mb who later charged me $14,000.00 to do some mickey mouse repairs. I drove the cat 26 miles and then spent 300 hours fixing all his mistakes and from then on I vowed never to let any one work on my obsolete equipment. But then again back then I had more money then brains too. Why would anyone spend close to $30,000.00 on a little cat that is only worth $3500.00 top price. The only thing I can say "more money then brains," those were the good old days which I never see again. So please enjoy the pictures and more to come. Thansk
JUNE 21 2004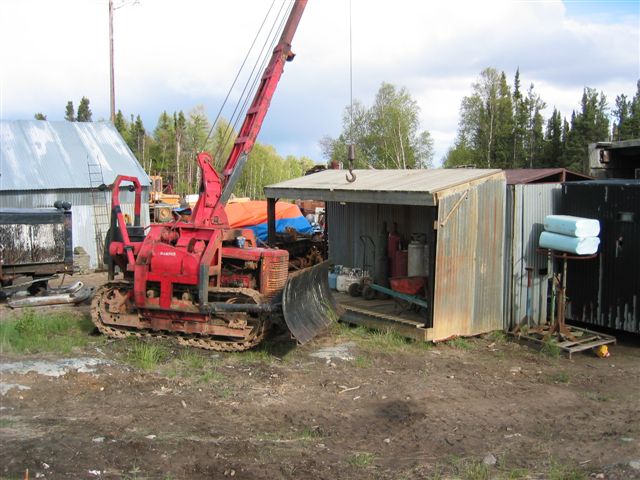 USED THE RED CAT TO MOUNT THE ROOF ON THE PROPANE STORAGE. IT WORKED GREAT AND TURNED OUT VERY WELL SINCE I USED OLD MATERIAL, RECYCLING AT IT'S FINEST.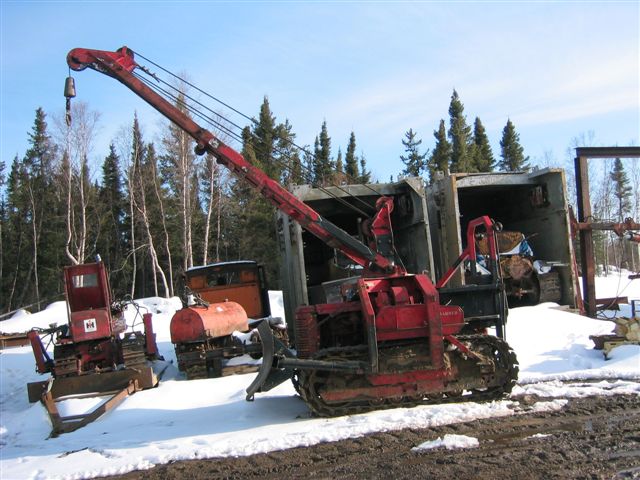 The boom swings around and the little blade on the front is made from scrap metal.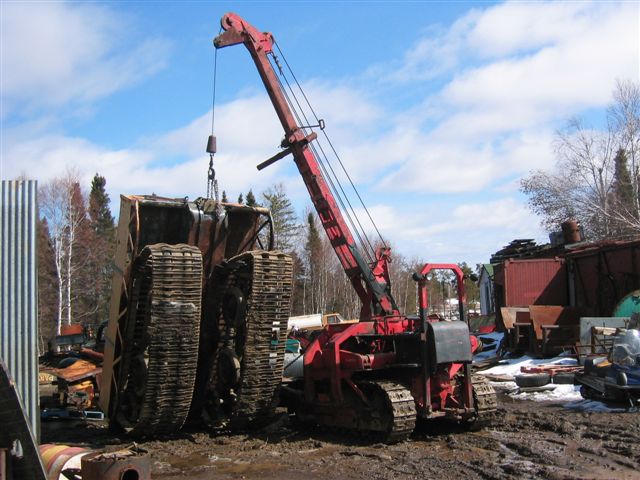 It is very handy in the yard.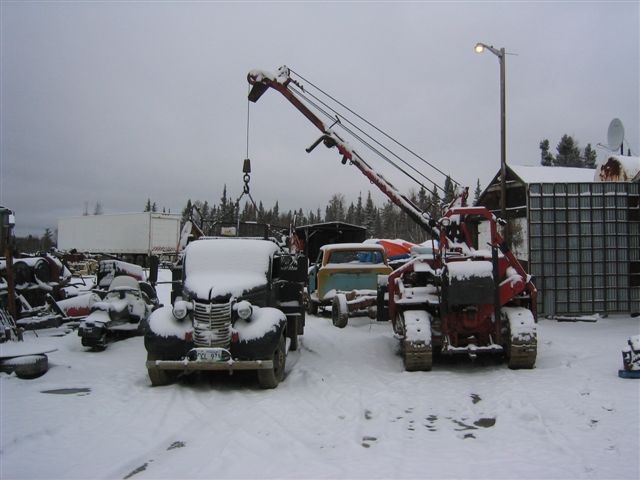 Yes it does snow here in May 2004, oh well welcome to the Great White North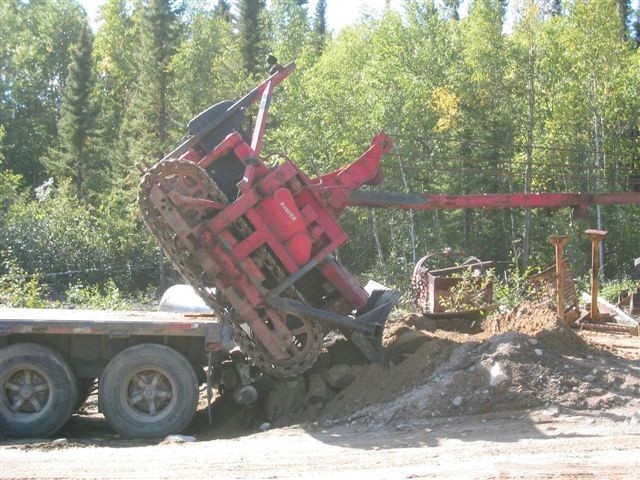 THE POOR RED CAT TOOK A NOSE DIVE OFF A SEMI TRAILER WHEN THE BRAKES ON THE TRAILER DIDN'T HOLD. OH WELL IT ONLY DAMAGED THE RAD, SO I FIGURED I GOT OFF PRETTY LUCKY. SEPTEMBER 2004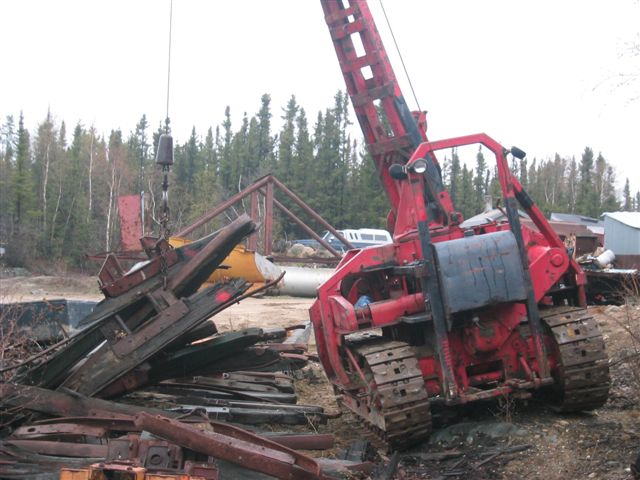 MAY 2005, THE RED CAT IS BACK IN ACTION GETTING ROTTEN WOODEN SKIS OUT OF THE STOCK PILE. SO THEY CAN BE MADE INTO ALL STEEL WINTER FREIGHTING SKIS.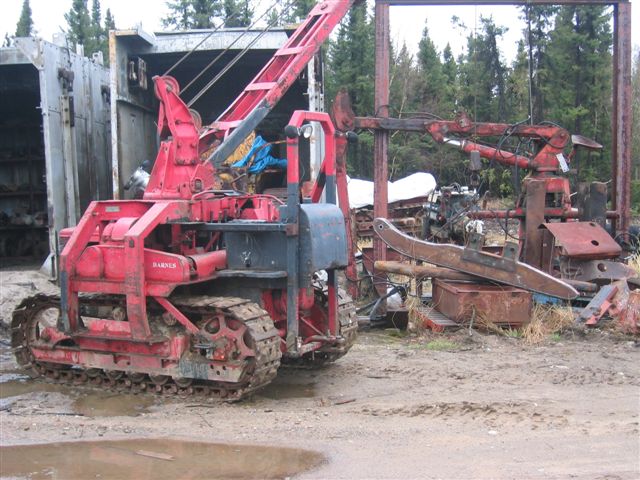 LOVE THE REACH ON THE RED CAT. GREAT FOR STACKING THE FINISHED SKIS. THANSK
I USED THE RED CAT TO LIFT THE BEAM FOR THE TROLLEY IN THE CAT PARTS SHED. WORKED GREAT IN JULY 2005.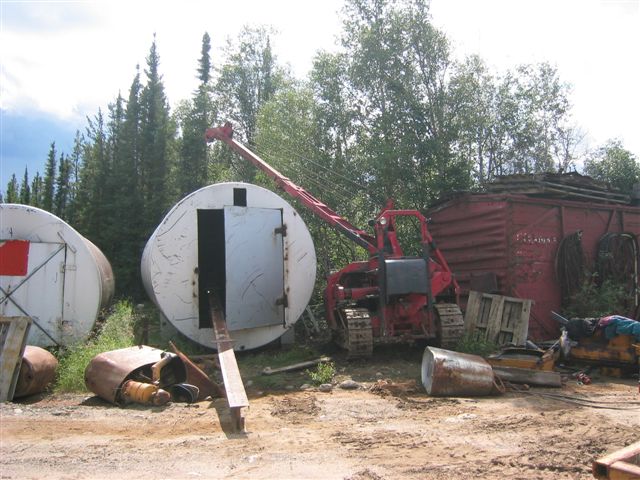 THE RED CAT WAS USED FOR REMOVING AND INSTALLING THE MOTOR AND TRANS IN THE D6 9U KNOWN AS "ROLLER-LESS" IN DECEMBER 2005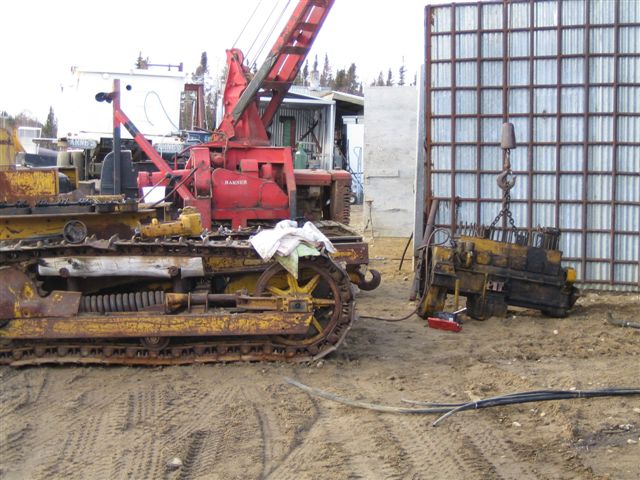 THANSK
KoO