"DOUBLE OR NOTHING" PART TWO
THE LAST 50KMS TO LAC BROCHET WAS UNEVENTFUL AND WE MADE GOOD TIME. HERE IS THE VIEW FROM THROUGH THE WINDSHIELD OF THE "SCREAMING FORD" AS I ARRIVE AT LAC BROCHET.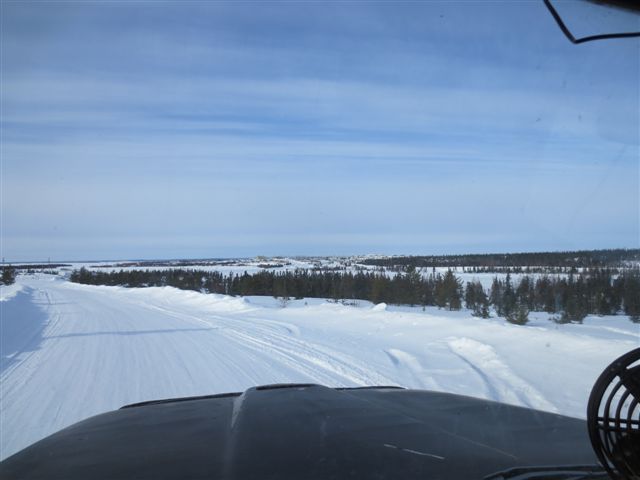 HERE IS XENA'S VIEW THROUGH THE WINDSHIELD OF THE PINK CREW CAB.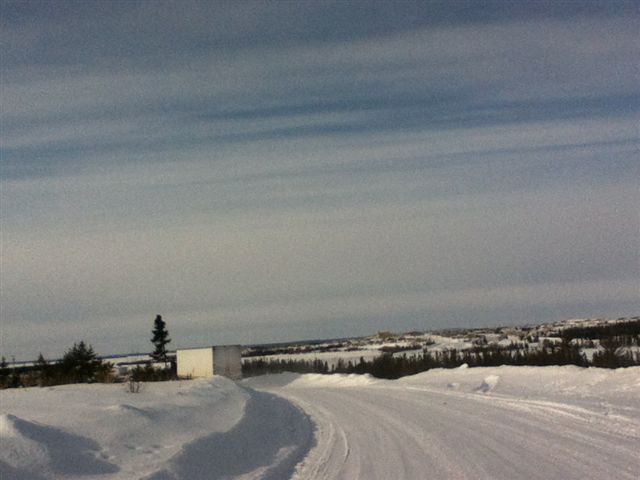 UNLOADING WAS NO PROBLEM THEN I LOADED UP SOME BROKEN VEHICLES TO HEAD SOUTH FOR REPAIRS.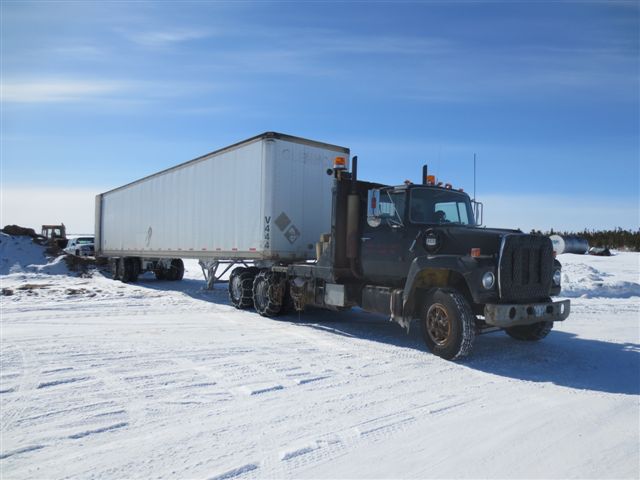 WITH A VAN TRAILER IT IS HARD TO TIE DOWN A VEHICLE, SO WE DRIVE THE VEHILCE IN AND BLOCK IT AS BEST WE CAN. THEN HOPE FOR THE BEST, LOL.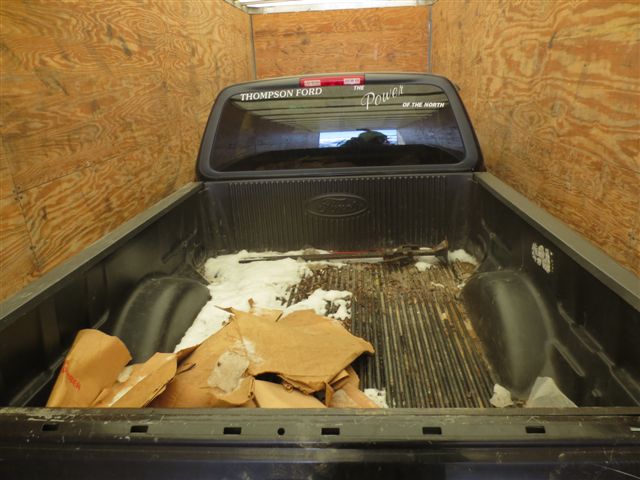 LEAVING TOWN AND WE THOUGHT WE WOULD NOT BE BACK UNTIL NEXT YEAR. BUT WE CAME BACK FOR THE "TRIPLE OR NOTHING TOUR" TWO WEEKS LATER.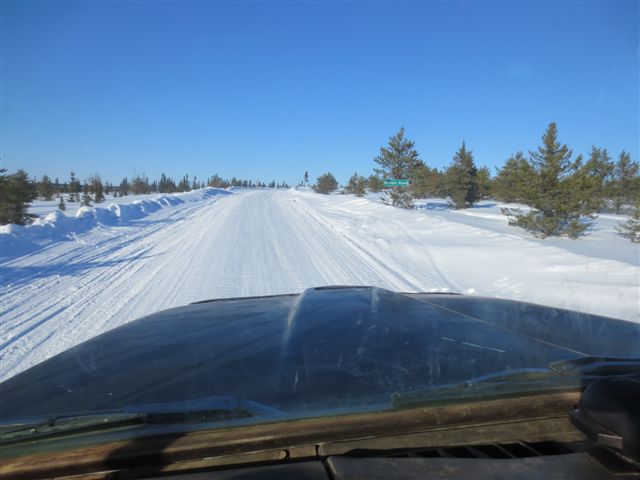 MORE OF THE DIRT ROAD THAT WE TRAVELLED ON.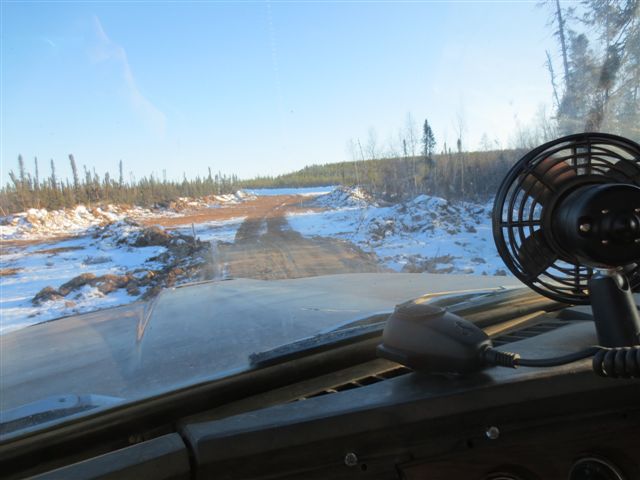 THEN WE MEET UP WITH THE FELLOW WHO WANTS TO SHIP SOME OLD SUPPLIES SOUTH. NO PROBLEM BECAUSE I WILL TURN AROUND AND LOAD TONIGHT BECAUSE WE ARE THE LAST TRUCKS UNTIL NEXT YEAR. I'LL CATCH UP WITH THE OTHER TRUCKS AND XENA WILL BE MY SUPPORT VEHICLE IN CASE I RUN IN TO TROUBLE.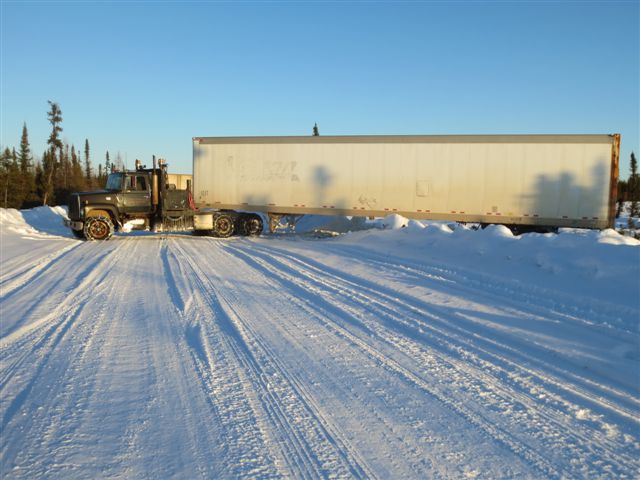 TURNING THE 53 FOOT VAN TRAILER ROUND IS EASY.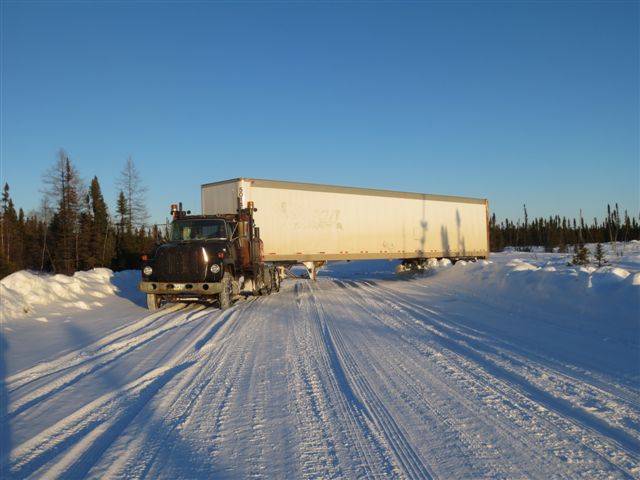 XENA TOOK A NICE PICTURE OF THE "SCREAMING FORD".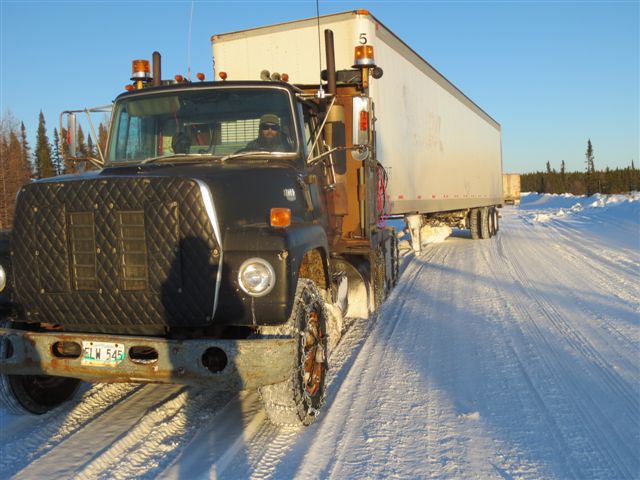 HEADING BACK TO LAC BROCHET WITH A NICE SUNSET.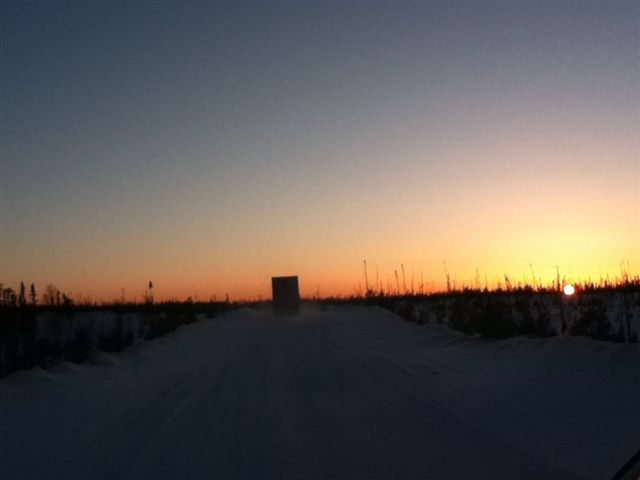 AFTER LOADING UP THE OLD SUPPLIES, WE TRAVELLED TIL MIDNIGHT AND SLEPT. I SNAPPED THIS SHOT IN THE MORNING AT 7AM WHEN WE WERE WAKING UP.
THAT IS WHEN I NOTICED THE BROKEN LIGHT PLUG. THIS GOES TO SHOW YOU HOW ROUGH THE ROAD IS WHEN ALUMINUM IS SNAPING LIKE A STICK.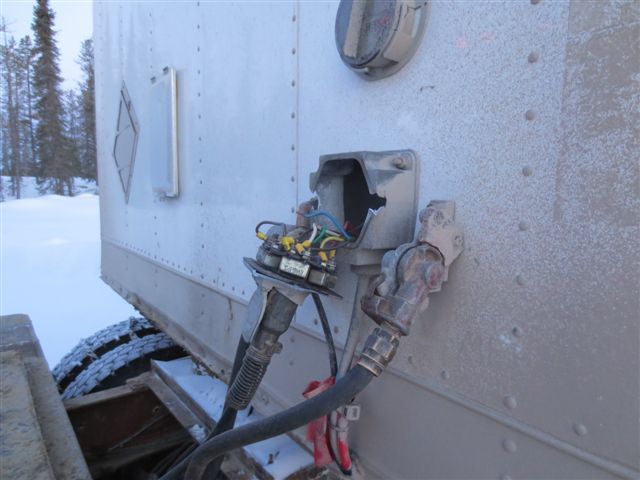 MORNING SUN AND ICE FIELDS.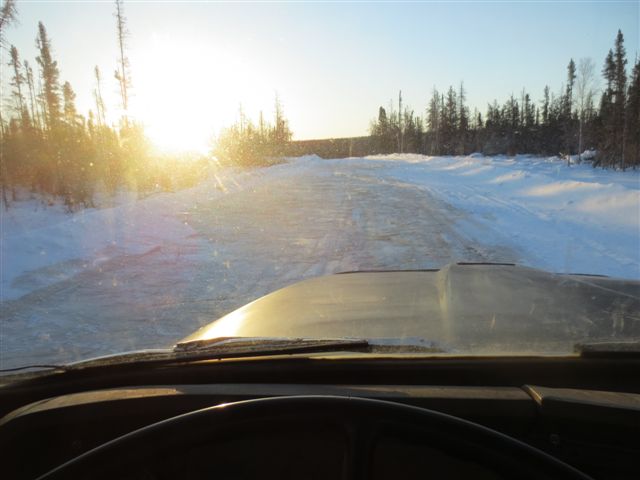 A NICE BIG ICE FIELD WHICH WAS NO PROBLEM.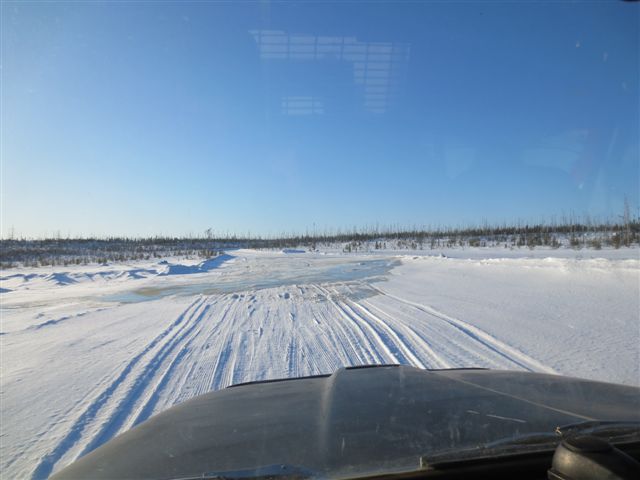 XENA IN THE PINK CREW CAB FOLLOWING ALONG.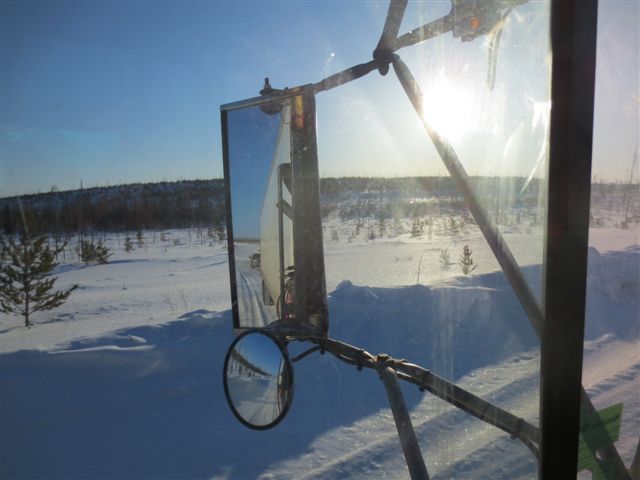 THE HILL AT KM 20 DOESN'T SEEM THAT STEEP WHEN GOING DOWN.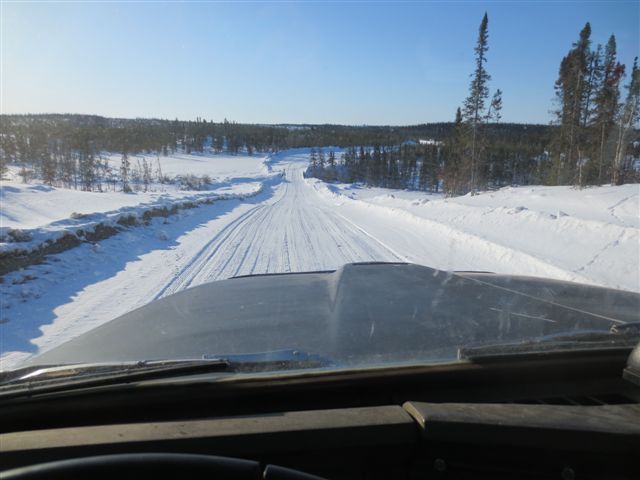 STOPPED TO FUEL UP AND STRETCH.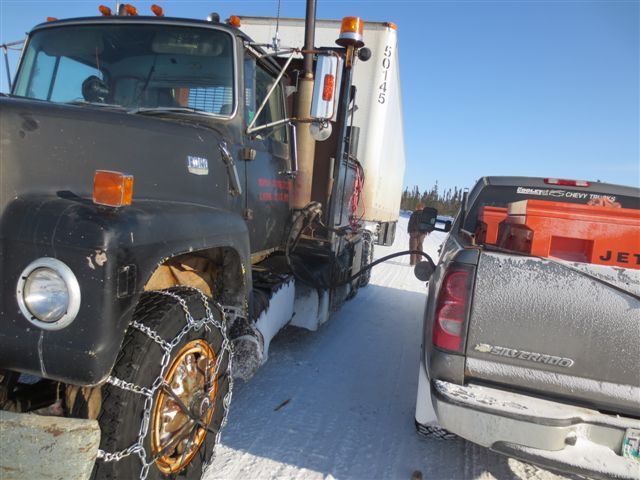 THE WATER HOLE AT KM 69 IS NOT THAT BAD.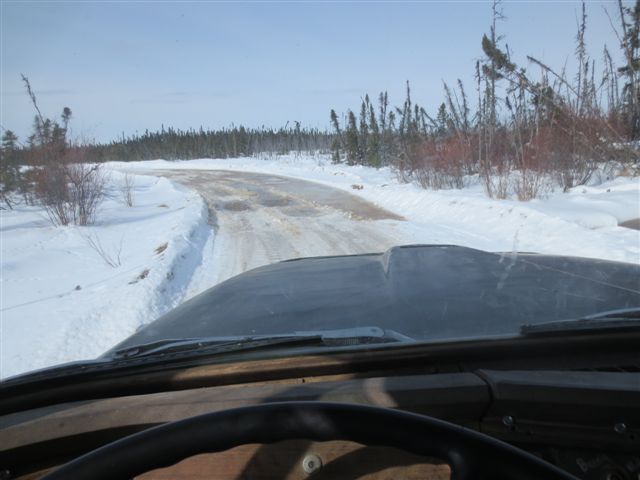 A LITTLE DEEP FOR THE PINK CREW CAB.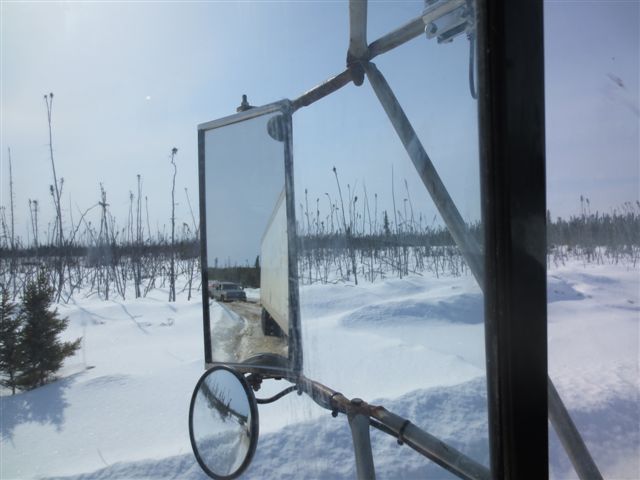 THIS WATER HOLE HAD A DEEP SPOT MARKED BY A STICK.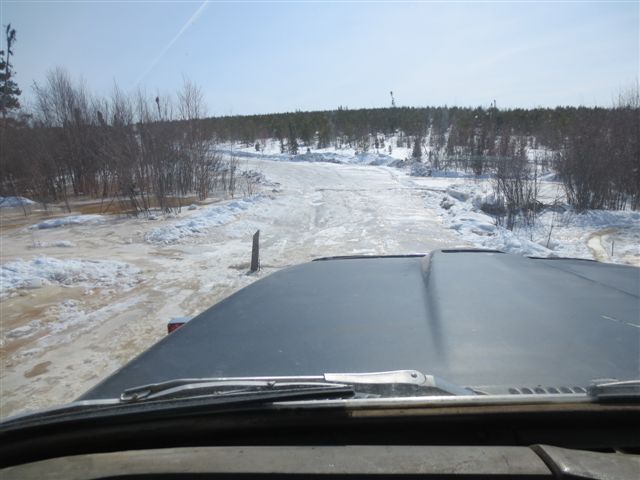 ANOTHER GREAT VIEW OF THE PINK CREW CAB FOLLOWING ALONG.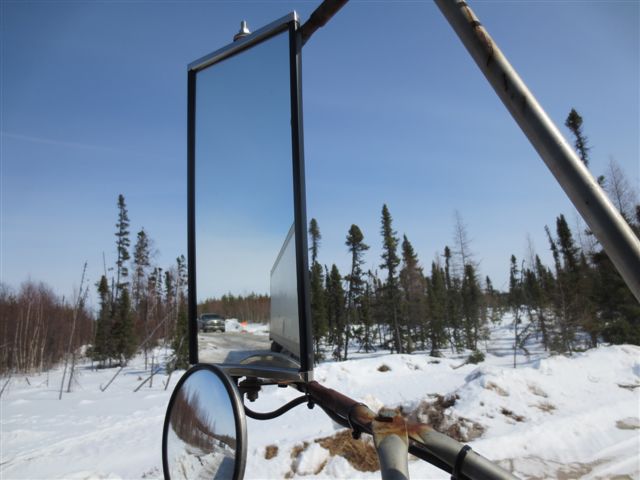 THIS HILL HAS THE SNOW MELTING OFF OF IT VERY QUICKLY BECAUSE OF THE DIRT.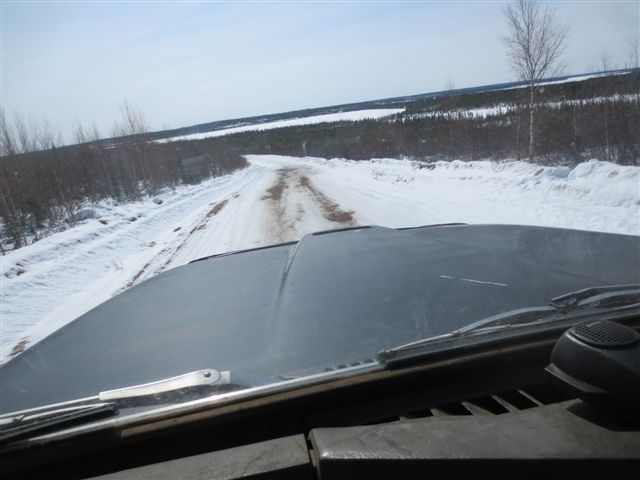 WE ARE NEAR THE END OF THE WINTER ROAD WHEN WE HAVE TO RUN IN THE MUD.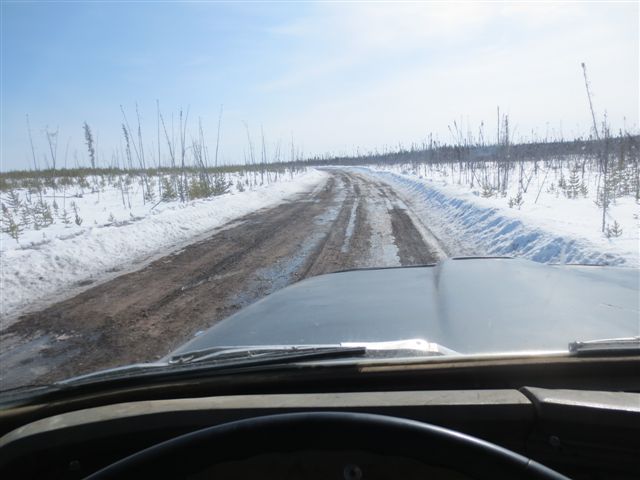 THE END OF THE ROAD FOR US WHICH IS THE START OF THE WINTER ROAD.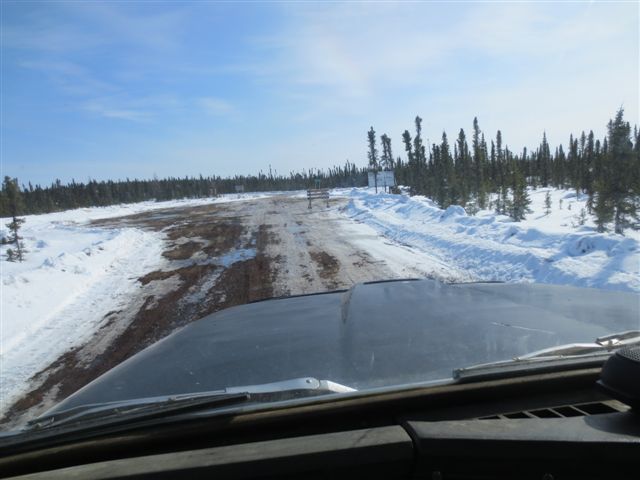 ONLY 47kms BACK TO THE "KINGDOM" AND THE "DOUBLE OR NOTHING TOUR" IS OVER.