TATE ISLAND TOUR
TATE ISLAND LODGE TOUR TURNED OUT TO BE A VERY DIFFERENT TOUR FOR THE "KING OF OBSOLETE". FIRST IT STARTED OUT AS A RESCUE MISSION THEN A FULL WINTER FREIGHTING JOB. PLUS GETTING 2 BROKEN CATS OFF THE BIGGEST BODY OF WATER NEAR THE "KINGDOM" ALL BEFORE THE ICE MELTS.
THE STORY BEGINS WITH JIM THE LODGE OWNER www.tateislandlodge.com BREAKING DOWN IN HIS SOUTHERN SWAMP BUGGY TRYING TO HAUL 68000 LBS OF BUILDING MATERIALS TO TATE ISLAND LODGE. (ok many many trips boys)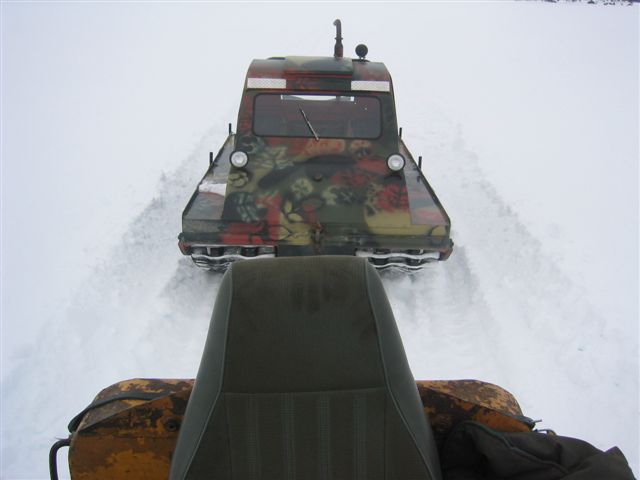 (towing the swampy buggy off the lake with "THE HOOD")
SO THIS IS WHERE I TAKE THE D6 9U KNOWN AS "THE HOOD" OUT OF THE SHOP FOR A TEST RUN ON THE BIG LAKE. THE CAT PERFORMED VERY WELL FOR BEING UNDER WATER FOR 3 YEARS.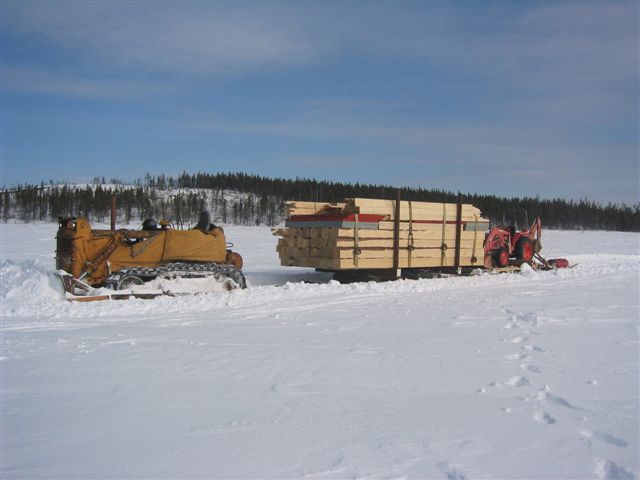 ON THE SECOND TRIP TO THE TATE ISLAND LODGE PULLING THESE OVER LOADED SLEIGHS, I BLEW THE STEERING CLUTCH AND LOST POWER TO THE RIGHT SIDE TRACK. OH WELL, THE 6 MILE WALK BACK TO KINOOSAO, SK WAS GOOD TO KEEP ME IN SHAPE. (STARTING POINT OF THE TRIP)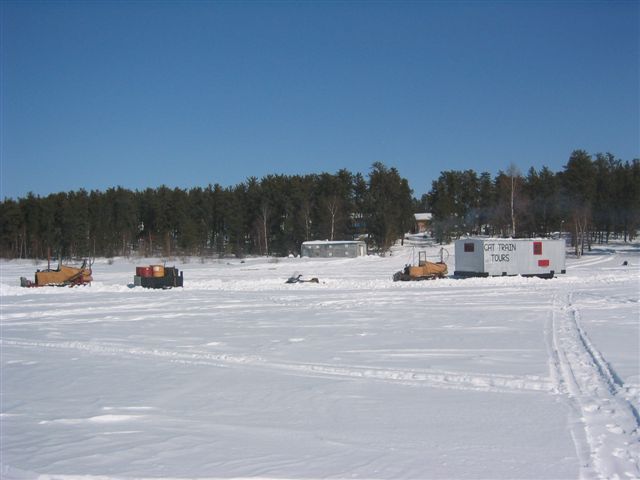 NOW I BRING OUT THE LITTLE GUYS, THE TD-6s KNOWN AS "KOMMUNIST KAT" AND "CURSE OF REVERSE". I THOUGHT THAT THE 2 LITTLE CATS COULD DO THE JOB OF ONE BIG CAT.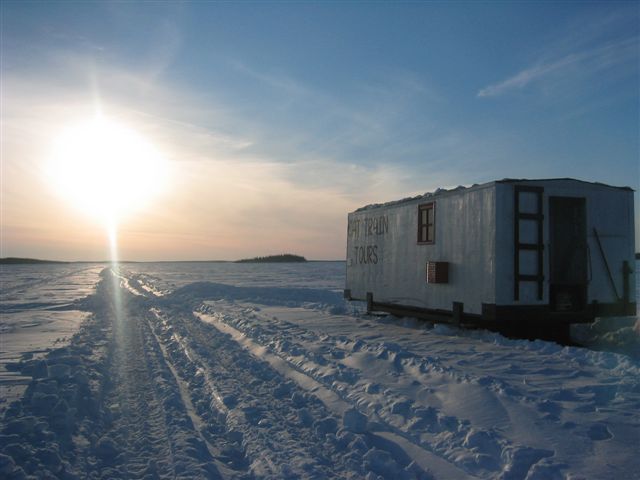 THIS IS WHY WE LOVE TO CAT TRAIN, PRICELESS AND I DON'T EVEN OWN A MASTERCARD.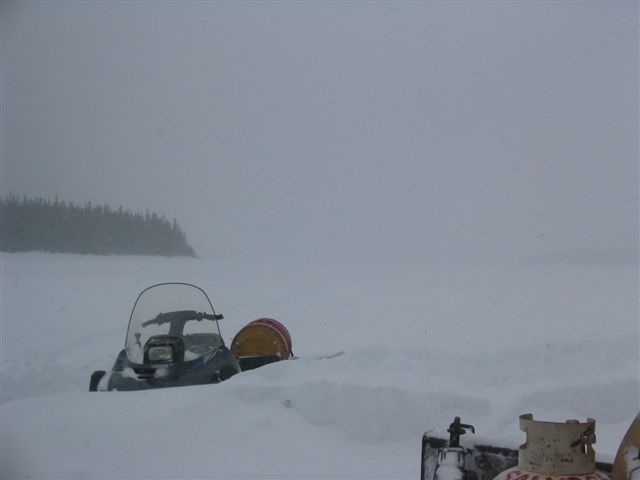 BUT WE ALSO HAD TO WAIT OUT A 2 DAY SNOW STORM, GLAD I HAD THE LAPTOP COMPUTER SOUTHERN BELLE BOUGHT ME SO I COULD WRITE MORE CAT TRAIN NEWSLETTERS.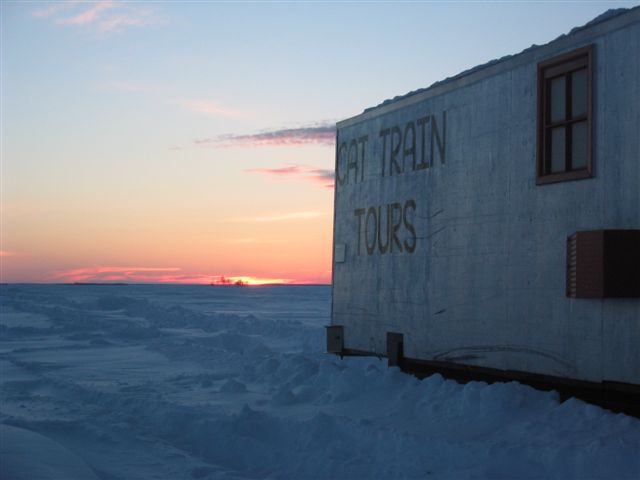 SOUTHERN BELLE, XENA AND I JUST LOVE THOSE GREAT WHITE NORTH SUNSETS.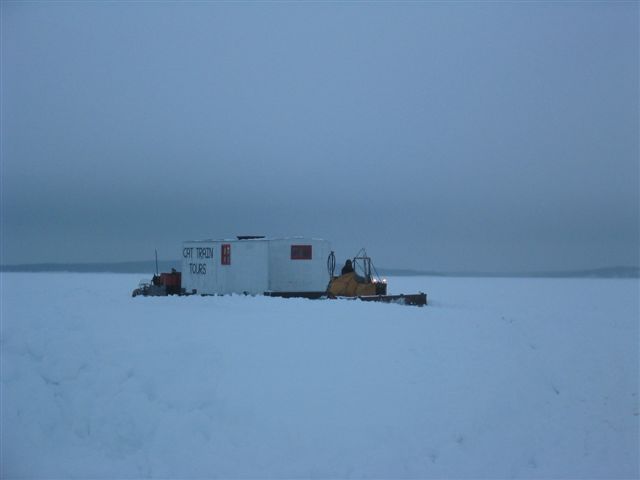 THE 2 CAT THEORY DIDN'T WORK, THE TD-6 KNOWN AS "KOMMUNIST KAT" DECIDED TO BREAK DOWN, JUST COULDN'T HANDLE BEING ABLE TO TURN BOTH WAYS. SO WE DID THE WHOLE PROJECT WITH THE TD-6 KNOWN AS THE "CURSE OF REVERSE"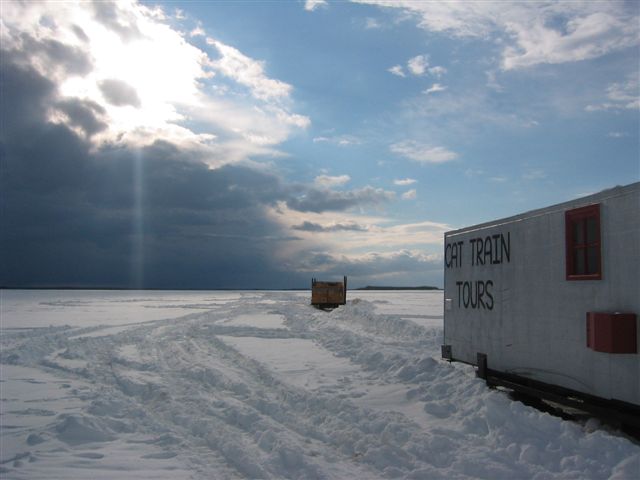 THE WEATHER PLAYS A BIG PART IN THE CAT TRAINS OF THE GREAT WHITE NORTH. LEARN TO READ THE SKIES AND NEVER TRUST THE WEATHERMAN.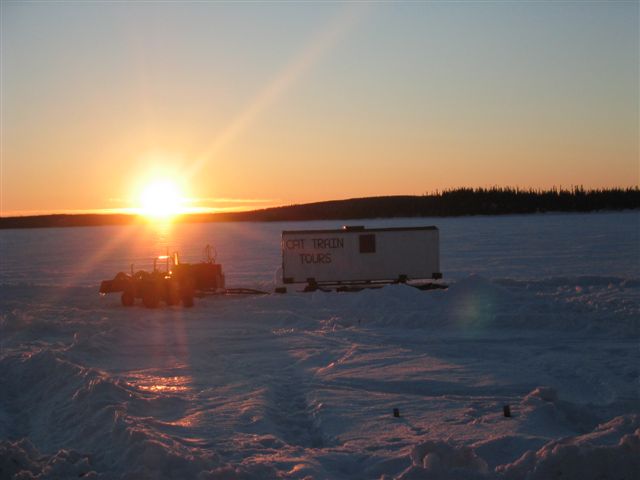 SOMETHING ABOUT THOSE SUNSETS IN THE GREAT WHITE NORTH.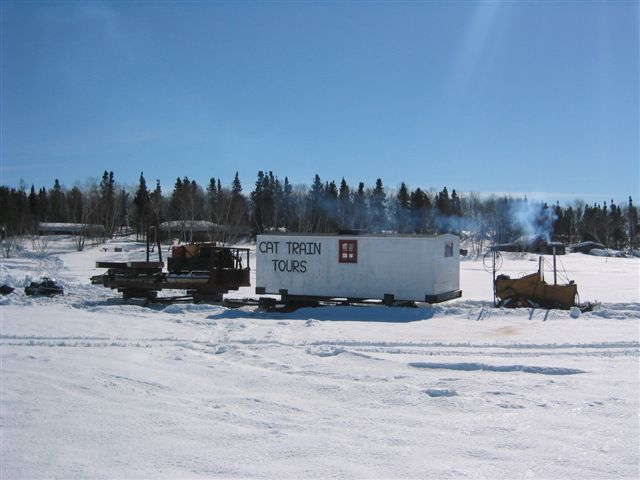 LOADED UP AND HEADING HOME FROM THE LODGE, ONLY HAVE TO STOP AND PICK UP 2 DEAD CATS IN THE MIDDLE OF THE LAKE.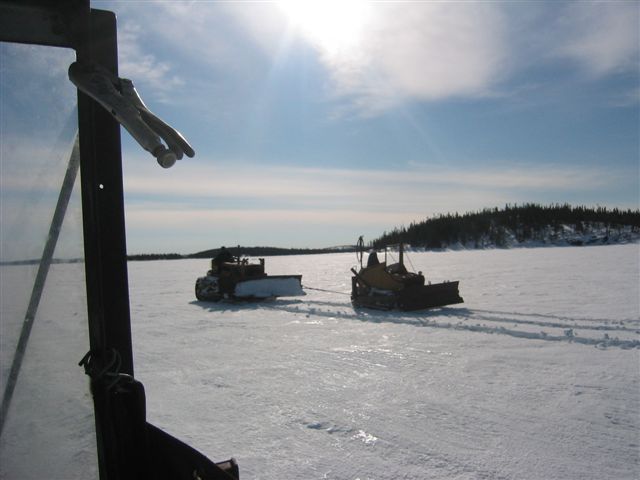 WITH SOUTHERN BELLE AT THE CONTROLS OF THE "CURSE OF REVERSE", DROVE THE D6 9U KNOWN AS "THE HOOD" BACKWARDS DRAGGING THE "KOMMUNIST KAT". I HOOKED THE LITTLE CAT TO THE CORNER OF THE BLADE TO OFF SET THE POWER TO ONLY ONE TRACK THAT MADE IT WANT TO SPIN IN CIRCLES.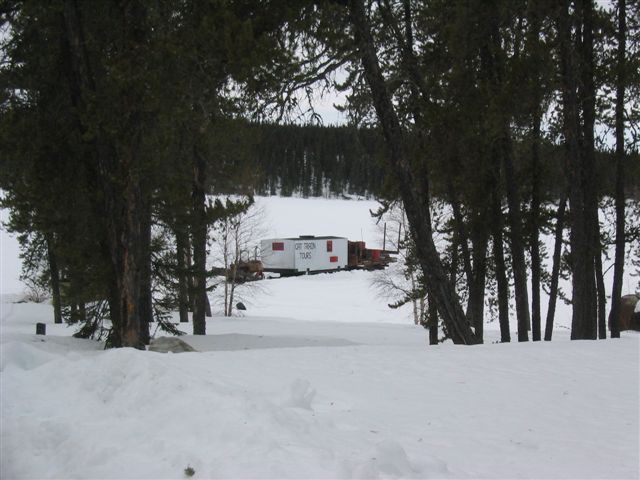 BACK IN KINOOSAO, SK AFTER A HARD WEEK OF FREIGHTING ON REINDEER LAKE. I CAN'T WAIT TO DO IT AGAIN NEXT YEAR BUT WITH LESS BREAKAGE ON EQUIPMENT DUE TO REALLY DEEP SNOW. THANSK