SPARE NO EXPENSE TOUR
AUGUST 2005
THIS WAS TO BE A QUICK TRIP TO SELKIRK MANITOBA TO DELIVER A LOAD OF SCRAP AND RETURN TO THE "KINGDOM" BUT IT DIDN'T WORK OUT THAT WAY.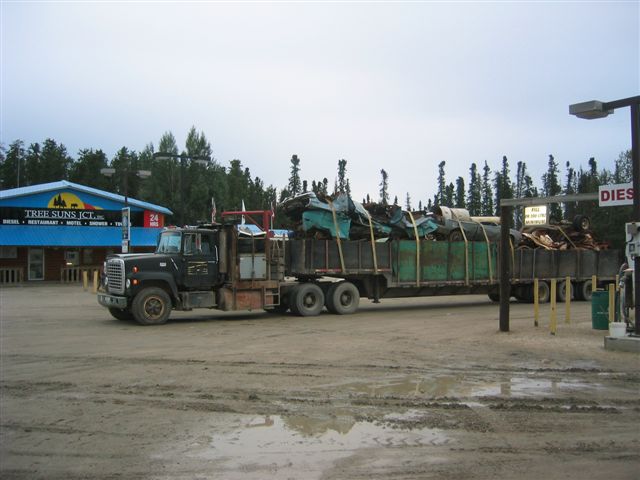 HERE IS THE 1974 FORD SEMI LOADED UP AND HEADING SOUTH, NOT BAD FOR A TRUCK THAT IS 31 YEARS OLD.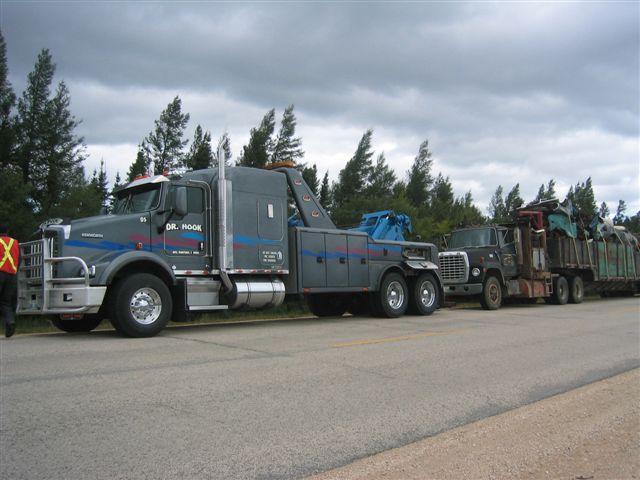 HAD A SLIGHT PROBLEM ABOUT 2/3 OF THE WAY THERE, THE CLUTCH DECIDED TO DIE AFTER ALL THESE YEARS. SO FOR $1500.00 cdn I GOT TO RIDE IN AN AIR CONDITIONED TOW TRUCK LISTENING TO MUSIC ON THE FANCY CD PLAYER. NICE TRUCK WOULDN'T WANT TO HAVE TO POLISH ALL THE CHROME. LOL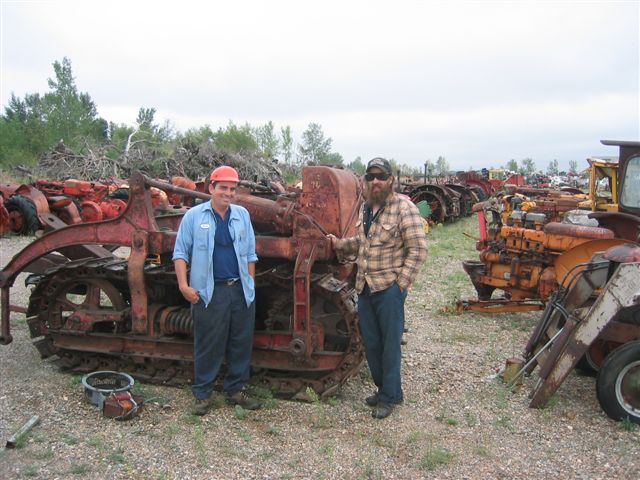 STOPPED BY WESMAN SALVAGE IN BRANDON, MB. TO SEE MY BUDDY RICK AND OF COURSE HE IS SAVING OLD CATS FOR ME.
MY DAD AND I TRAVELED OUT TO VISIT MB CAT NORTH OF VIRDEN, MB. HE SURE HAS LOTS OF NICE STUFF AND LEARNED A LOT MORE ON THIS VISIT.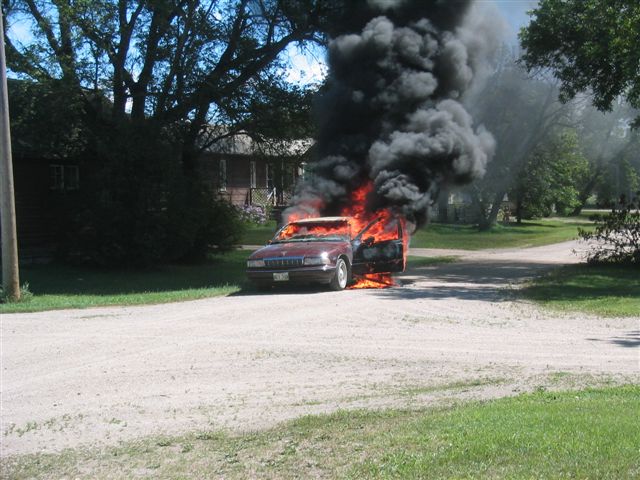 NEXT MY DAD AND I WENT TO VISIT LONG TIME FAMILY FRIENDS NEAR MELITA, MB. WHILE WE WERE HAVE COFFEE, THIS CAR STARTED TO BURN IN FRONT OF THE HOUSE. SO IT WAS GREAT EXCITEMENT WHILE WE DRANK OUR COFFEE.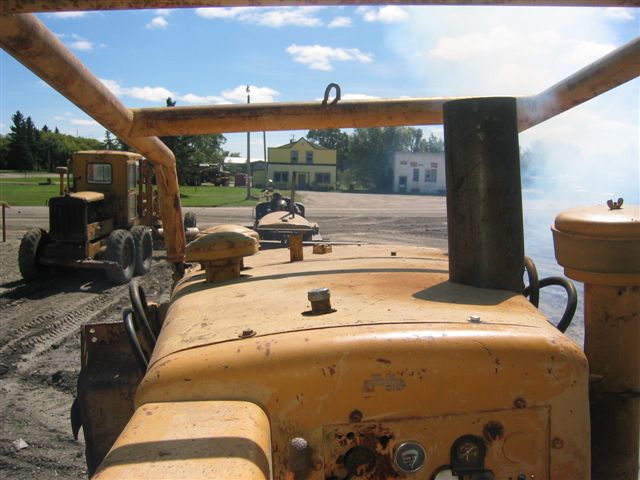 SYLVESTER FROM THE ACME BB AND I WENT TO THE USA AND VISITED DELL AND HIS COLLECTION OF CATS. SO OF COURSE WE HAVE TO GET THE BIG D9 OUT FOR A LITTLE FUN, THIS IS NOT A GOOD WINTER FREIGHTING CAT DUE TO THE SIZE.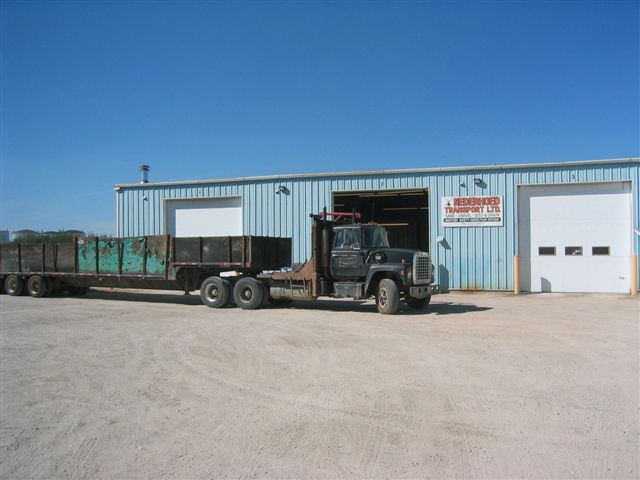 THE FORD IN FRONT OF THE REPAIR SHOP AFTER THE CLUTCH WAS FIXED. HANK AND THE BOYS STILL GIVE GOOD SERVICE AFTER ALL THESE YEARS.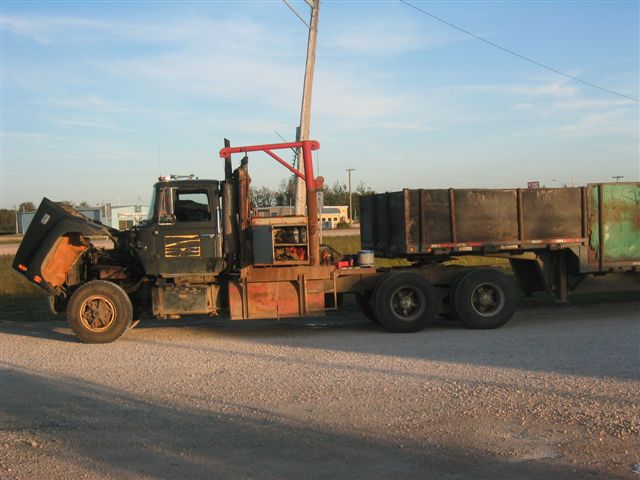 NOT EVEN 1/2 WAY HOME AND AN INJECTOR ON THE ENGINE DECIDED TO QUIT. NO PROBLEM, JUST CHANGE IT AND KEEP GOING.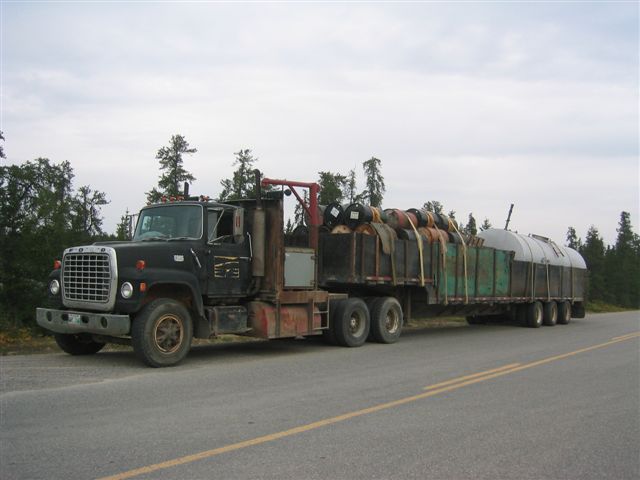 LOADED UP SALVAGE IN THOMPSON, MB AND I ALWAYS STOP FOR A PICTURE ON THE LONG ROAD HOME TO THE "KINGDOM". WHAT A TRIP IT WAS AND I'LL DO IT AGAIN.
THANSK
HERE IS THE WHOLE STORY, ENJOY
SPARE NO EXPENSE TOUR AUGUST 2005
On this latest tour that I did to the South was supposed to be a quick trip to buy the house of my mentor. It was a simple plan, run a load of scrap south, buy the house and return to Lynn Lake, Manitoba all in the course of 3 days. But things took a turn in a different direction and I ended up BONDING with my parents for 7 long days. I got to do some visiting with other people that I have met through computer land plus I got to eat lots of fast food and soft ice cream. So it was not that bad of a stay in the south plus I gave my parents the best 41st anniversary gift I could give them by heading north to the KINGDOM the day of their anniversary.
The tour begins with loading up the 1974 Ford semi with a trailer load of scrap and heading south. The Ford semi is 31 years old and was never designed to pull a 3 axle trailer which makes it a bigger gross vehicle weight than the 74 000 lbs it was intended for back then. But the old Ford has done it before and will keep on doing it for me because this poor truck and its screaming Detroit motor are now obsolete in the trucking industry. What this truck burns in that "expensive diesel fuel" in a one way trip, these modern trucks of today can go there and back for the same amount. But it also comes with a monthly payment to the bank, so the Ford in my eyes is very cheap to run. Just add fuel and oil and off we go on an adventure in the Great White North!
Things were going well until I was about 6 hours from Winnipeg, Manitoba which is about 1/3 of the way on an 18 hour trip from the KINGDOM. The clutch decided to malfunction big time and the Ford semi just coasts to a stop. This is the first big malfunction on this truck in the 15 years that I have owned it. So I thought it was not that bad to have to be towed to Winnipeg, Mb considering all the trouble free miles that I have had with this classic machine. One of the nice things about being in the Great White North, once you put the 4 way flashers on, every vehicles stops to help. But you have to remember that there is only one vehicle every ½ hour in the middle of the night. So the first vehicle to come along gave me a ride back the 20 kms to Grand Rapids, Mb. "It was too easy I said to myself," as I was being dropped off at the motel and I wave good bye to my free ride. But once I read the note on the motel door it said I had to go to the hotel to get a room. Ok no problem, I need the exercise at my age this should be no problem, carrying my bags in the pouring rain. Well, when I arrived at the hotel all I could think of is the hot shower and getting out my wet clothes. But there is a sign on the door saying "phone this number for a room" which is no big problem if the payphones were not locked up in the hotel lobby. So back out in the pouring rain caring my bags to the 24 hour Esso gas station.
I even had a quarter for the payphone to find out there is an answering machine at the number that was posted on the hotel door. So I talk with the non English speaking Korean owner of the gas station and he tells that all the 3 places to stay are owned by the same fellow. This is not good having the market cornered like that and won't answer his phone, not good for poor fellows like me who break down in the middle of the night driving CLASSIC trucks that I am beginning to think that are past their prime. So I'm in wet clothes and watch Korean TV with the owner of the gas station and when 7:00 am finally arrives I get a room at the hotel. The hotel owner said he wanted a night to cuddle with his little woman so that is why he didn't answer the phone. Of all nights to cuddle, it had to be the night I break down in the middle of No-where! Oh well I learned some Korean so it was not a total loss, because my cup of coffee is always half full.
I let SOUTHERN BELLE handle the arrangements for the tow truck since it is easier for her to call than for me at the payphone in the lobby of the hotel with all the table of truth boys eavesdropping on my call. So at 2:00 pm the big tow truck from DR. HOOK TOWING arrives and we are off to hook up to my classic FORD. This tow truck they sent had all the bell and whistles and everything had its place. Quite a very nice set up and they are very professional at what they do. So it didn't take long to hook up the truck and start heading south on the 500 km journey to the scrap yard in Selkirk, Mb. Sure was nice to ride in a fancy semi with air conditioning, cd player and not having to wear ear plugs like in the screaming Ford. Like I told my friends (who thought the $1500.00 for towing was too high) it was cheap, because they pulled both the truck and trailer plus I got to ride in style. Not everyday the KING OF OBSOLETE gets to ride in a fancy truck with more chrome than in my bathroom.
The tow truck trip was going too well. We ran over something on the road that blew 2 tires on the trailer. What a surprise that was to see 2 good tires blown to pieces but we were able to limp into Ashern, Mb. The fellow at the tire shop was closing but he stayed and mounted 2 tires because I paid for them with my buddy Mark's visa. Visa is good to have on occasion like this, but better yet is to have friends that help you out in a pinch. With the tires fixed, we only have 2 hours ahead of us and we will be at the scrap yard then the tow truck trip is over. We even made the last 2 hours an adventure too. The tow truck driver took a wrong turn and we ended up in a residential area where trucks are not to go! The locals just waved as we drove around like a mouse in a maze looking for a way back to the truck route. It must be the flashing lights and all that chrome that made the locals so friendly, now if I was there in the screaming Ford semi, the locals would have called the SWAT team to escort me back to the truck route. Finally at 10:00 at night we unhook the Ford semi from the tow truck and I get a taxi ride to the motel room that was reserved for me. If the room was not reserved I would have had 45 minute taxi ride to the next motel. It sure is nice having SOUTHERN BELLE in the KINGDOM making all the arrangements for when I'm traveling.
The next day Hugh from the scrap yard picks me up for a fancy breakfast at Smitty's restaurant. Of course Hugh bought breakfast so that was even better, since this tow job and clutch will be more than the value of the load of scrap. We head back to the scrap yard to see my trailer coming across the scale for an empty weight. An American fellow, who comes up to Lynn Lake, Manitoba to go fishing, used his truck to unload my trailer. So if you are nice to people they will be nice to you back, it was very nice of this fellow to do this. Now I get my big cheque for the load of scrap and my dad shows up in time to drive me to the bank. Talk about perfect timing on everything on the trip so far except for the hotel room, but my Korean is getting better. My dad drives me to the bank and they cash the cheque with a smile and off we go to buy my mentor's house from his son. Another lucky thing for me is the fact the son lives right in Selkirk, Mb, so my dad didn't have to spend my inheritance driving me all over town.
With the house purchased and all the other loose ends finished this means the tow truck will be taking the Ford semi to the repair shop to have the clutch repaired. My Dad and I head west to my hometown of Brandon, Mb where I spent my wasted youth growing up. My parents decided about 10 years ago to invest my inheritance and purchase an acreage just 7 miles west of Brandon, Mb near Kemany, Mb. I could never figure out why they bought a place on the bald prairie where you can watch your dog run away for 3 days because it is so flat!! But then again my parents can't figure out why I live in the bush in a 10x30 shack at the edge of town and don't have TV! When dad and I arrived at his house, mom was just taking supper out of the oven. So I told her to put it in the fridge, which I noticed was brand new, (spending more of my inheritance or increasing the resale value of the house? Not sure.) because we are going to have fast food at Burger King in town. So for the first time in 30 years my mom was in the Burger King restaurant enjoying a big delicious burger and fries which is forbidden food at their age!
Well now I get to spend a couple of days at my parent's house. They had a little water problem when it rained 5" in one hour, so they must now fix the problem to keep a higher resale value of the house. And, not really wanting to shovel the dirt from around the basement of my parent' house all I had to do is ask Dad once, to go and visit a fellow named MB Cat who has an excellent collection of cats and rubber tire tractors. We left Ivan behind to shovel; this made Mom happy because the work was getting done. Dad and I seemed to time it just right by returning home for supper and too late to shovel! So I was able to keep my Dad busy visiting friends and family for most of the week. Plus we even got to see a car burn in Napinka, Mb. which was a very nice car but will make great scrap now. Plus I got to see a southern fire department in action. In the great white north; we don't call the fire department, we just grab the marshmallows and call our friends.
So after a week of traveling and visiting all these people, Dad was getting tired and needed to rest with a good NASCAR race. So on Sunday Sylvester from the Acme BB picked me up and we headed South to the USA to visit a fellow who's handle is CAT D9. When we arrived at the small border crossing which I think must only get 60 cars a day on a yearly average. The border patrol was staffed by 2 older ladies who did their jobs very thoroughly. (the next thing I thought they were going to find out was if Sylvester and I were wearing boxer or brief underwear) It might have been when the lady asked what my occupation was and I told her I'm the KING OF OBSOLETE marketing my life style in the great white north. For some reason after I answered that question we were taken into the building for more questions. I guess some people can't handle the truth, oh well, I had clean underwear on for these occasions!
So we arrive in this small town to be greeted by a fellow called CAT D9 who is driving a Cushman trike which is an industrial golf cart. So we follow him to the local café and to my surprise there is no one at the Table of Truth. I think CAT D9 told them that I was coming and they all left before that "crazy Canadian" arrived. We ate the biggest ham and cheese omelet I have seen in years but then again eggs cost lots of money in the Great White North and we are in the United States of America. When it came time to pay for such a hearty meal, Sylvester and I only had the Canadian money which is only good in Canada. So CAT D9 bought us breakfast and told us to keep our funny looking money. Then it was off on a whirlwind tour of CAT D9's collectables. Talk about a lot of neat stuff. CAT D9 is obsessed with gensets which are engine driven generators for making electricity. This fellow must have at least 50 gensets stored in buildings all over the small North Dakota town or maybe he just owns the town. What was total amazing is the fact that his shop and house are on gensets for when the power company cuts him off in peak demands. Which makes a lots of sense, but I never thought that I would see that in the south. Gensets are common in the Great White North because of the remoteness.
After the whirlwind tour we get to play on the cats of CAT D9's and he has some "big toys", no small cats here! I think he doesn't take his cats out on the ice at all so that is why he collects the BIG ONES. The D9 cat that weighs in at 70 000 lbs needs to be push started because the starting motor is seized. Sylvester is elected to drive the D7 to push start the D9 which me the KING gets to operate. When Sylvester drives the D7 up to the blade on the D9, I can't see him because the D9 is so much bigger than the D7. It is all the D7 could do, to push start the HUGE D9 and once it starts I'm off and down Main Street. Of course Sylvester follows me and all the locals are shaking their heads at the Crazy Canadians terrorizing the American town. We had to go down the main street to get to CAT D9's sandbox where we could play with these huge cats. Once at the sand box Sylvester must dig a basement to test out the D7 because it sure is a more MANLY machine then his little D2. After about an hour of digging, CAT D9 decided he better stop these Canadians since he doesn't have a permit for a digging a basement. After a quick pizza at CAT D9's shop, Sylvester and I must head to the border and get "let back" into Canada before it closes. The lady customs officer, only rolled her eyes, when she found out that we spent the day with CAT D9 in the small North Dakota town. Also when she found out that we had no alcohol and no tobacco to declare because it was already in our bellies, she was not amused for some reason? We told that we had no American money to buy breakfast, so how could we buy alcohol and tobacco to bring back to Canada? After about 20 minutes of chatting with this lady customs officer, we were allowed to enter back into Canada. Most likely because they didn't want us staying outside of Canada any longer and it would be safer for us in our home country!
After a week of being a social butterfly it was time to head home to the KINGDOM where SOUTHERN BELLE was almost out of water. My Dad drove me to the truck shop in Winnipeg, Mb in case I didn't have enough cash to pay for the clutch repairs. Then dear old Dad would have to help me out with his Visa to pay for the clutch job and take it off the inheritance. Once we were done settling up the bill, I said good bye to my Dad and wished him a happy anniversary and that my gift to them was my departing for the Great White North. Now I have the Ford semi on the out and open road heading north to Thompson, Mb where I'll load salvage in the morning. Then about 4 hours out of Winnipeg, Mb. the screaming Detroit engine loses a fuel injector. So I say to myself "this should be the last of the problems" and I was right. I changed the fuel injector which is about 20 minutes when you have all the tools and off I went to Thompson, Mb for loading in the morning with salvage.
After, a so called good night sleep on the seats of the Ford because all the hotel rooms were full in Thompson, Mb again and all the sweet corn and potatoes didn't help either to sleep on, that I bought as a surprise for SOUTHERN BELLE. The things I do for a little cuddling on the couch! I get loaded up with the salvage and stop at Walmart for some quick food supplies and spend all but my last 10 bucks. Then I bounce over the so called road to Lynn Lake, Mb and when I arrive at the KINGDOM, I see my neighbour pushing the Bel-air car in the driveway with his dodge truck. My neighbour Nick said it had quit on SOUTHERN BELLE uptown and it is not the first time he has pushed the car home. The Bel-air had quit a few times on my mentor when he owned the car and Nick had pushed him home too. It is good to have friends and neighbours like that who help you out when things go wrong. SOUTHERN BELLE was quite surprised at the fresh southern sweet corn and this made her day since the Bel-air car had ruined it!
thansk