SOUTHERN ROAD TRIP 2012
JANUARY 2012
THINGS HAVE HAVE CHANGED ON THESE SOUTHERN ROAD TRIPS OVER THE LAST FEW YEARS. THEY HAVE BECOME MORE COMFORTABLE THE OLDER I GET. THIS IS MY FIRST ROAD TRIP SOUTH IN 2 YEARS AND IT WAS NOT PLANNED. IF THE TRIP WAS PLANNED I WOULD HAVE TAKEN XENA AND DID THE FAMILY THING BUT IT WAS A QUICK TRIP. ON MONDAY I TOSSED SOME SCRAP METAL ON A BORROWED TRAILER AND HEADED SOUTH.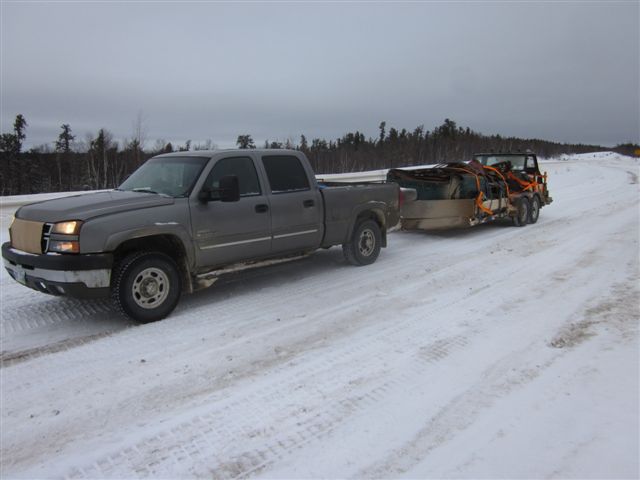 MY PINK CREW CAB HAD NO PROBLEM PULLING THIS NICE SAFE LOAD OF RECYCLABLE MATERIALS. I DROVE ALL NIGHT TO BE IN WINNIPEG MANITOBA FOR 8am ON TUESDAY MORNING TO GET UNLOADED. THE 1100km IS NO PROBLEM TO DRIVE WHEN YOU HAVE A NICE COMFORTABLE TRUCK TO DRIVE COMPARED TO THE "SCREAMING FORD", LOL. AFTER GETTING UNLOADED I MADE THE 9:30am APPOINTMENT THAT WAS IMPORTANT FOR ME TO BE THERE BUT IT ONLY LAST LESS THEN 30 MINUTES. OH WELL IS ALL I HAVE TO SAY ON THIS.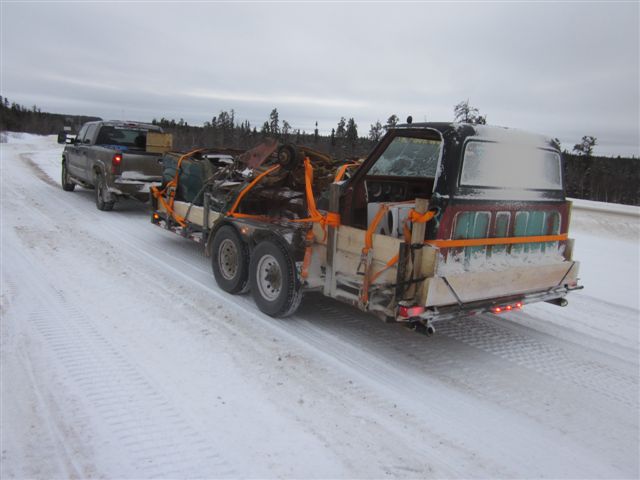 AFTER RUNNING AROUND AND PICKING UP SUPPLIES I GOT A MOTEL ROOM WITH INDOOR PLUMBING AND HAD A SHORT NAP FOR A COUPLE OF HOURS. THE MOVIE PRODUCER FROM VANCOUVER WAS IN TOWN AND WE PLANNED ON GOING OUT FOR A NICE STEAK DINNER. I ASKED VINCE WHO WENT TO LAC BROCHET IN 2009 TO JOIN US. FOR SOME REASON ABOUT 9pm GETTING PRETTY SLEEPY FROM DRIVING ALL NIGHT. I HAD TO END THE NIGHT EARLY BUT IT IS OFFICIAL THAT A MOVIE ABOUT CAT TRAINS IS IN THE WORKS. WEDNESDAY MORNING I WOKE UP AND HAVE TO FIND A TD-18 THAT I BOUGHT FROM "EGOMAN" ON THE RED POWER BB. OF COURSE I HAVE THE WRONG PHONE NUMBER TO GET DIRECTIONS TO WHERE THE CAT IS LOCATED. WHEN I GET A HOLD OF THE RIGHT PERSON I GET SIMPLE DIRECTION OVER MY PAY AS YOU GO CELL PHONE, I WAS ABLE TO FIND THE CAT. HERE IS A PICTURE OF THE TD-18 KNOWN AS "EGGO" AND HE HAS BROKEN CROWN AND PINION CASING.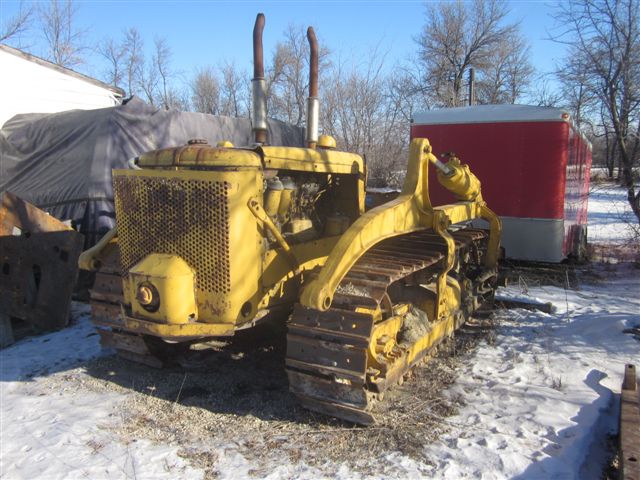 "EGGO" IS A PRETTY FANCY CAT WITH HYDRAULIC TRACK TIGHTENERS. I THINK THOSE CYLINDER MUST HAVE A LOT OF GREASED PUMPED IN TO THEM TO MAKE THEM WORK TO TIGHTEN THE TRACK.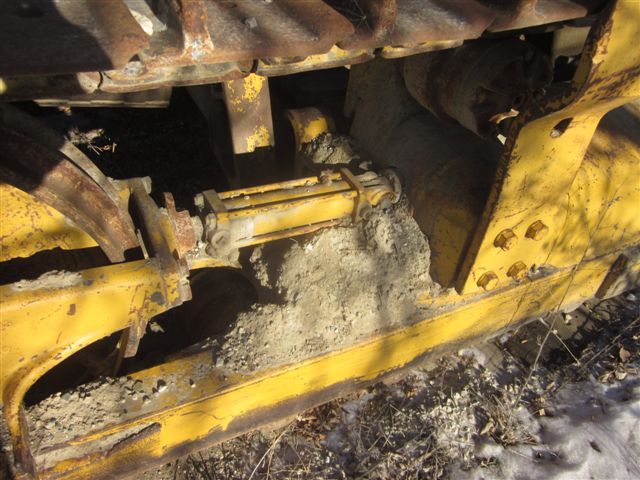 BUDDY VINCE WILL BE PICK UP THIS CAT WITH MY LANDOLL TRAILER AND FOR SOME REASON HE DIDN'T WANT TO HAUL THE SMALL PARTS FOR THE CAT. AFTER CARRYING ALL THE PART OUT OF THE SHED TO MY PINK CREW CAB IN JUST UNDER AN HOUR I CAN SEE WHY VINCE DIDN'T WANT TO HAUL THE SMALL STUFF. IT WAS A LOT OF WORK.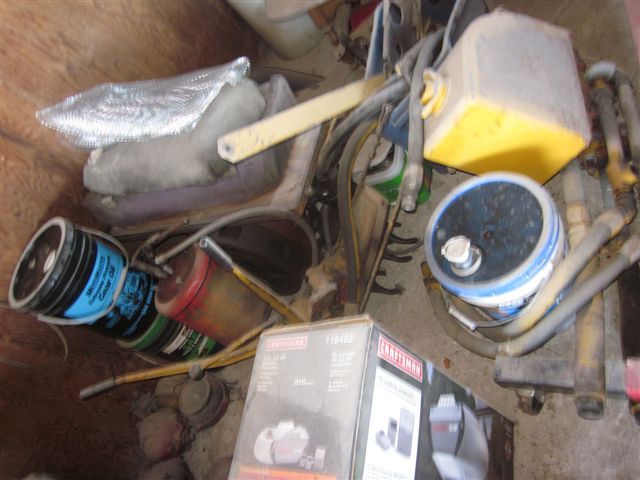 WITH "EGGO" PARTS ALL LOADED UP I HEAD NORTH TO THE PAS MANITOBA TO PICK UP THE TD-9 KNOWN AS "PEE DEE". IT DID NOT TAKE LONG TO LOAD WITH BRUCE RUNNING THE LITTLE YELLOW CAT.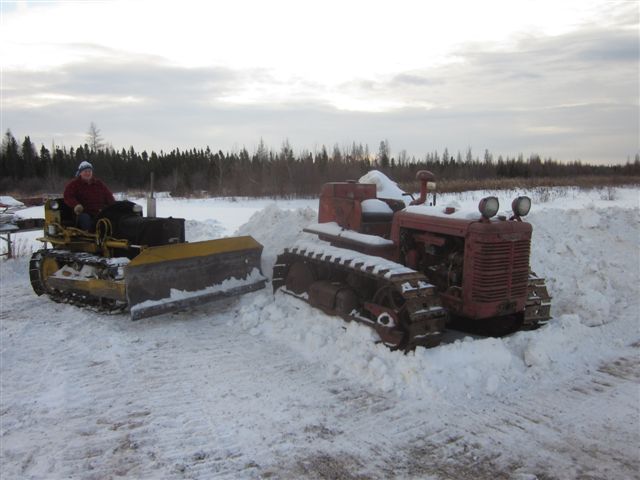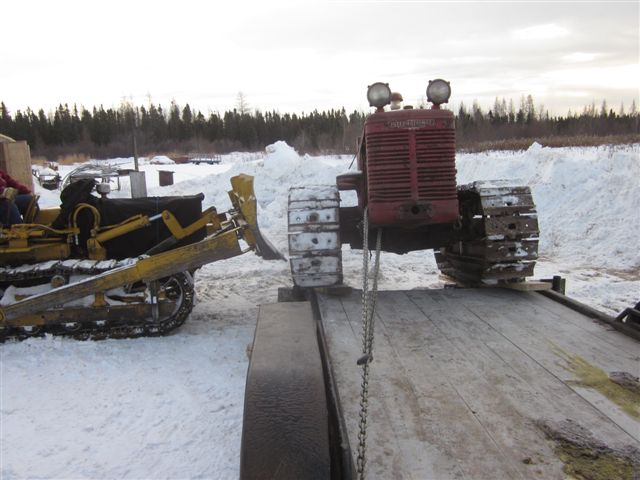 WITH "PEE DEE" LOADED IN UNDER AN HOUR IT WAS TIME FOR THE FUN TO BEGIN.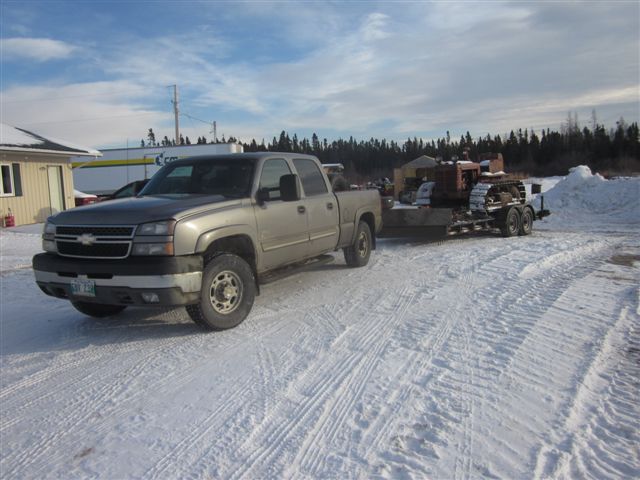 HERE COMES THE FUN.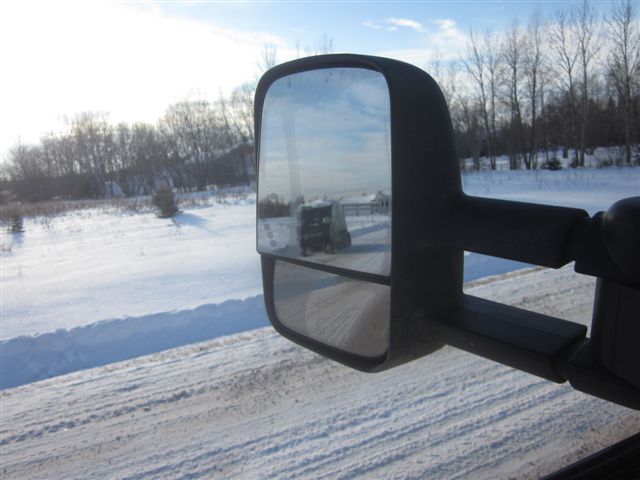 THERE GOES THE FUN.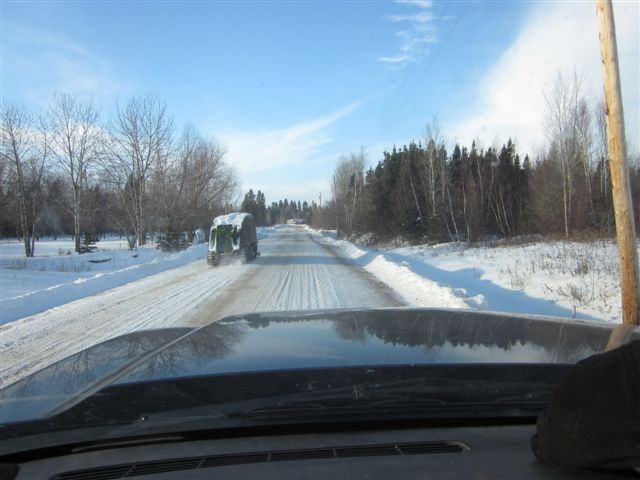 THE FUN IS A LATE 1940s BOMBARDIER WOODEN NARROW GAUGE MACHINE WHICH ALL ORIGINAL EXCEPT FOR THE PAINT JOB.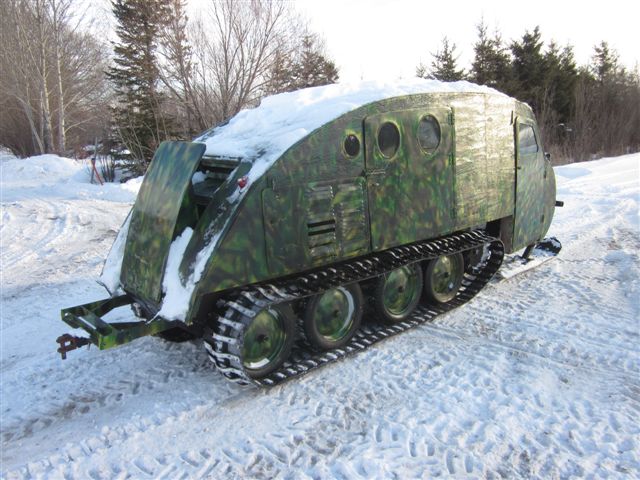 YOU GET TO SIT IN THE MIDDLE TO DRIVE AND SHIFT 3 ON THE TREE WHICH IS GREAT FUN SO GRINDING THE GEARS IS NORMAL. THE VACUUM CLEANER HOSE AS A DEFROST IS AN UPDATE FROM THE 1960s WE THINK, LOL.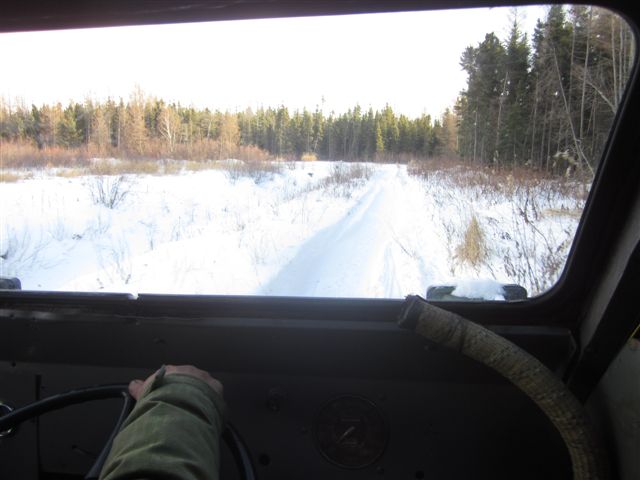 THE SMALL MACHINE WAS FUN BUT WE HAD TO GET THE STEEL BODY WIDE GAUGE OUT BECAUSE THE FORD V-8 HAS MORE POWER.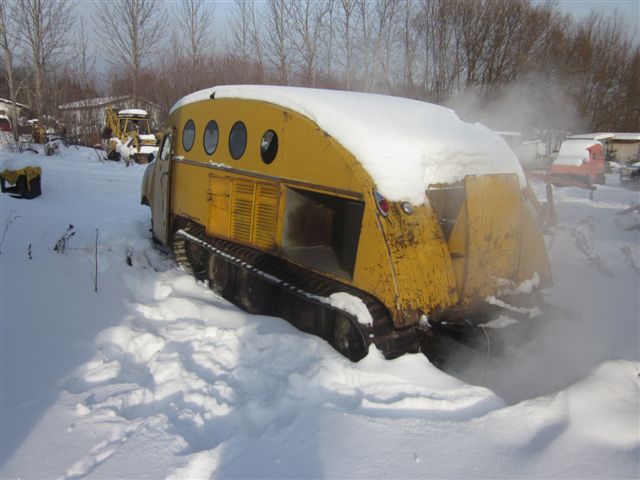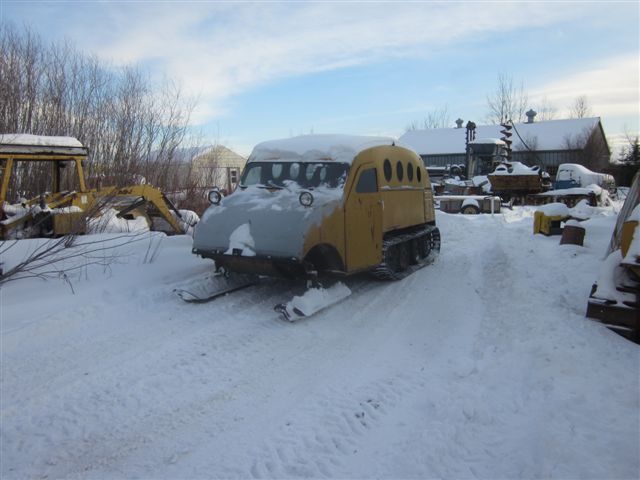 STILL A GREAT VIEW SITTING IN THE MIDDLE OF THE MACHINE.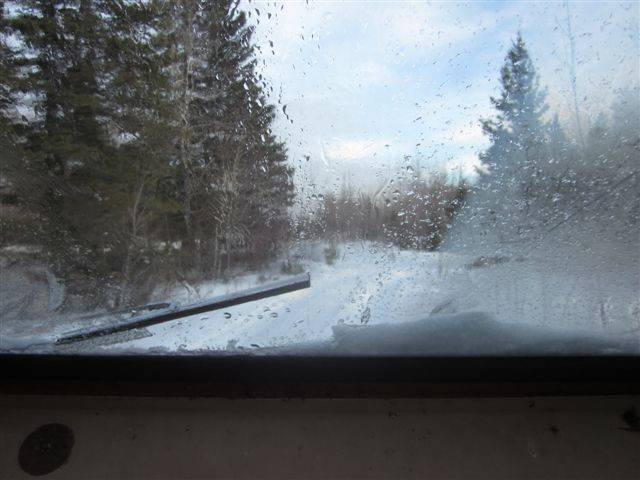 I PARKED THE PINK CREW CAB AT THE MOTEL AND ENJOYED ANOTHER GREAT STEAK AT A FANCY RESTAURANT.