MONSTER TRUCK RUNNING REINDEER LAKE
DECEMBER 2006
WE DECIDED TO GO ON A LITTLE ADVENTURE OVER THE CHRISTMAS HOLIDAY IN THE GREAT WHITE NORTH. FIRST WE HAD TO LOAD UP MONSTER TRUCK AND HAUL HIM 100 kms TO KINOOSAO, SK WHICH IS THE START OF REINDEER LAKE FOR US. THE 100 KMS ONLY TOOK US 3 HOURS TO TRAVEL BECAUSE OF ROAD CONDITIONS. THERE WAS WAY TOO MUCH SNOW ON THE NARROW GRAVEL ROAD. ONCE WE ARRIVED AT KINOOSAO WE UNLOADED MONSTER TRUCK AND MOUNTED THE BIG FRONT TIRES. THEN WE TRAVELED 95 kms OVER THE FROZEN LAKE TO BROCHET MB.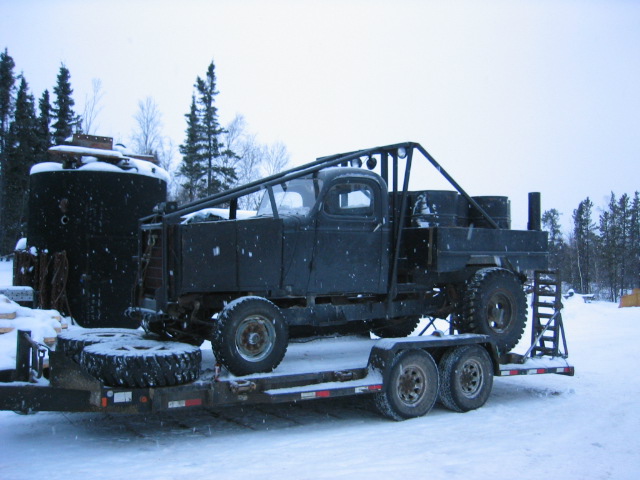 MONSTER TRUCK HAS A PAYLOAD WHICH IS ABOUT 3000 LBS OF DEAD WEIGHT TO TRAVEL ACROSS THE FROZEN LAKE. YOU COULD CALL IT "CEMENT SHOES" IF WE BREAK THROUGH THE ICE. LOL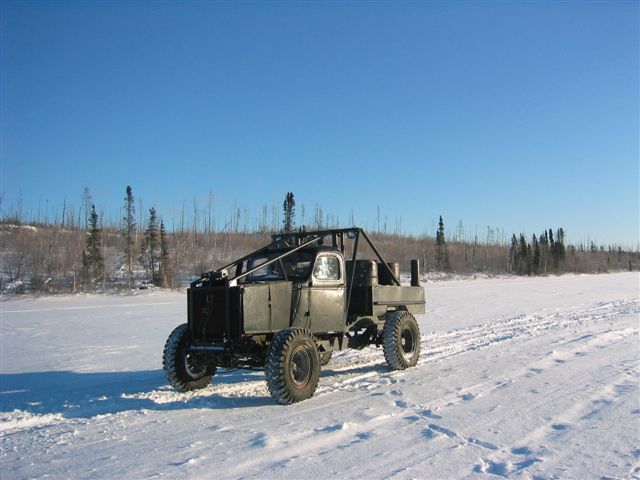 THE VIEW FOR THE NEXT 3.5 HOURS. I WISH I DIDN'T PUT THE ROLL BAR IN THAT SPOT, IT IS HARD ON THE NECK AFTER ABOUT THE FIRST HOUR, LOL.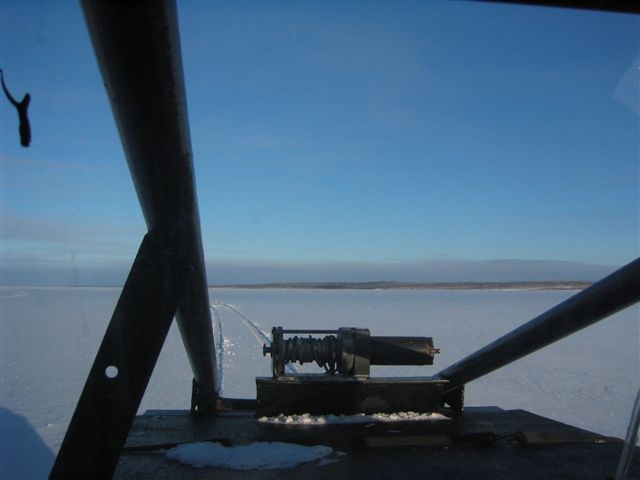 WHEN WE MET TRAFFIC, WHICH WERE SMALLER AND LIGHTER THAN THE MONSTER TRUCK, WE PULLED OVER TO LET THEM HAVE THE RIGHT-A-WAY OF THE TRAIL. THE BIG TIRES AND LOTS OF GROUND CLEARANCE MADE THE SNOW EASY FOR US TO DRIVE THROUGH.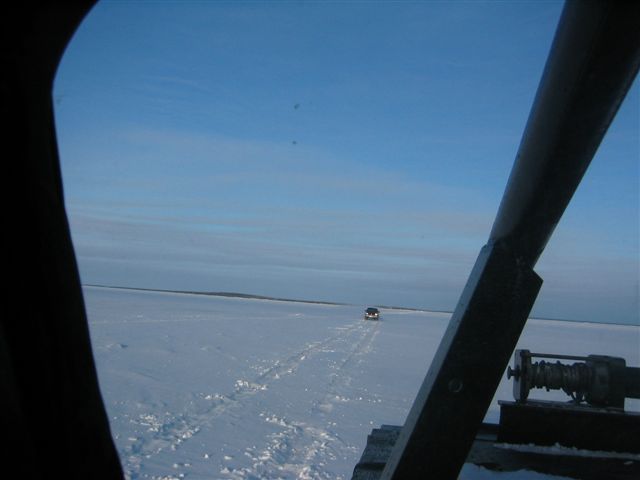 ONE THING YOU HAVE TO UNDERSTAND ABOUT ICE IS THAT IT IS ALWAYS MOVING AND FLEXING. SO THIS PRESSURE RIDGE IS A GOOD SIGN.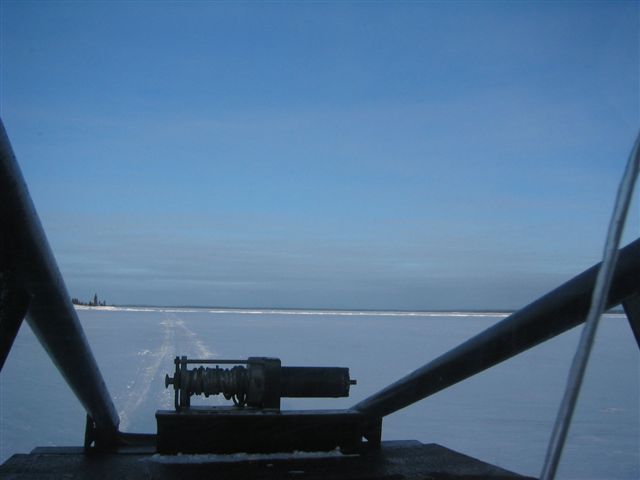 PLUS THE ROAD WAS MARKED TO TRAVEL THROUGH, WHICH SOMETIMES BECAME A DETOUR FOR MILES WHEN GOING THROUGH A PRESSURE RIDGE.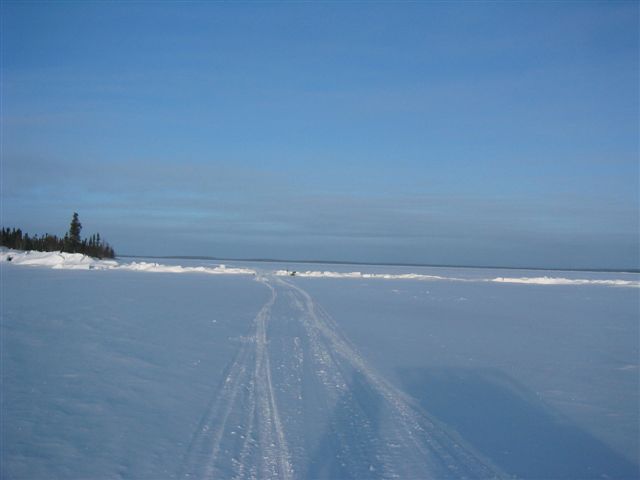 IT IS GOOD TO SEE SUCH NICE, CLEAN, CLEAR ICE ON THE PRESSURE RIDGE. THIS IS A SMALL PRESSURE RIDGE. SOMETIMES THEY WILL BE A WALL 10 FEET HIGH OF ICE.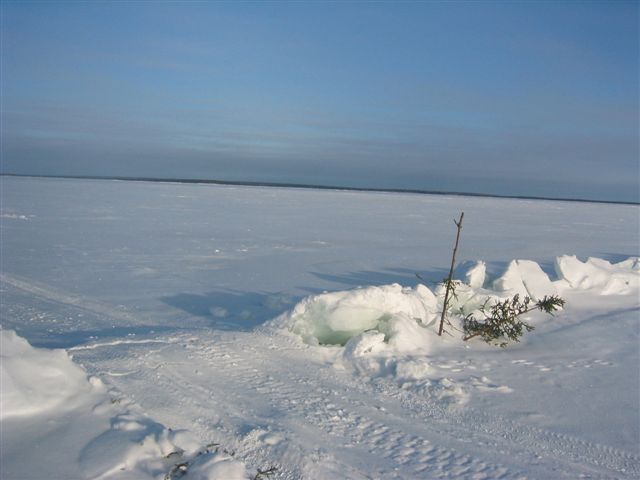 A VERY NICE PICTURE SHOWING HOW WE ARE OUT IN THE MIDDLE OF A FROZEN WASTELAND.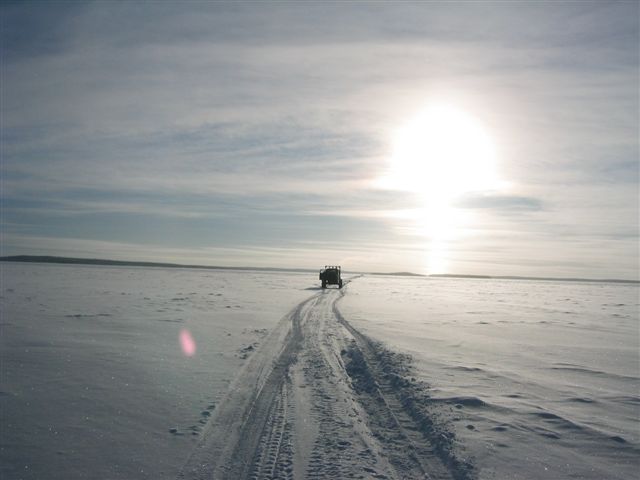 THIS VIEW SHOWS HOW YOU CAN'T SEE THE OTHER SIDE OF REINDEER LAKE. THIS IS NOT GOOD WHEN YOU ONLY BROUGHT AN AXE TO CUT TREES DOWN FOR A SURVIVAL FIRE IN CASE MONSTER TRUCK BROKE DOWN. WE DECIDED THE AXE WOULD BE USED FOR KINDLING TO START MONSTER TRUCK ON FIRE, TO KEEP US WARM, LOL.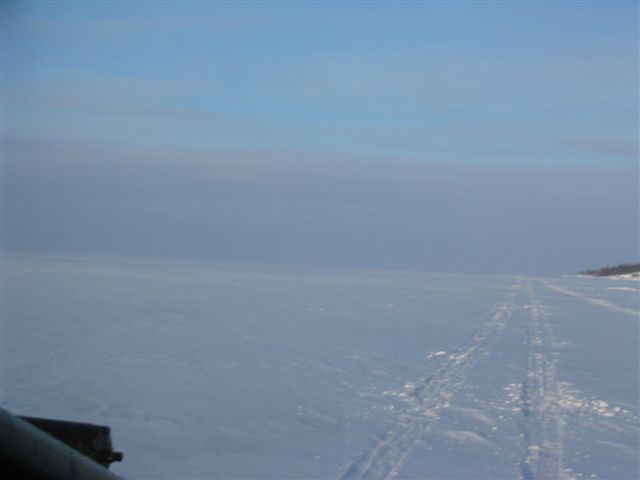 NOW YOU KNOW HOW THE GUYS ON THE MOON FELT DRIVING THEIR 4X4 MOON VEHICLE.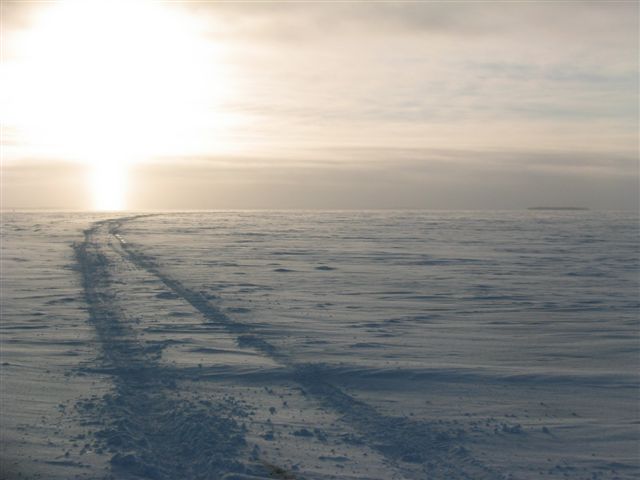 ARRIVING AT BROCHET, MANITOBA WHICH IS A VERY OLD NORTHERN COMMUNITY. YOU CAN SEE THE CHURCH A LONG WAYS OUT ON THE LAKE.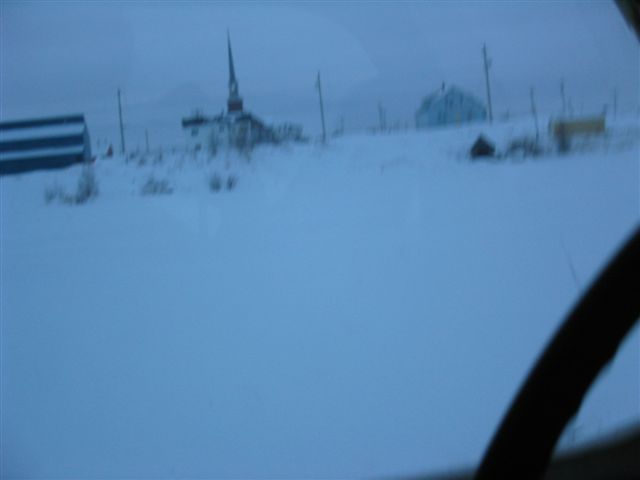 SAFE AND SOUND AT OUR FRIENDS PLACE, WE UNLOADED THE TRUCK AND THEN BOUNCED BACK OVER THE LAKE IN THE DARK. THE STUPID CAMERA DECIDED NOT TO TAKE ANY PICTURES IN THE DARK. OH WELL! GOOD TO BE HOME IN THE "KINGDOM" AT 3 O'CLOCK IN THE MORNING.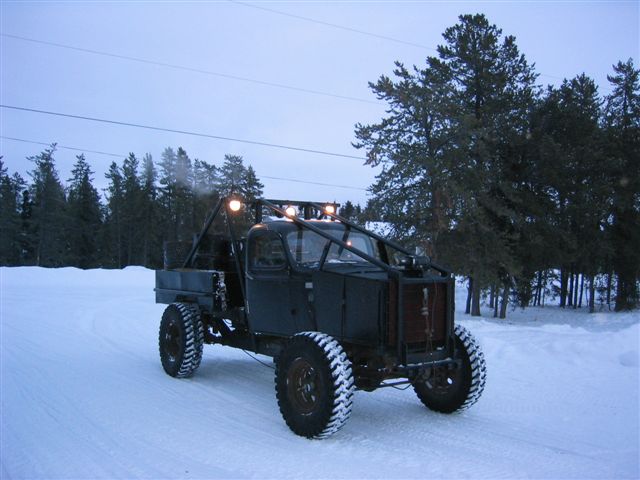 THANSK
THE STORY OF RUNNING REINDEER LAKE -- DEC 29