KINOOSAO SASKATCHEWAN
SCRAP METAL RELOCATION PROJECT
OCTOBER 2009
MID-NORTH HAULING (MY "REAL JOB") GOT ASKED TO GO UP TO KINOOSAO SK AND GATHER UP THE SCRAP METAL IN THE COMMUNITY. A SIMPLE LITTLE PROJECT WHICH A LOT OF THINGS COULD GO WRONG IF THE PROJECT WAS NOT PLANNED OUT. ONE OF THE BIGGEST PROBLEMS IS THE COMMUNITY IS LOCATED ON SANDY HILLS. SAND AND WHEELED VEHICLES DO NOT GET A LONG FOR SOME REASON PLUS ADD HILLS IN TO THE PICTURE AND THE FUN BEGINS. BUDDY BARRY'S 215 CATERPILLAR BACK-HOE WAS ALREADY UP AT KINOOSAO SO ALL WE HAD TO TAKE WAS A TRUCK AND ANOTHER CAT.
LOADED UP AND HEADING OUT IN THE SNOW.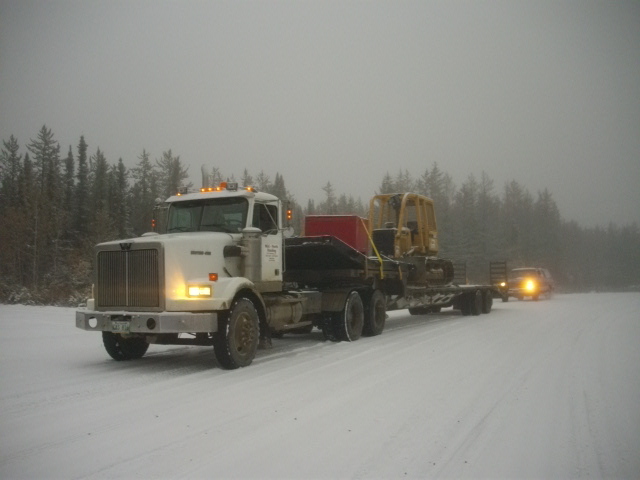 LESS THEN 2 KMS LATER ON THE KINOOSAO RALLY ROAD WE WERE PUTTING TIRE CHAINS ON ALL THE TIRES FOR TRACTIONS.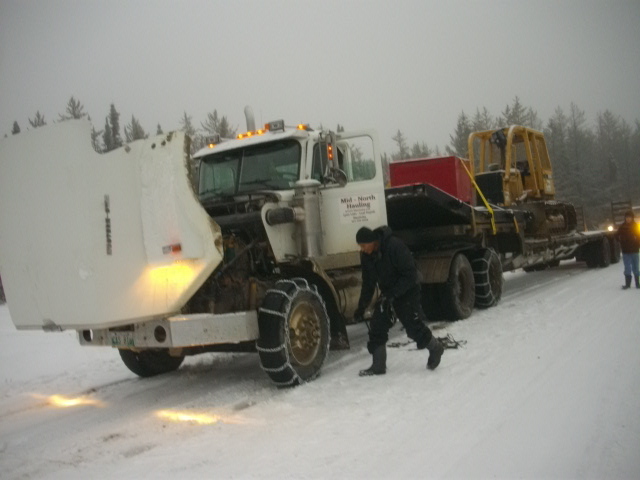 WHEN WE ARRIVE IN KINOOSAO THE SUN IS SHINING AND IT IS A BEAUTIFUL DAY TO MOVE SCRAP METAL AROUND. FIRST WE HAVE TO UNLOAD AND INSTALL THE TILT DECK ON THE WESTERN STAR TO MAKE THE SEMI TRUCK IN TO A TANDEM HAULER.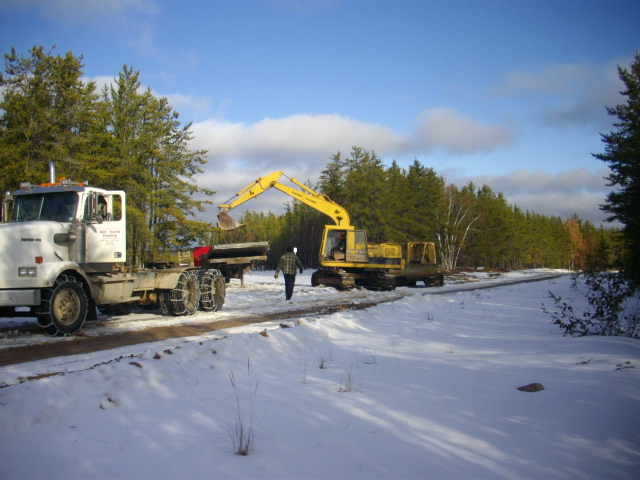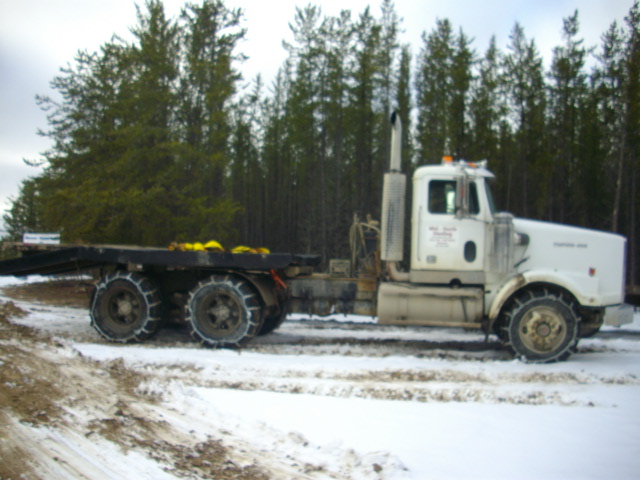 WHILE GEO Ron AND I WERE INSTALLING THE TILT DECK, XENA MADE A SNOWMAN OUT OF THE WET STICKY SNOW.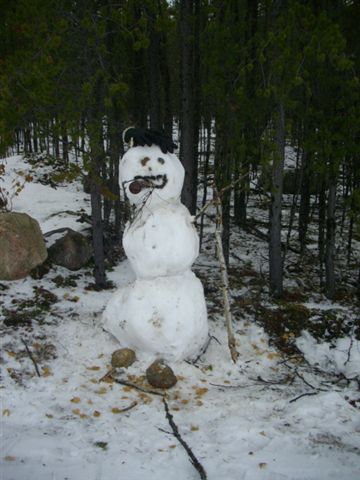 FIRST THING WE HAVE TO DO IS GET THE AREA ORGANIZED SO WE CAN WORK SINCE IT IS SUCH A MESS.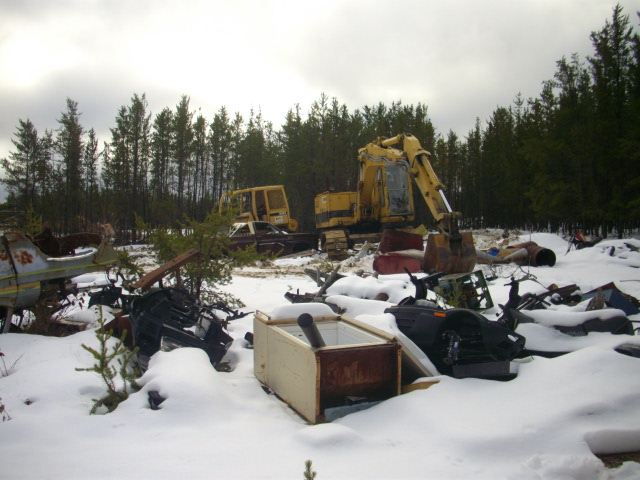 GEO Ron USED THE 215 BACK-HOE TO GET THE SCRAP READY TO BE HAULED.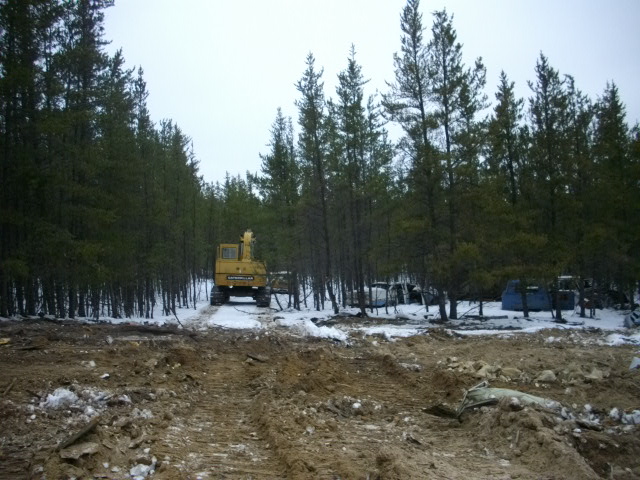 I USED THE JOHN DEERE 650g KNOWN AS ONE OF THE "LEMON SISTERS" TO GET THE AREA SMOOTHED OUT FOR THE SCRAP METAL. THIS WILL BE THE COMMUNITY'S NEW METAL RECYCLING AREA.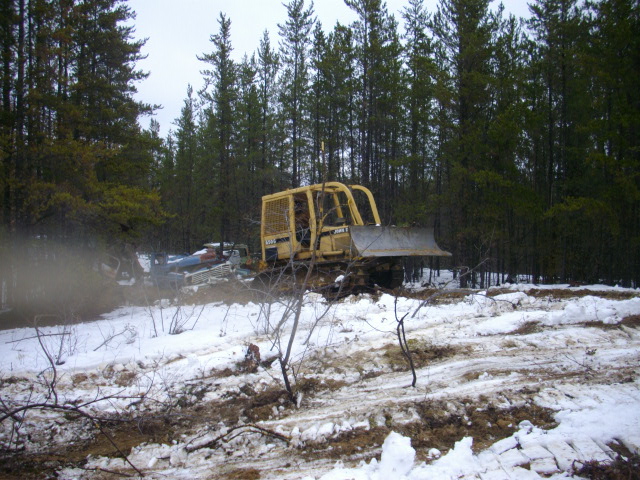 THE "LEMON SISTER" WORKED GREAT ON THE SANDY HILLS TO DRAG UP THE SCRAP CARS. OF COURSE THE CAMERA DOESN'T SHOW HOW STEEP THE HILLS ARE.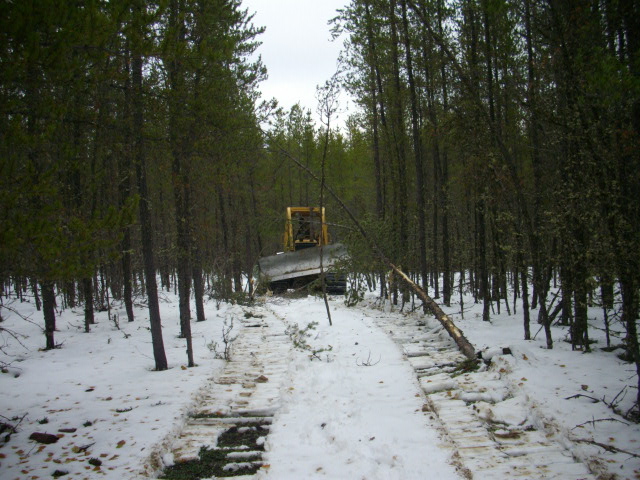 ONCE THE VEHICLE IS MOVED AHEAD, THEN I HAVE TO WALK BACK AND PICK UP ALL THE LOOSE SCRAP THAT WAS UNDERNEATH. LOTS OF CLIMBING ON AND OFF THE "LEMON SISTER" FOR A FELLOW WITH AN EVER INCREASING BALD SPOT AND A HEALING BROKEN FOOT, LOL.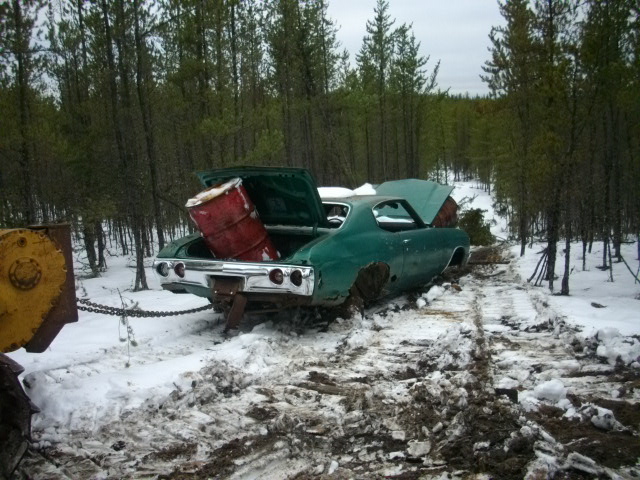 THE CARS ARE EVEN UPSIDE DOWN AND HOW THEY GOT THAT WAY WOULD HAVE BEEN GREAT FUN.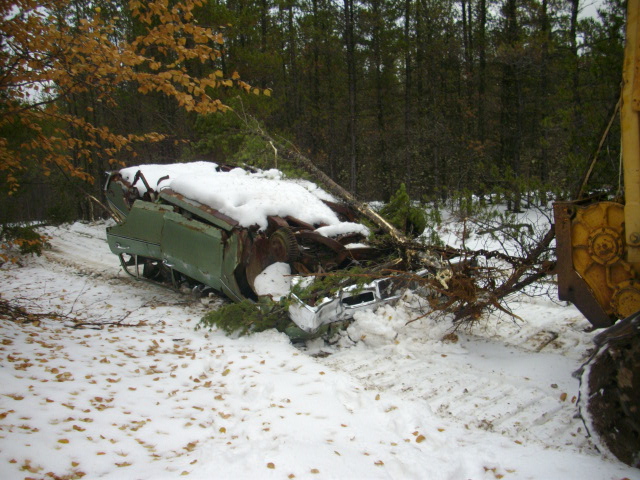 WHILE GEO Ron AND I ARE WORKING HARD, MY CAMERA MAN IS TAKING SELF PORTRAITS AND SIZING UP FRESH TIMBER WOLF TRACKS IN THE SNOW.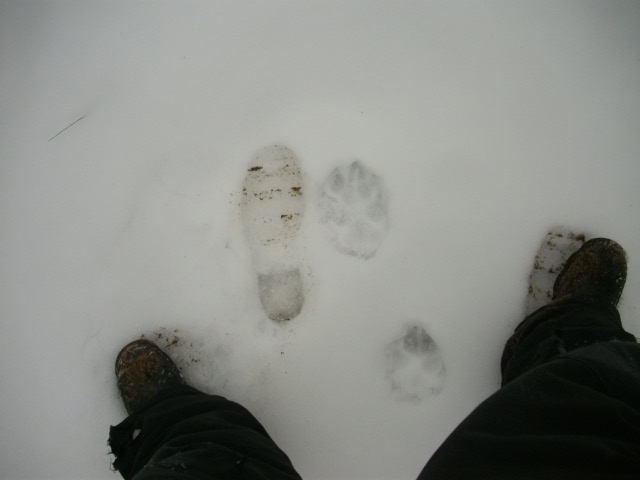 NEAR THE END OF THE FIRST DAY WE GOT TO HAUL THE FIRST SCRAP VEHICLE ON THE WESTERN STAR.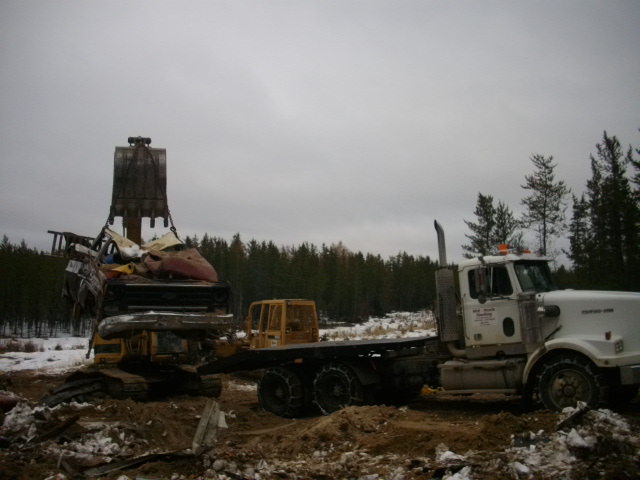 OF COURSE WE HAVE TO HAUL UP A HILL MADE OF SAND.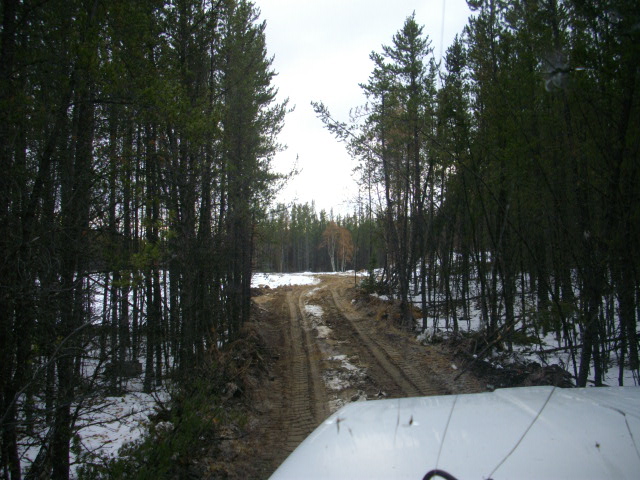 WE EVEN GOT TO STAY AT www.grandslamlodge.com WHERE THE WOOD STOVE WAS NICE AND WARM AFTER A DAY OF FUN IN THE WET SNOW.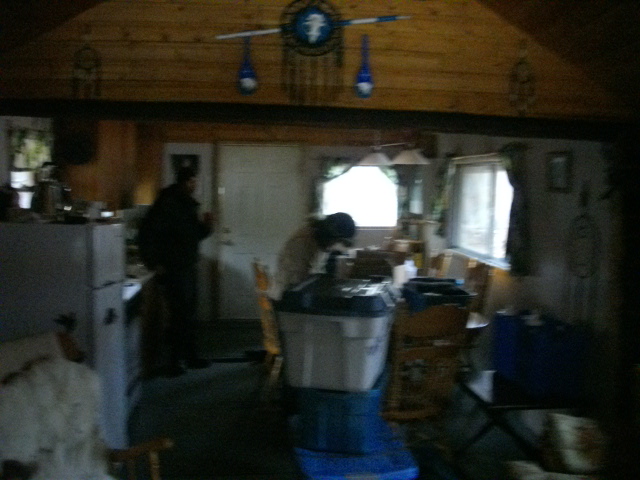 END OF PART ONE. TO SEE MORE JUST CLICK ON BELOW.