HISTORIC ARCTIC LODGES TOUR
JULY 2007
ONCE AGAIN WE WERE BORED IN THE "KINGDOM" AND HAD TO DO A ROYAL TOUR. OF COURSE WE HAD TO TOUR REINDEER LAKE BECAUSE WE LOVE THAT CRYSTAL CLEAR WATER WHICH WE FOUND OUT LATER THAT IT MAKES FOR GOOD PICTURES. ON THIS TOUR WE ARE CALLING "HISTORIC ARCTIC LODGE TOUR" WE HAD TO DRAG ERIC FROM TORONTO ALONG SO HE COULD FISH THE BIG WATERS OF REINDEER LAKE. THIS IS TURNING IN TO AN ANNUAL EVENT FOR ERIC AND HIS MOM THINKS HE IS UP HERE WORKING HARD, LOL.
THE PLAN WAS SIMPLE, NO PLAN AT ALL BECAUSE WHEN YOU MAKE PLANS THEY NEVER TURN OUT SO JUST HEAD OUT AND SEE WHAT HAPPENS. WE HAD A SLIGHT PLAN TO BRING THE RAMP BOAT BACK FOR MODIFICATIONS TO MAKE IT A BETTER BIG WATER BOAT. ON THE WAY UP IN THE "SCREAMING FORD" (WHICH HAS THE WEIGHT BOX ON SO HE IS ACTUALLY CALLED "DOUBLE DUALLY" INSTEAD) WE STOPPED AND MEASURED THE SMALL BRIDGES SO I KNOW HOW WIDE TO BUILD THE TRAILER FOR "NORTHERN BELLE".
(NOTE THE LINN TRACTOR SHIRT FROM THE PORTNERS IN NEW YORK STATE)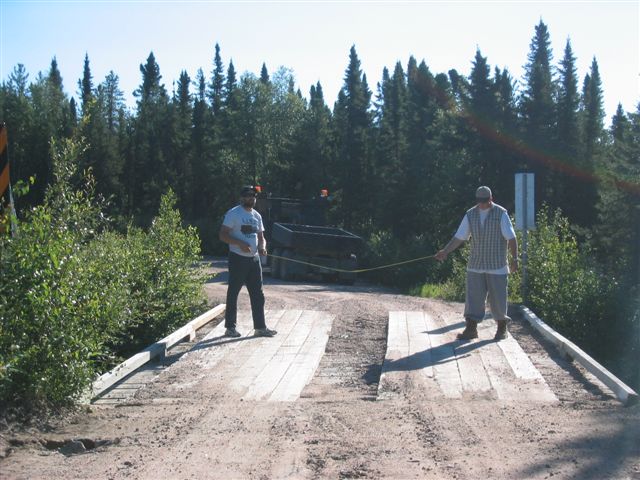 OK, DON'T ASK HOW WE SUNK THE "RAMP BOAT" IN REINDEER LAKE BUT WE WERE NOT IN THE BOAT AND OF COURSE THE CAMERAS ARE ON SHORE IN A DRY PLACE. NOW WE HAVE ANOTHER GREAT ADVENTURE IN THE MAKINGS HERE WITH THE SALVAGING OF THE "RAMP BOAT".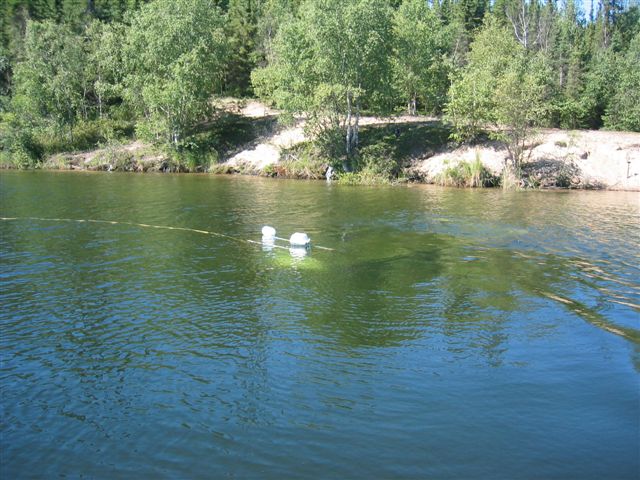 ONCE WE REALIZED THAT THE "RAMP BOAT" IS SAVE ON THE BOTTOM OF REINDEER LAKE, WE HEADED TO ARCTIC LODGES FOR A HOMEMADE STEW&BREAD LUNCH. HISTORIC ARCTIC LODGES WAS START BEFORE THE TOWN OF LYNN LAKE WAS FORM 50 YEARS AGO. TO READ MORE ON BUILDING A LODGE IN THE GREAT WHITE NORTH, DO A BOOK SEARCH FOR "DEADLINE JUNE 7 BY FRED LOCKHART", IT IS A RARE BOOK AND WILL BE FOUND ON EBAY OR ON-LINE USED BOOK STORES.
ARCTIC LODGE ARE EXPANDING ON THE MAIN DINNING ROOM AND HAVE BORROWED MY STAGING TO HELP GET THOSE BIG ROOF LOGS UP ON TOP OF THE WALL. THEY ARE BUILDING IT STRONG TO LAST ANOTHER 50 YEARS.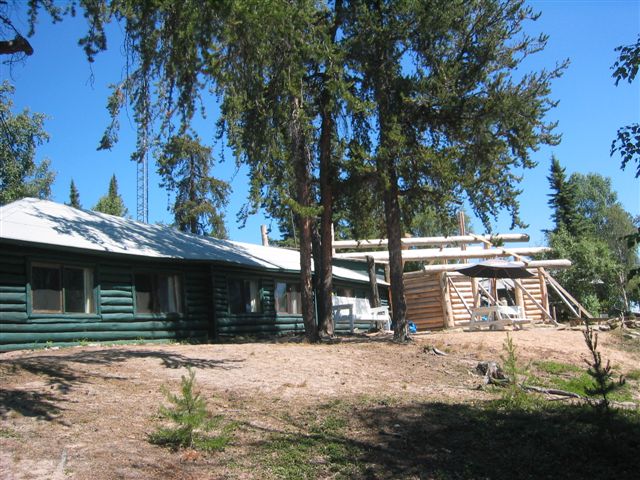 THE LODGE IS KNOWN FOR ALL THE CABINS AND THERE ARE LOT OF CABINS, EVEN I WAS SURPRISED AT HOW MANY.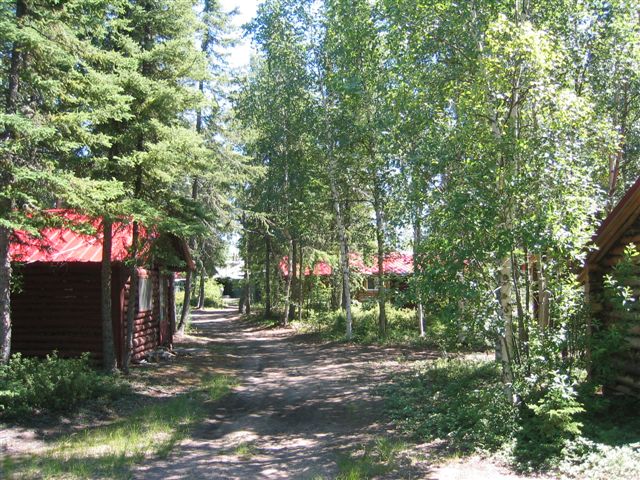 WHY CUT DOWN A TREE WHEN YOU CAN GET THEM FOR FREE FOR FIRE WOOD.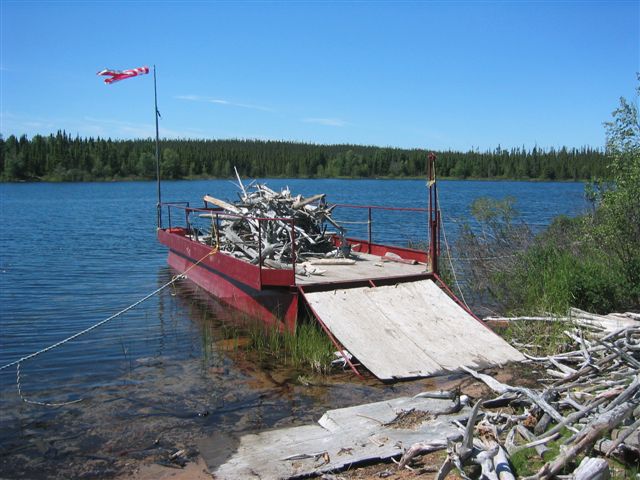 AFTER LUNCH WE BOATED OVER TO THE ISLAND RUNWAY WERE MY FAVORITE DC-3 IS.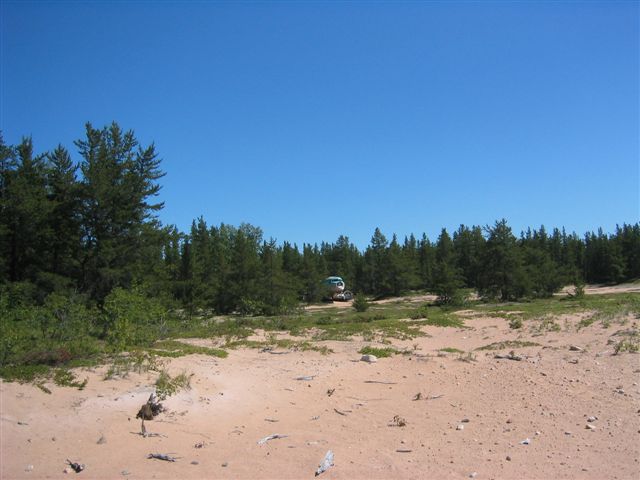 I DON'T KNOW HOW I MISSED THIS TRUCK LAST SUMMER, BUT IT SURE IS INTERESTING.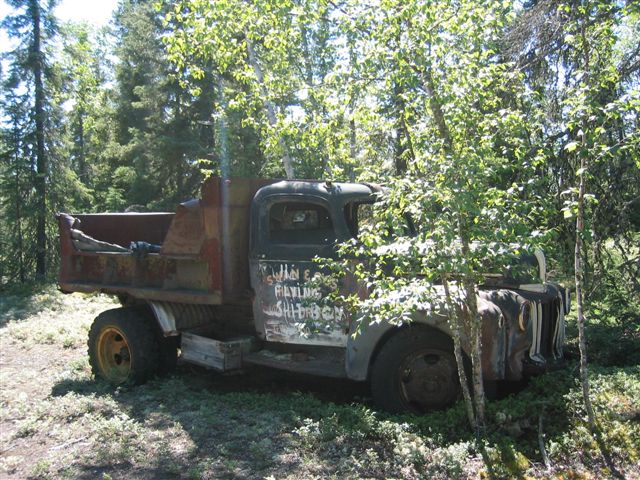 THEN RAYMOND WHO SUPPLIED THE BOAT AND MOTOR FOR THE DAY TOOK US TO CHECK OUT TATE ISLAND LODGE. TO SEE MORE ON TATE ISLAND LODGE AND THE ADVENTURES WE HAD, CLICK ON.
AFTER A QUICK INSPECTION TOUR OF THE NEW LODGE IT WAS TIME TO HEAD TO KINOOSAO SK WHERE THE "SCREAMING FORD" IS PARKED, THEN ONLY 2 HOURS OF RALLY DRIVING TO GET HOME TO THE "KINGDOM".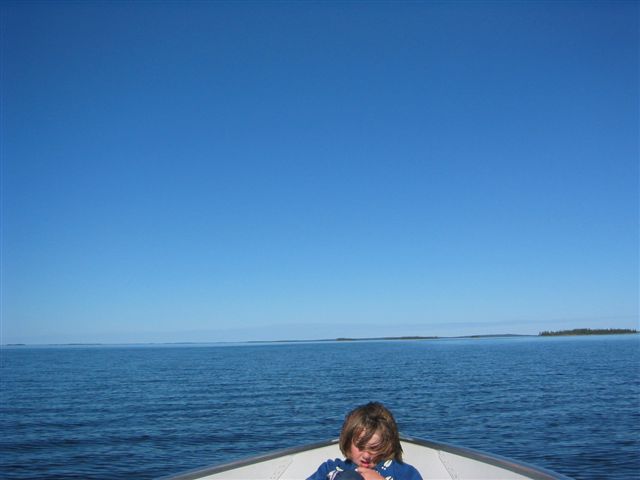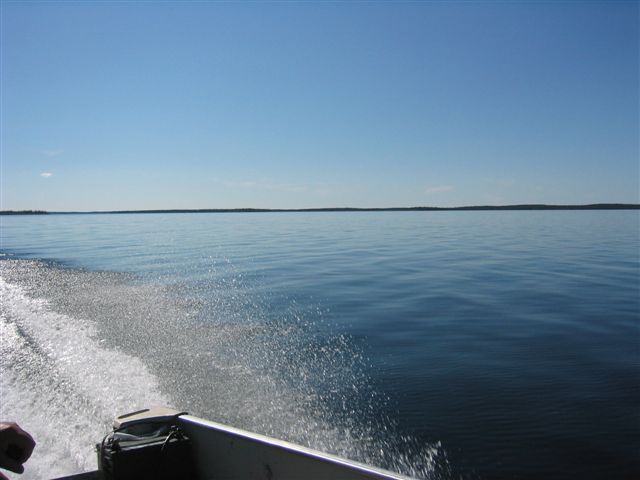 13 HOURS AFTER WE LEFT THE "KINGDOM" WE RETURNED WITH THE "RAMP BOAT" TRAILER WHICH I'LL BE USING TO MOVE A GARAGE. IT WAS AN EXCELLENT TRIP FOR NOT BEING PLANNED.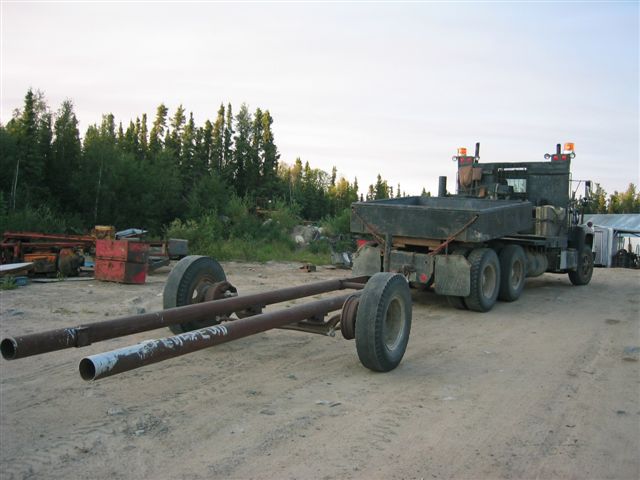 THANSK TO RAYMOND FOR BOATING US AROUND, TO JAN (RAY WAS ON A SUPPLY TRIP FOR THE LODGE) AND HER STAFF FOR COOKING AN EXCELLENT MEAL, TO JIM AND GAIL FOR AN EXCELLENT UPDATE TOUR ON THE LODGE.
KEEPING CHECKING THE WEBSITE FOR THE SALVAGING OF THE "RAMP BOAT" FROM REINDEER LAKE.
THANSK
WRITTEN STORY ON HOW WE SUNK THE RAMP BOAT