TRIPLE OR NOTHING PART TWO
WE ONLY TOOK A FEW MINUTES FOR THE PHOTOS THEN IT WAS BACK TO WORK TO GET UNLOADED. FIRST THING OFF WAS THE 2 CANOES.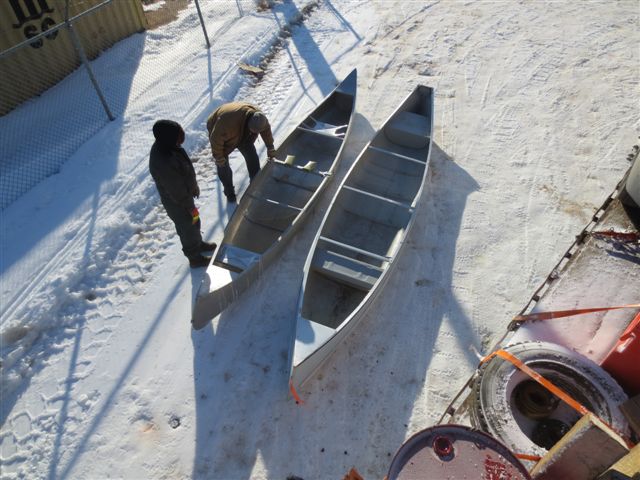 THEN A QUICK PICTURE OF THE SNOW ART ON THE TRAILER LEG.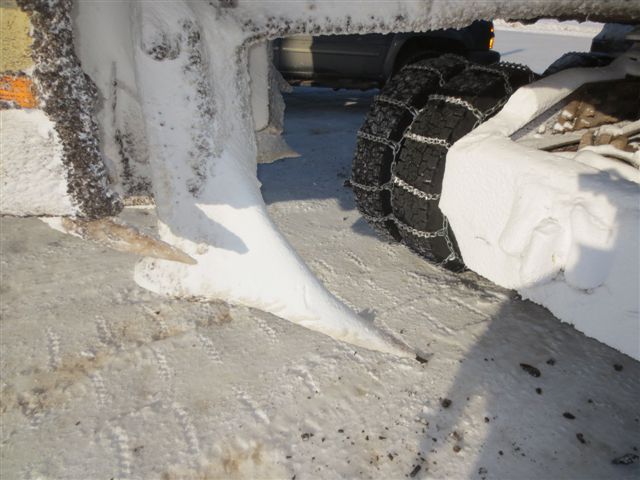 AFTER UNLOADING THE FUEL TRUCK AND LUMBER IT WAS TIME TO LOAD A TANK. ONLY PROBLEM IS THE TANK WAS BURIED IN A FOOT OF SAND. NO PROBLEM GET A BIGGER MACHINE AND WE HAD THE TANK LOADED.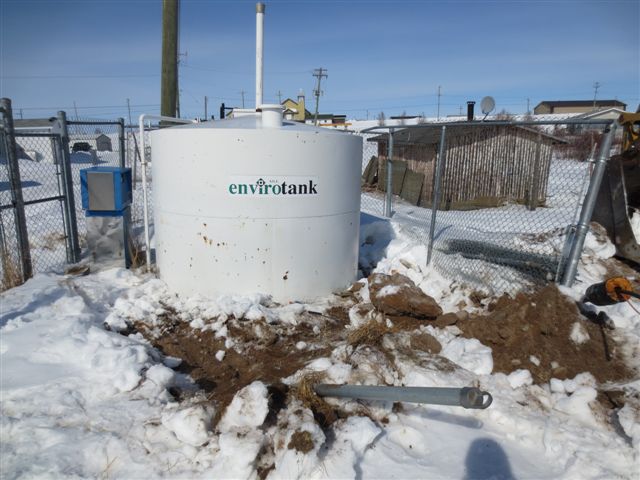 DIDN'T TAKE US LONG TO GET OUT OF TOWN BECAUSE THE ROAD WAS MELTING AWAY ON US.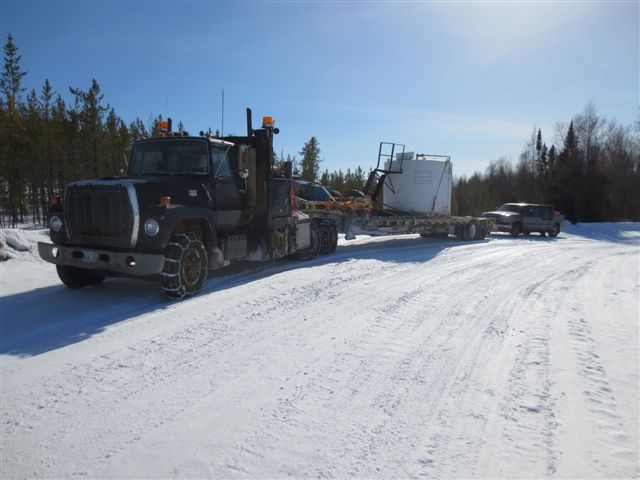 STILL LOTS OF SNOW ON THE WINTER ROAD.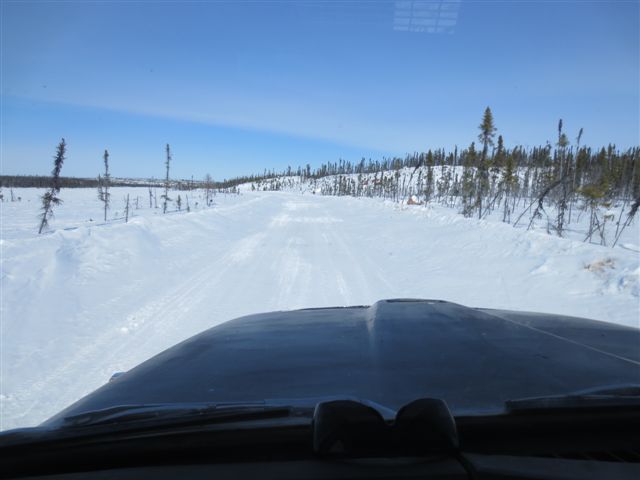 ONLY 250 kms TO GO UNTIL WE ARE BACK ON THE KINOOSAO RALLY ROAD.
WHAT A NICE VIEW DRIVING DOWN FROM AN ESKER.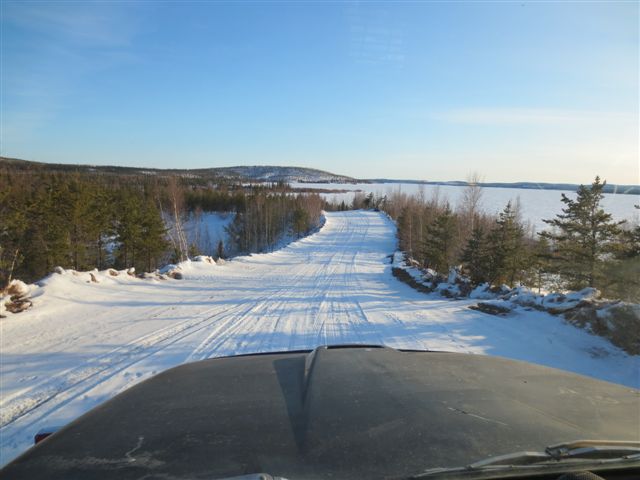 KM 68 WATER HOLE WHERE WE GOT STUCK LAST YEAR AND HAD TO SPEND THE NIGHT.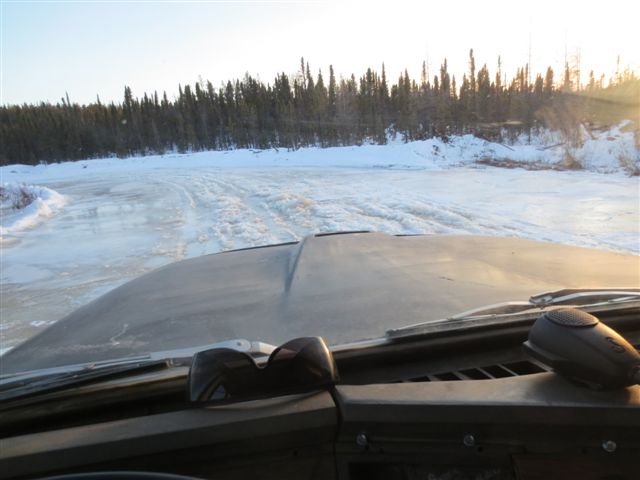 THIS YEAR IN THE WATER HOLE I ONLY BROKE A COUPLE OF LINKS ON THE CHEAP TIRE CHAINS.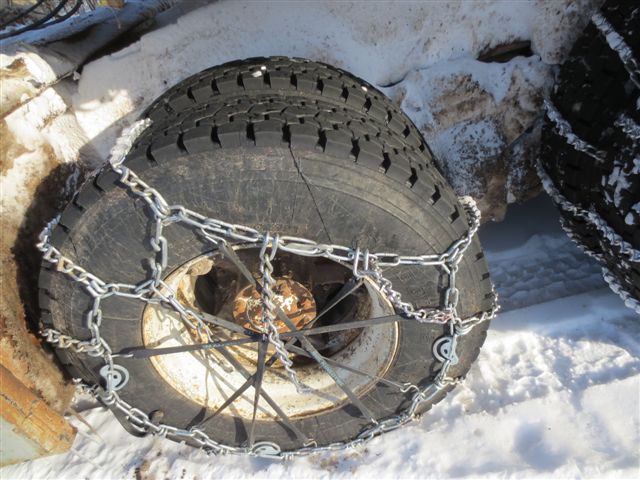 XENA WAS ABLE TO GET A FEW GREAT SUNSET PICTURES.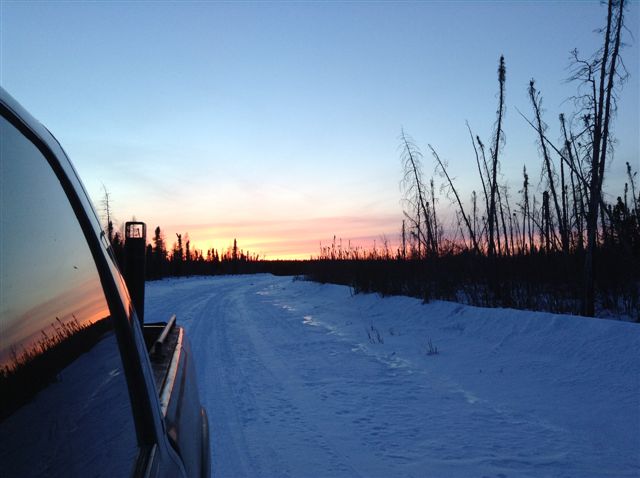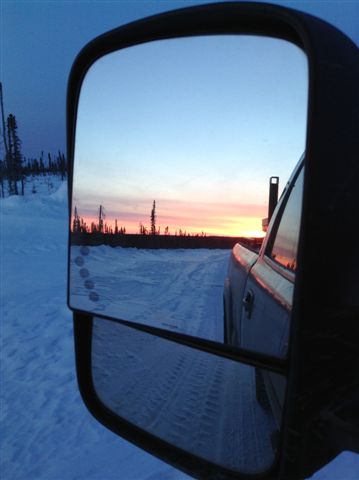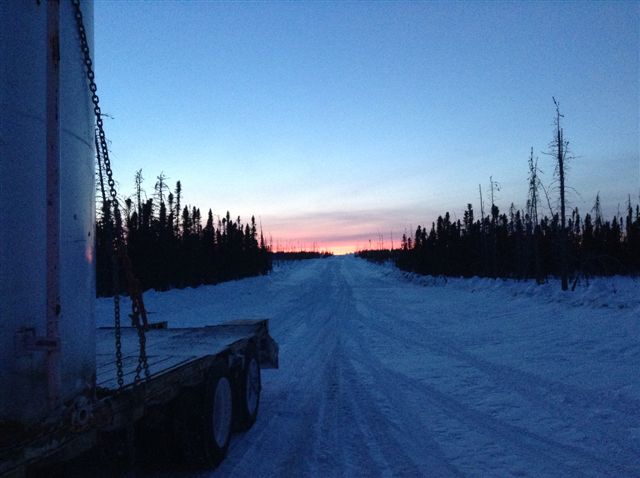 APRIL 16 2013. WE WOKE UP AT THE BROCHET JUCTION BECAUSE WE WERE TOO TIRED TO DRIVE ANY MORE AT 1AM.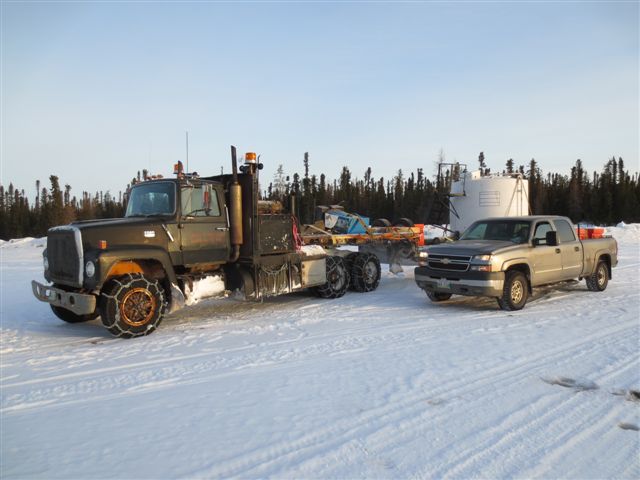 TIME TO FUEL UP THE VEHICLES. THE HAND PUMP WAKES YOU UP PRETTY QUICK FOR SOME REASON.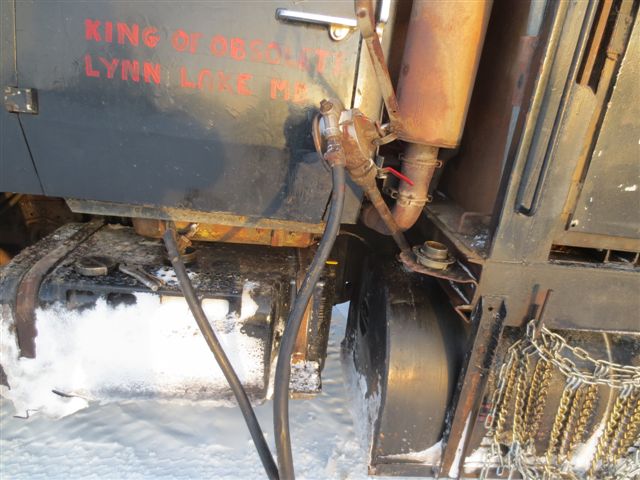 THE "PINK CREW CAB" REQUIRED A LITTLE REPAIR WITH DUCT TAPE.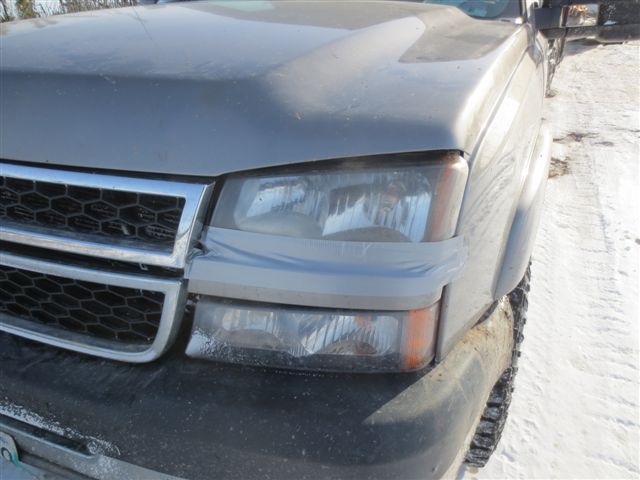 WHERE EVER THE DARK IS SHOWING THE SNOW IS MELTED AWAY.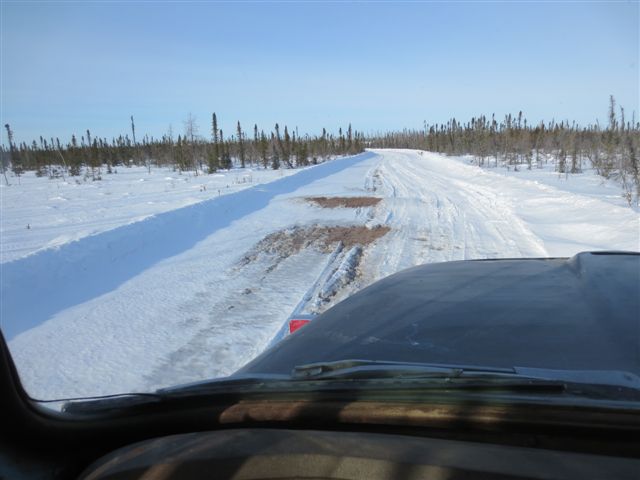 WE ARRIVED AT KM 69 WATER HOLE ON THE BROCHET PART OF THE ROAD. THE WATER HOLE HAS CHANGED LOTS IN 24 HOURS.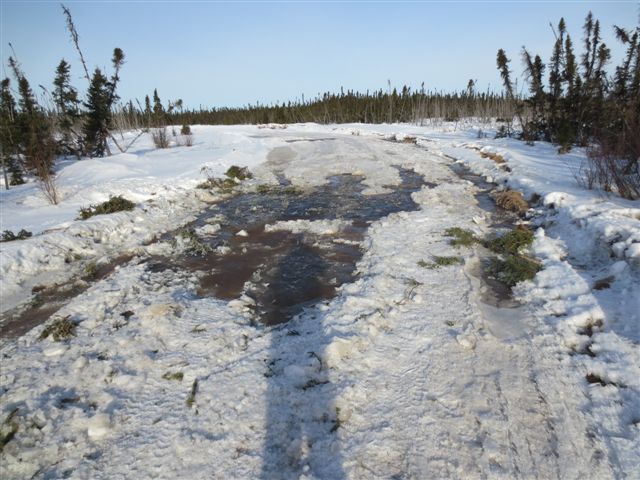 XENA'S FIRST ATTEMPT AT GETTING THROUGH DIDN'T WORK.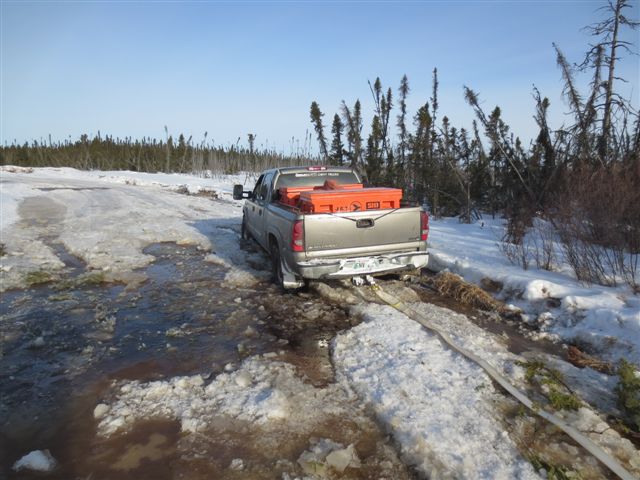 THE SECOND ATTEMPT WAS A LITTLE BETTER.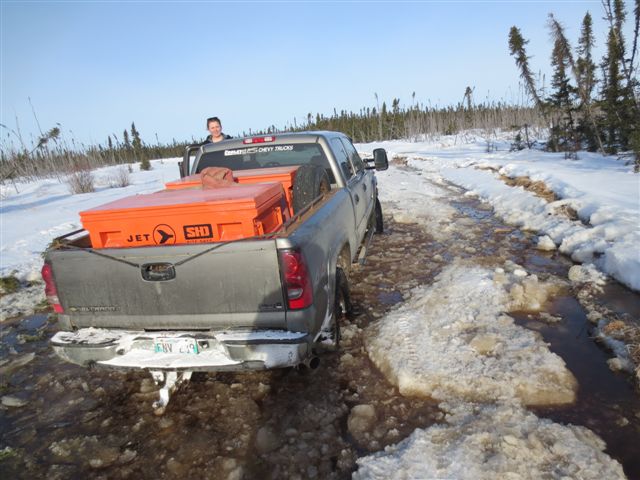 THE THIRD ATTEMPT SHE MADE IT THROUGH THE WATER HOLE.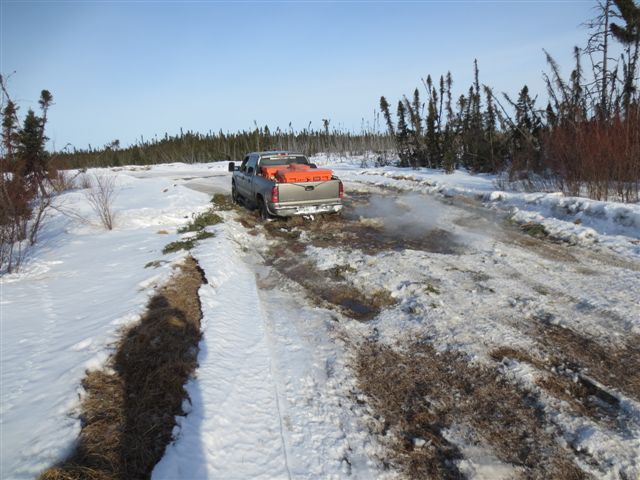 NOW FOR ME IN THE "SCREAMING FORD".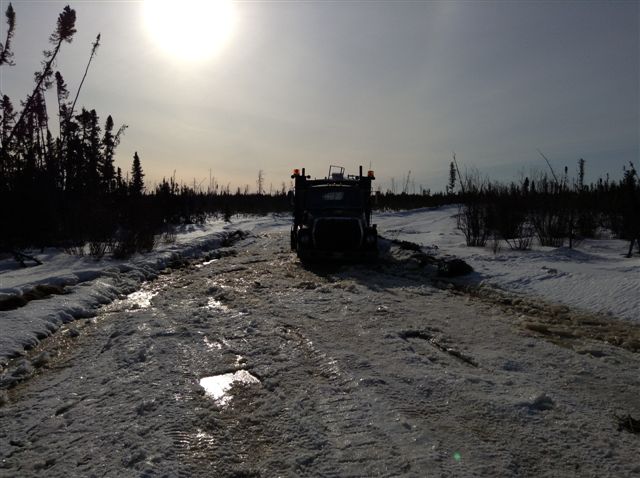 THE"SCREAMING FORD" HAD NO PROBLEM COMPARED TO THE NIGHT WHEN WE TRAVELED UP THE ROAD. I FELL THROUGH THE ICE AND BENT THE FRONT BUMPER ON THE "SCREAMING FORD" WHICH IS REALLY HIGH UP COMPARED TO A NEW STYLE TRUCK.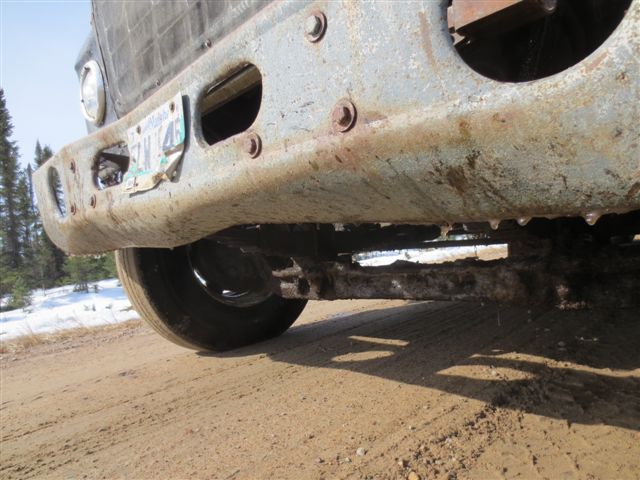 WE KEEP ON TRAVELING TO BEAT THE HEAT OF THE DAY BECAUSE THE ROAD WILL BECOME SOFT IN THE SUNSHINE. THE SNOW HAD MELTED AWAY AND EXPOSED A ROCK GARDEN FOR US TO CROSS.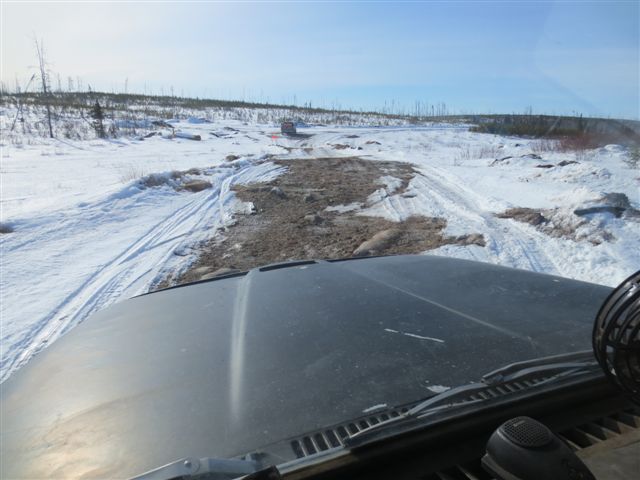 THESE ROCK GARDENS ARE HARD ON TIRE CHAINS AND TIRES FOR SOME REASON.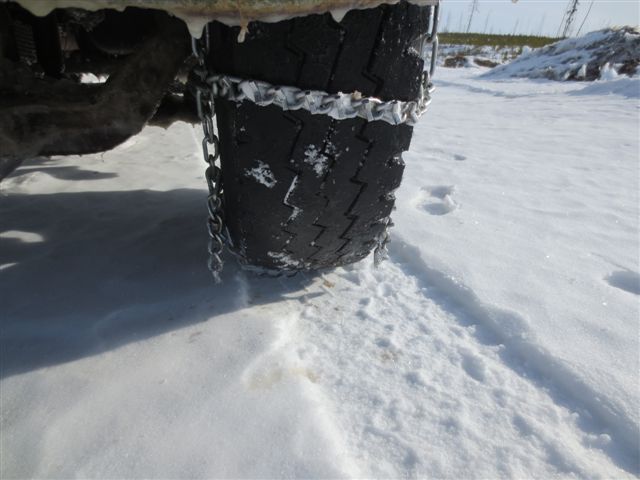 XENA DECIDED TO PASS ME ON THE NEW BYPASS AROUND KM 17 HILL.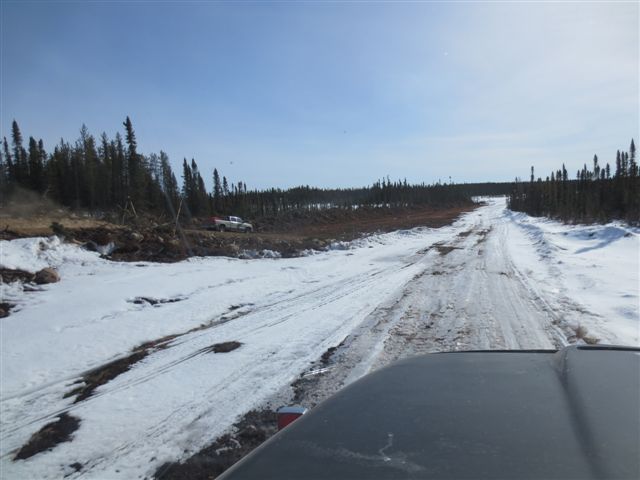 THEN WE HAD ALL THE MUD TO TRAVEL BACK ACROSS WHICH WAS NO PROBLEM.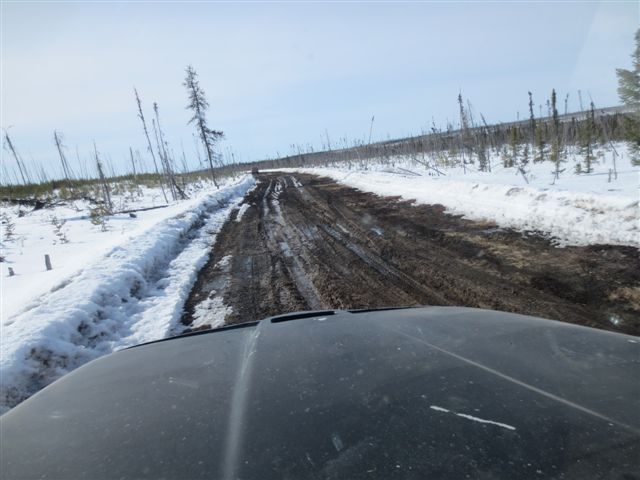 MORE AND MORE MUD.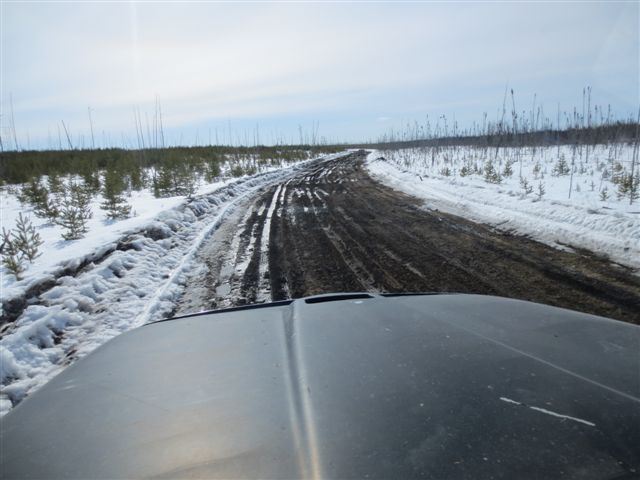 WE FINALLY ARRIVED AT THE START OF THE WINTER ROAD.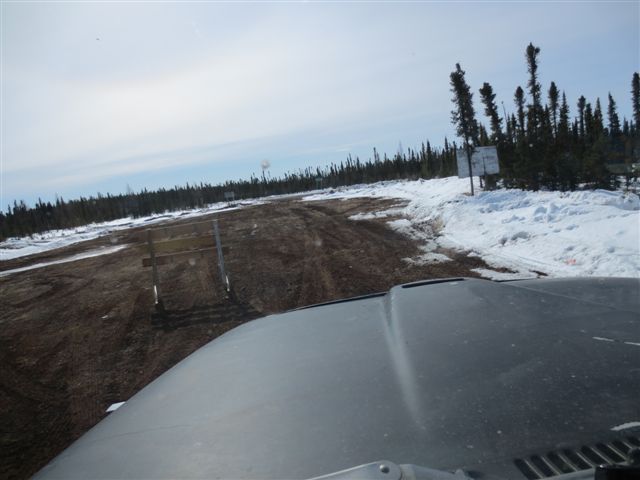 I CHANGED MY CARBOARD SIGN TO SHOW WE MADE IT SO LATE IN THE YEAR.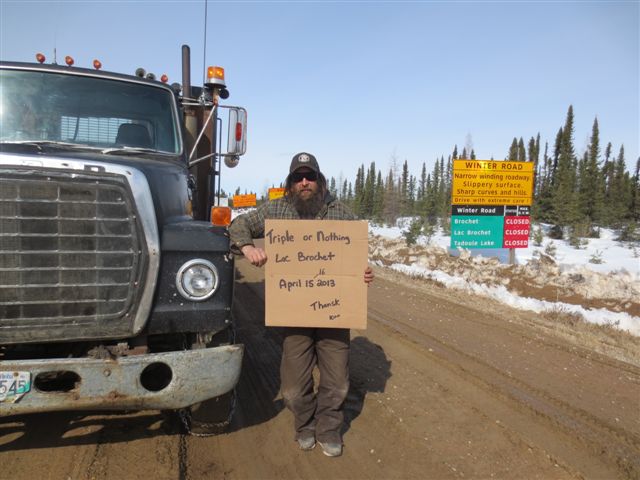 THE 47kms BACK TO THE "KINGDOM" ON THE KINOOSAO RALLY ROAD WAS VERY NICE TO DRIVE.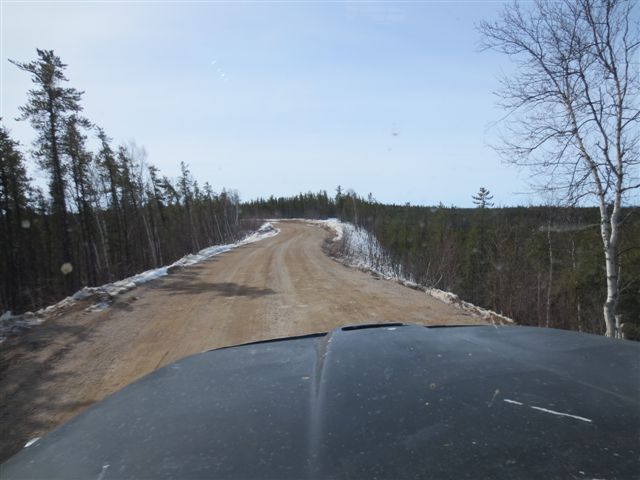 ONCE BACK IN THE "KINGDOM" IT WAS UNPACK AND DRY OUT THE TOW STRAPS.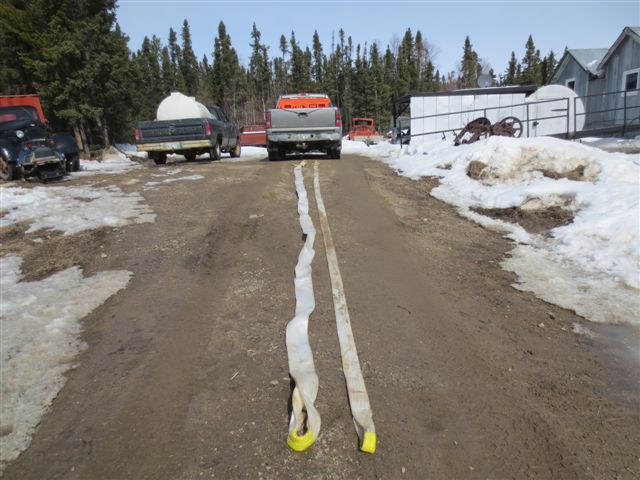 XENA SAYS SHE WILL DO IT AGAIN AND I AGREED WITH HER BECAUSE THIS IS PART OF OUR LIFE STYLE IN THE GREAT WHITE NORTH.
THANSK