TD-6 TD-9 THERMOSTAT UPGRADE
updated at the bottom of the page July 01 2020
JANUARY 2013
OVER THE YEARS I HAVE HAD TROUBLE GETTING THERMOSTATS FOR MY TD-6 AND TD-9 CATS. I'M NOT SURE IF IT IS BECAUSE I LIVE AT THE END OF THE WORLD IN THE GREAT WHITE NORTH. BUT EVERYTIME I ORDERED FROM THE SOUTH, THE NEW THERMOSTAT DIDN'T FIT. THEN ON NEW YEARS DAY 2013, I WORKED ON THE COMPUTER AND SEARCHED FOR 3 HOURS UNTIL I FOUND A PART NUMBER THAT I COULD USE TO GET A THERMOSTAT LOCALLY. LOCAL FOR ME IS 300 KMS AWAY OVER A SO-CALLED ROAD TO THE SOUTH. MY EFFORTS PAID OFF AND I BOUGHT 2 THERMOSTATS AND HAD THEM DELIVERED IN 5 DAYS. YES 5 DAYS TO GET PARTS IS NORMAL UP HERE AT THE END OF THE WORLD.
I TOOK A FEW PICTURES AS I CHECKED OUT THE NEW THEROMSTATS TO MAKE SURE THEY WERE CORRECT.
IH PART NUMBERS ARE "33814D" OR "387533R91" IS A BELLOW STYLE THERMOSTAT WHICH CHANGE OVER TO THE FOLLOWING CANADIAN NUMBERS
STANT -- 13436, AC DELCO -- 132-47, NAPA -- THM28, GATES -- 33306, CARQUEST -- 32926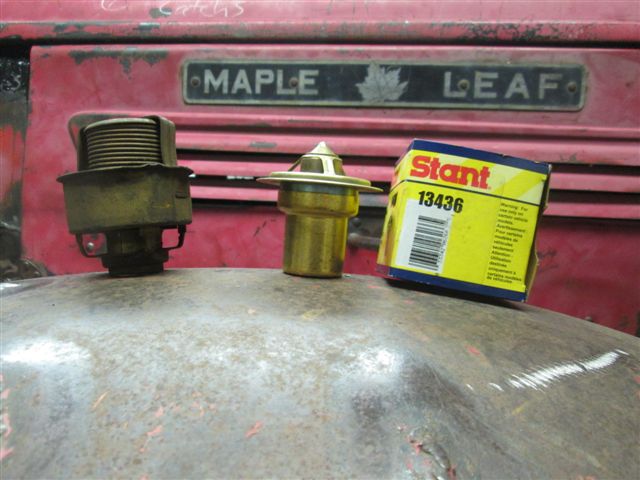 I CHECKED OUT ALL MY SPARE THERMOSTAT HOUSINGS TO MAKE SURE THIS NEW STYLE FITS.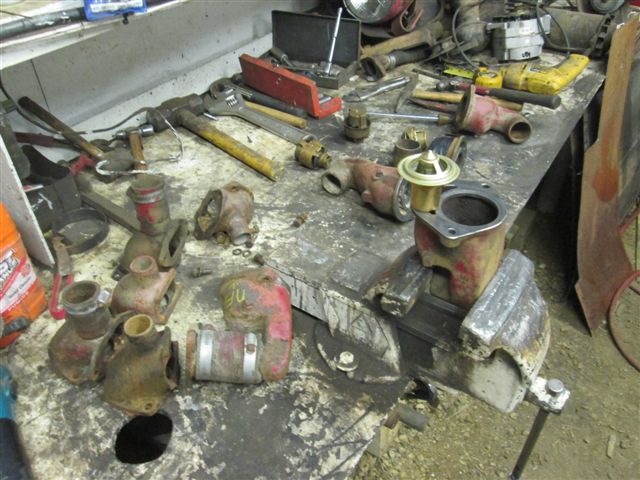 MAKE SURE THE HOLE WHERE THE THERMOSTAT FITS IN TO, IS BUFFED CLEAN OF RUST AND DEBRIS.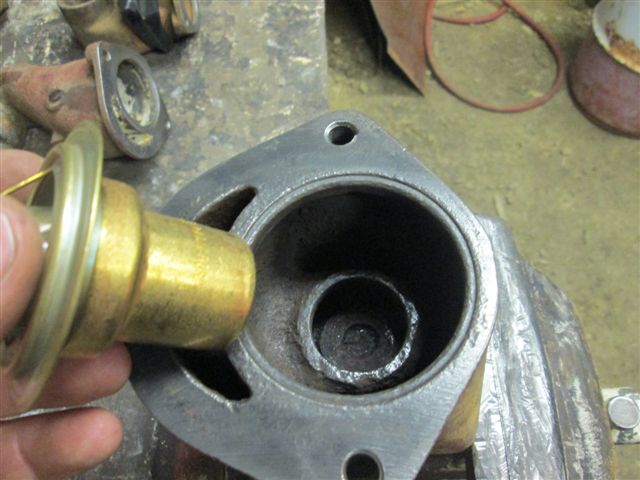 A LITTLE WELDING MIGHT SAVE THIS RUSTED HOUSING WHERE THE THERMOSTAT FLANGE SITS, LOL.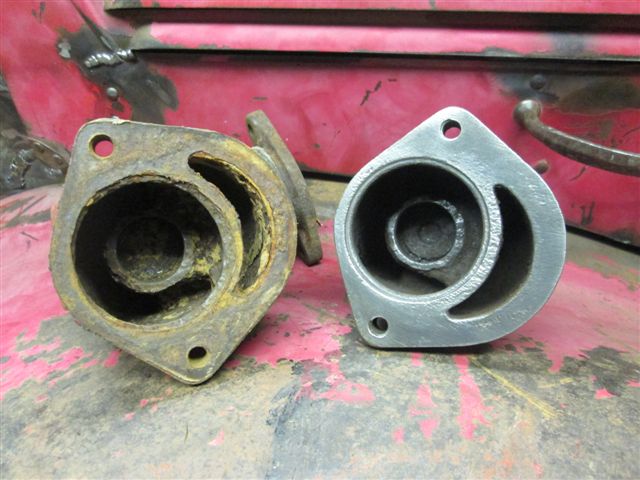 I ALSO FOUND THIS ODD BALL THERMOSTAT HOUSING WITH A DIFFERENT STYLE OF THERMOSTAT. NOT SURE WHAT THERMOSTAT WOULD BE THE REPLACE FOR THIS ONE.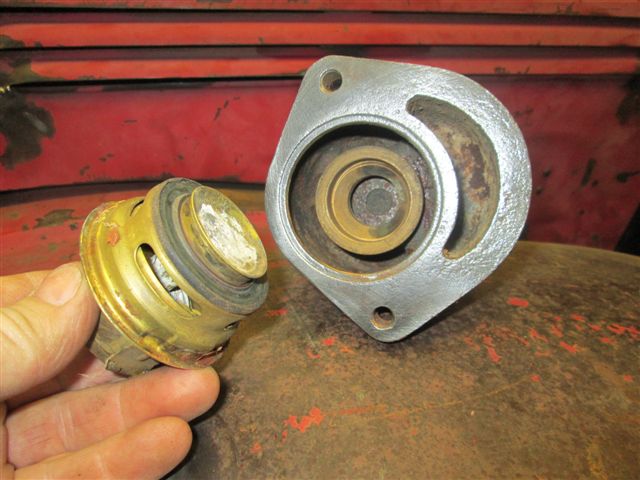 EMAIL ME AT info@kingofobsolete.ca IF YOU HAVE ANY INFO ON THESE THERMOSTATS.
JAN 08 2013
I HAVE RECIEVED A FEW EMAILS ASKING HOW THESE SKINNY THERMOSTATS WORK. THE SKINNY THERMOSTATS HAVE BEEN AROUND FOR A WHILE BUT NO PART NUMBER. I GOT SEVERAL OF THE SKINNY THERMOSTATS IN CATS AND PARTS THAT I HAVE BOUGHT OVER THE YEARS.
TONIGHT I BOILED A POT OF WATER ON THE STOVE AND TOOK SOME PICTURES SHOWING HOW THESE SKINNY THERMOSTATS WORK.
THE SKINNY THERMOSTAT OPEN AND CLOSED.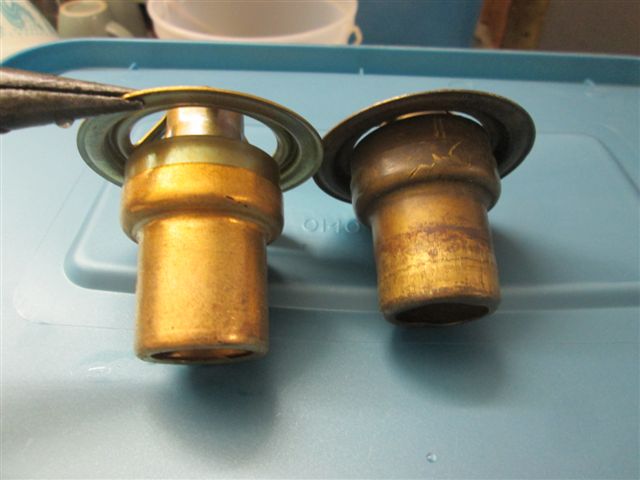 NEXT PICTURES ARE ONE SKINNY THERMOSTAT CLOSED, ONE SKINNY THERMOSTAT OPEN AND A BELLOW THERMOSTAT OPEN. REMEMBER THE THERMOSTATS ARE CLOSING ALREADY BECAUSE ONCE THEY ARE OUT OF BOILING WATER THEY START TO CLOSE.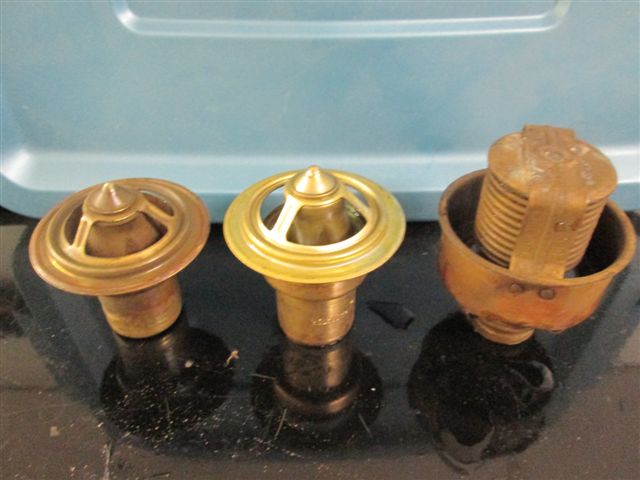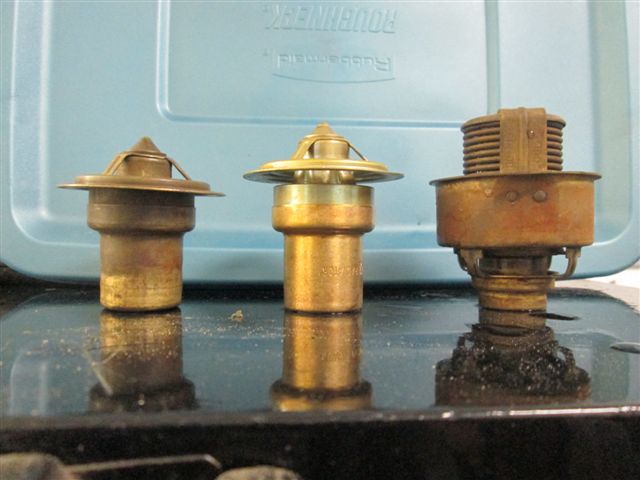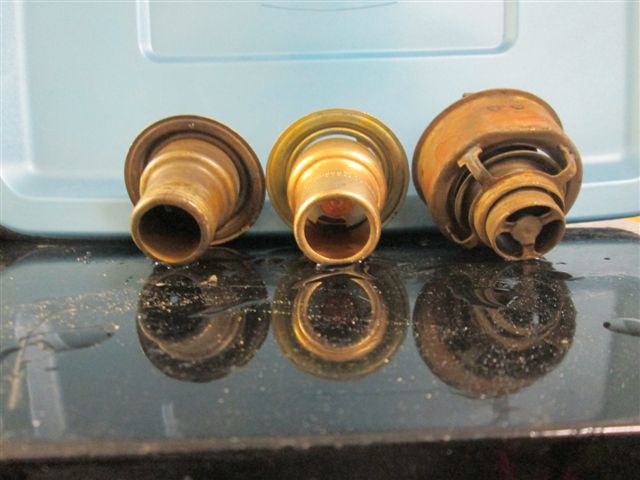 July 01 2020
update on these thermostat which are all junk no matter which company name is on the box. They must be all made by one manufacture in china because they are junk. They work and then don't work and my cats have over heated. I figure these thermostats have cost me about $1000.00 per cat in anti-freeze, time and beverage.
THANSK