"RISK IT ALL TOUR"
APRIL 2008
THE "RISK IT ALL TOUR" CAME ABOUT AFTER I GOT BACK FROM "THE ROCKET TOUR". I DECIDED TO HEAD BACK TO ISLAND RUNWAY OF www.arcticlodges.com TO GET THE 1947 FORD 1.5 TON TRUCK (serial number 799T-178I 571I) THAT WAS CAT TRAINED IN WITH "THE ROCKET". I TOLD EVERYONE ON THE INTERNET THAT "THE ROCKET" WAS LONELY WITHOUT THE FORD TRUCK BECAUSE THEY WERE TOGETHER FOR OVER 50 YEARS ON REINDEER LAKE. I PHONED FLOYD AT www.grandslamlodge.com TO SEE IF WE COULD STAY AT THE LODGE AGAIN. HE SAID NO PROBLEM AND HE WOULD BE THERE GETTING THE LODGE READY FOR THE FISHING SEASON. THIS WILL WORK OUT GREAT BECAUSE FLOYD KNOWS HOW TO COOK IN THE STYLE OF THE GREAT WHITE NORTH. I PLANNED TO HEAD OUT AFTER WORKING AT MY "REAL JOB" ON THURSDAY SO THIS WILL GIVE ME A COUPLE OF DAYS TO GET THINGS READY AND MARKET THE ADVENTURE ON THE INTERNET.
I DID THE "THE ROCKET TOUR" ON APRIL 3 2008 AND NOW I'M HEADING ON APRIL 24 2008 SO THAT IS 21 DAYS OF "MELTING WEATHER" AS I CALL IT. THAT IS HOW THE TOUR GOT THE NAME "RISK IT ALL" BECAUSE EVERYTHING SHOULD HAVE MELTED MAKING IT MORE RISKY TO TRAVEL ON ICE. BUT IT TURNED OUT TO BE THE OPPOSITE AND BEST CONDITIONS EVER, I JUST ABOUT RENAMED THIS ADVENTURE "THE BORING TOUR". THERE WAS NO EXCITEMENT WHAT SO EVER, THE ICE WAS GOOD, SNOW CONDITIONS WERE GOOD, THE EQUIPMENT RAN GOOD AND THE FOOD WAS GOOD. SO IT WAS BORING COMPARED TO ALL MY OTHER ADVENTURES IN THE PAST.
TO MAKE THIS TOUR A SUCCESS, I GOT SMART AND BORROWED BUDDY BARRY'S FANCY BLUE MACK SEMI WITH POWER WINDOWS. THIS SEMI HAS NEW DEEP LUG TIRES, 8 WHEEL LOCK UP AND BIG MOTOR WITH HORSE POWER. XENA SKIPPED SCHOOL BECAUSE SHE HAD TO BE ON THIS ADVENTURE SINCE SHE MISSED "THE ROCKET TOUR" (she has not missed an adventure in 10 years, ok do the math she is only 10 years old, lol . plus my Kingdom Followers were asking where she was on the Rocket Tour.). OF COURSE I ASKED RON FROM BROCHET, MB. TO JOIN US SINCE HE IS A GOOD BUSHMAN AND NEEDED A BREAK FROM HIS REAL JOB.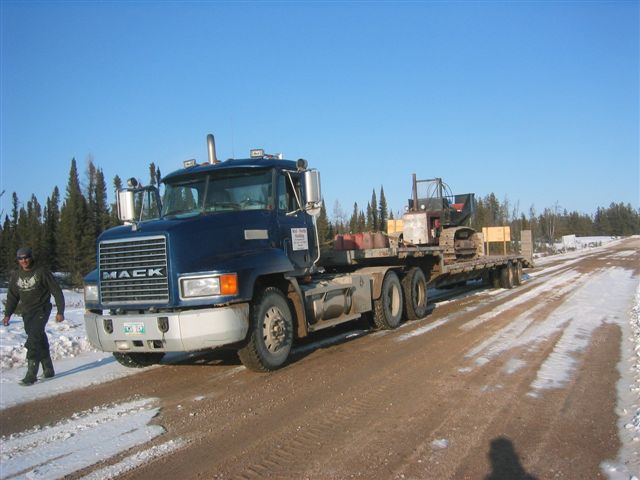 THE KINOOSAO RALLY ROAD HAS CHANGED A LITTLE BIT IN 21 DAYS SINCE WE LAST TRAVELED ON IT. THE WATER RUNNING NICELY OVER THE ROAD MAKES FOR EXCELLENT SPEED BUMPS.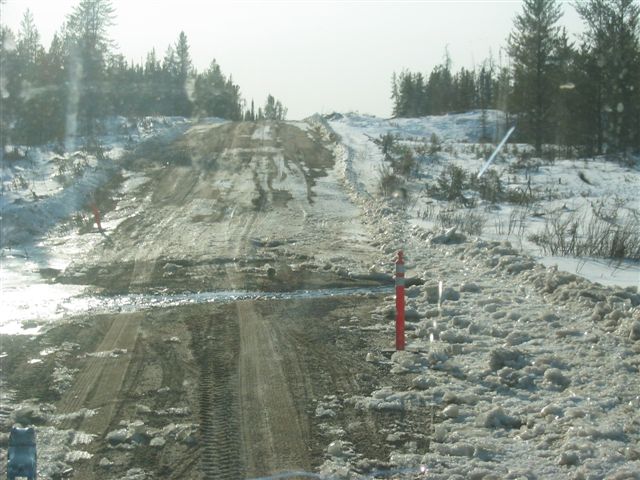 THE WINTER ROAD IS CLOSED AND MELTING AWAY TILL NEXT YEAR. STILL MAKES FOR A GOOD SPOT TO CHECK THE LOAD AND TAKE A PICTURE.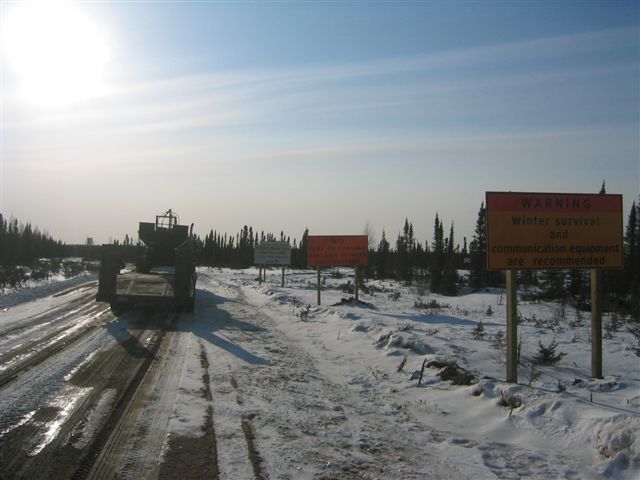 WE ARRIVE IN KINOOSAO SASK WITH NO PROBLEMS AND UNLOAD "BAD BUSINESS". "BAD BUSINESS" WAS THE CAT CHOSEN FOR THIS "RISK IT ALL TOUR" BECAUSE HE IS A 3 SEATER AND HAS NO BLADE. ON THIS TOUR WE NEED "SPEED" (ok, speed is 5 mph compared to The Hood traveling at 2 mph on the Rocket Tour) AND THERE WILL NOT BE MUCH SNOW TO PLOW BECAUSE IT SHOULD HAVE ALL MELTED BY NOW.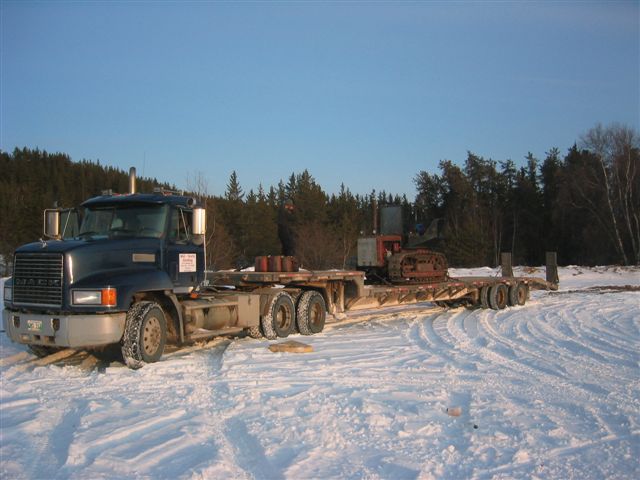 WE ALL RIDE ON "BAD BUSINESS" AND HEAD TO THE LODGE WHERE FLOYD IS WAITING FOR US TO ARRIVE.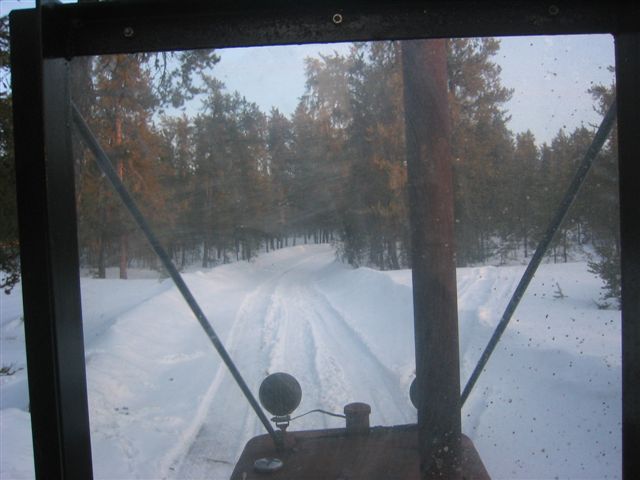 FLOYD HAS THE WOODSTOVE GOING IN THE CABIN PLUS WHEN HE HEARD "BAD BUSINESS" COMING HE GOT THE FISH READY FOR THE FISH FRY. OH THE JOYS OF A STRAIGHT PIPE EXHAUST.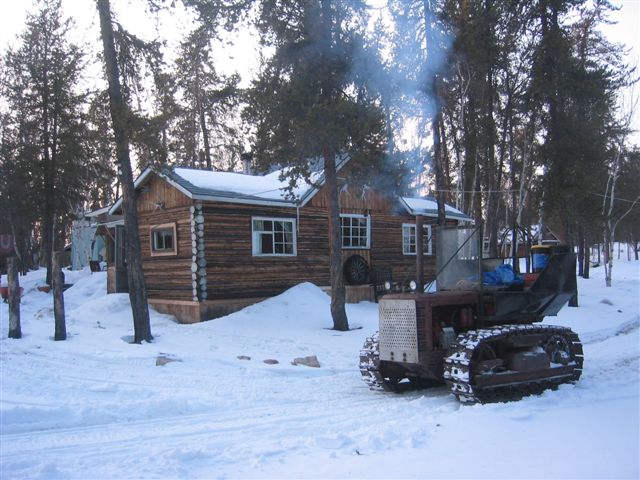 WE ARRIVED AT THE LODGE TO FIND FLOYD COOKING UP BANNOCK MADE FROM HIS MOM'S RECIPE AND HAS BEEN HANDED DOWN THROUGH THE FAMILY. TALK ABOUT TASTEY WHEN DIPPED IN BUTTER. WE ALMOST FORGOT ABOUT THE FISH HE WAS FRYING UP, LOL.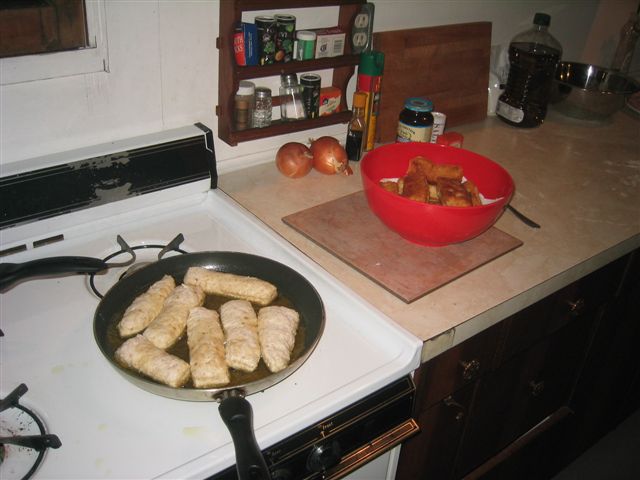 FLOYD COOKED TWO TYPES OF FISH AND I HAVE A THREAD AT XTREME SPORT FISHING SHOWING THE FISHING AND SUCH. http://www.xtremesportfishing.com/forum/viewtopic.php?f=24&t=1034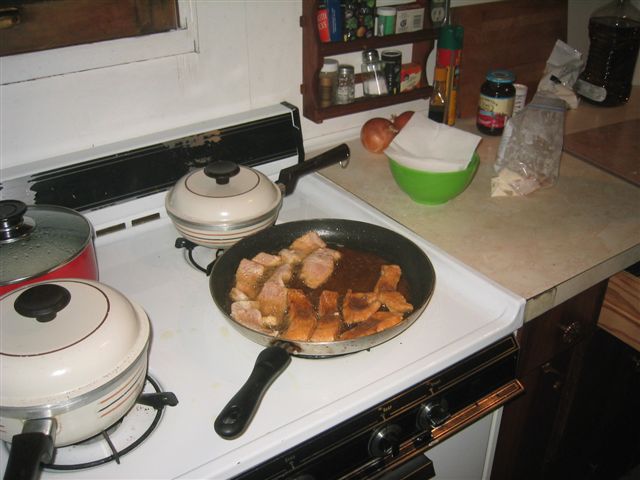 WE ALL WENT TO BED AFTER ENJOYING FLOYD'S COOKING BECAUSE WE HAVE A BIG DAY ON REINDEER LAKE IN THE MORNING.
THANSK