PRO-LONGED TOUR
AUGUST 2006
ON THIS TOUR WE WERE TO DO A QUICK TRIP TO THE SOUTH TO DELIVER A LOAD OF SCRAP METAL AND PICK UP A SUBURBAN FOR SOUTHERN BELLE. TOTAL TIME AWAY FROM THE "KINGDOM" WAS TO BE 4 DAYS MAX NOT THE 10 DAYS WE WERE GONE. PLUS AN EXTRA BONUS ON THIS TRIP WAS THE EXTRA HOT HEAT THAT THE SOUTH WAS EXPERIENCING WHICH IN TURN KILLED US NORTHERN FOLK. THE HEAT WIPED THE ENERGY RIGHT OUT OF OUR BODIES EVEN WITH AIR CONDITIONING AND SUCH. NEW RULE IN THE "KINGDOM" ---"NO TRAVELING TO THE SOUTH WHEN THEY ARE IN A HEAT WAVE"
HERE IS THE SCREAMING FORD HEADING SOUTH WITH A SAFE LOAD OF RECYCLABLES ON THE SLEIGH TRAILER AND LINN TRACTOR TRAILER.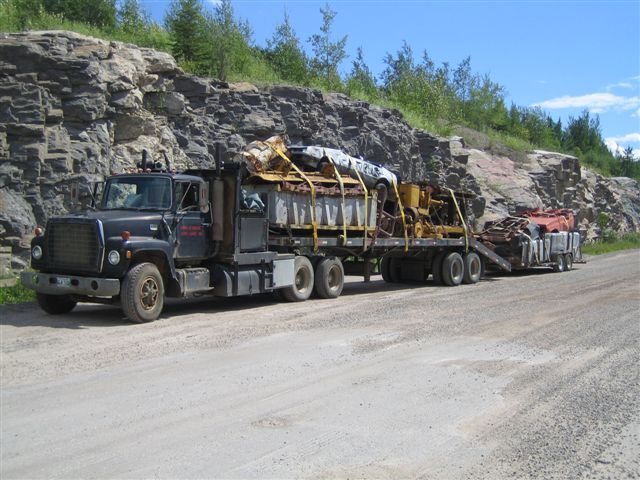 AT 2:19 AM WE HIT A POT HOLE IN THE SO CALLED NORTHERN ROADS AND THIS CAUSED 2 TIRES ON THE LINN TRACTOR TRAILER TO VAPORIZE. SINCE THE ROAD IS NARROW I HAD TO PUT THE SPARE TIRE ON AND GET THE TRAILER TO THE EDGE OF THE ROAD. WE LEFT THE TRAILER WITH THE SAFETY TRIANGLES UP SO NO ONE WOULD HIT IT IN THE DARK.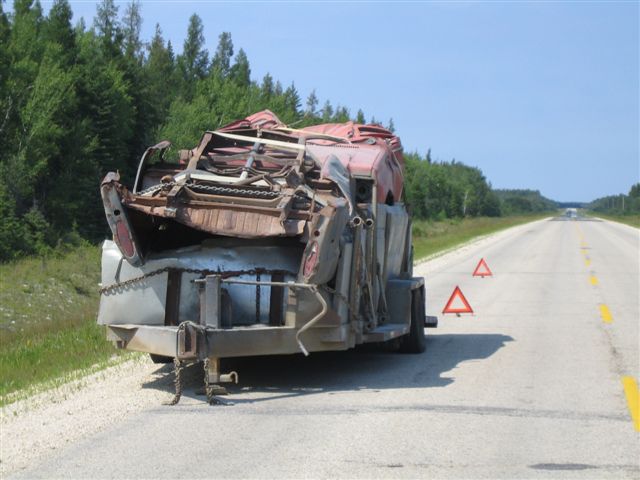 AT 6:30 AM, I PHONED MY DAD WHO WE CALL "SIR HENRY" IN COMPUTER LAND AND HE HEADED TO www.norberts.com TO GET PARTS. IN THE EARLY AFTERNOON HE HAD THE PARTS TO US WHICH IS NOT BAD FOR A FELLOW WHO IS 64 YEARS OLD AND DID 13 HOURS OF ROUND TRIP DRIVING IN ONE DAY. WE STARTED FIXING THE MESS AND WHAT A MESS IT WAS WITH BENT AXLES AND BROKEN PIECES.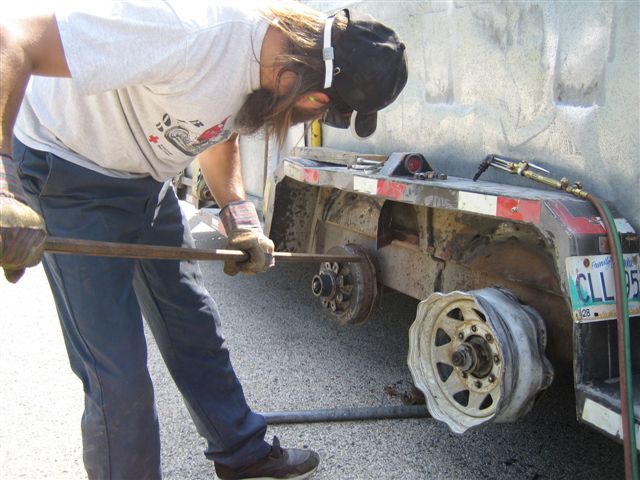 WE FINALLY MADE IT TO WINNIPEG MANITOBA AND GOT THE SCRAP METAL UNLOADED WHICH ONLY TOOK 3 DAYS INSTEAD OF ONE DAY. THEN WE HEADED TO BRANDON MANITOBA TO STAY WITH MY PARENTS AND DO A LITTLE VISITING. WE STOPPED BY TO SEE A FELLOW WHOSE HANDLE IS SYLVESTER IN COMPUTER LAND. THIS NICE D2 CAT IS ALL RESTORED AND LOOKS EXCELLENT COMPARED TO WHAT I GAVE HIM 4 YEARS AGO. WITH TRACK GROUSES LIKE THAT ON THE CAT, SYLVESTER MUST VISIT A FANCY RESTAURANT A COUPLE A TIMES A YEAR TO BE FORGIVEN FOR THE DAMAGE HE DOES TO THE GREEN GREEN GRASS. LOL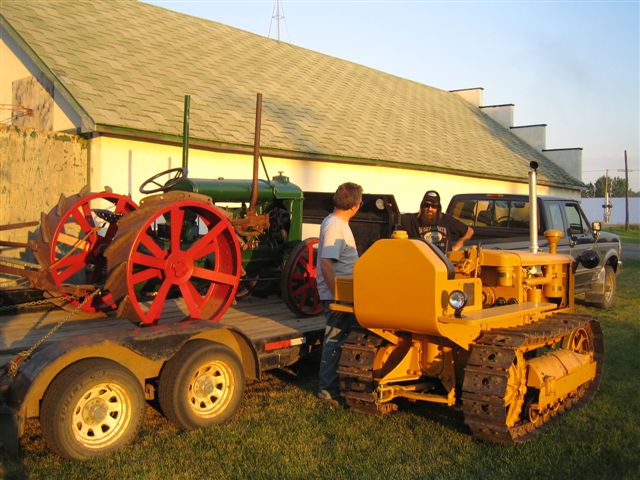 MY PARENTS DECIDED TO GET NEW KITCHEN CUPBOARDS IN THE HOUSE I CALL "MY INHERITANCE". I CAN'T FIGURE OUT WHY THEY WOULD REMOVE PERFECTLY GOOD CUPBOARDS AND EMPTY THE BANK ACCOUNT TO GET NEW ONES INSTALLED. THE WAY I LOOK AT IT THEY ARE SPENDING MY INHERITANCE BUT MY PARENTS ASSURED ME THAT THE NEW CUPBOARDS WILL INCREASE THE RESALE VALUE OF THE HOUSE. LOL SO INSTEAD OF PICKING UP XENA AND HEADING BACK TO THE GREAT WHITE NORTH, WE ENDED UP WORKING 3 DAYS TO GET THE OLD CUPBOARDS OUT TO MAKE WAY FOR THE NEW FANCY ONES.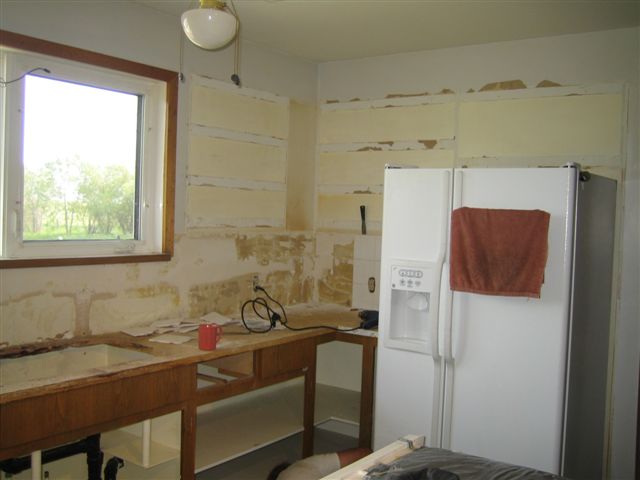 DOES EVERYONE REMEMBER THE SUBURBAN THAT WE CALLED "CHROMELESS"????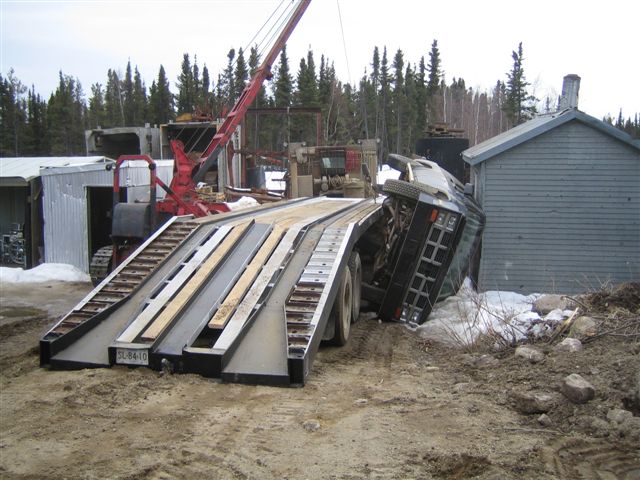 WELL THE VEHICLE HAS A NEW LIFE AFTER THE "BIG FLIP" AS WE CALL IT. MY DAD IS MAKING A STREET ROD OUT OF IT BY MOUNTING AN OLD STYLE BODY TO THE FRAME. RECYCLING AT IT'S FINEST.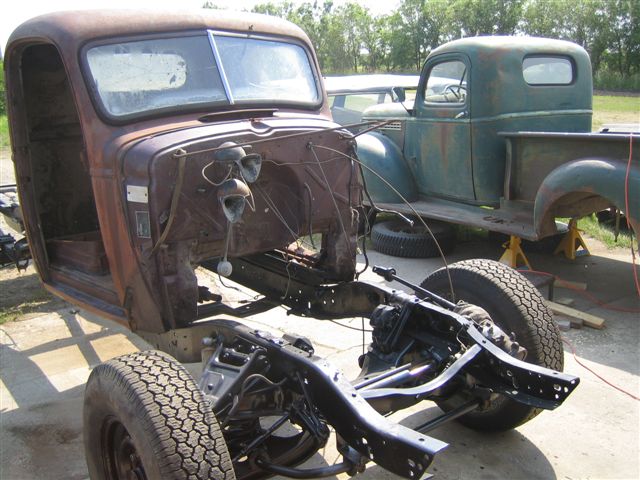 SO SOUTHERN BELLE REPLACED "CHROMELESS" WITH THIS NEWER SUBURBAN WHICH WE ARE CALLING "FANCY" BECAUSE IT HAS EVERY OPTION THAT GMC MADE THAT YEAR. PLUS WE HAD TO BUY ANOTHER TRAILER FROM www.norberts.com TO GO WITH "FANCY" AND TO HAUL THE OLD KITCHEN CUPBOARDS THAT MY PARENTS GAVE US. THIS POOR LITTLE TRAILER HAS ALREADY BEEN GIVEN THE NAME "TIMEX" BECAUSE IT WILL TAKE A LICKING AND KEEP ON TICKING.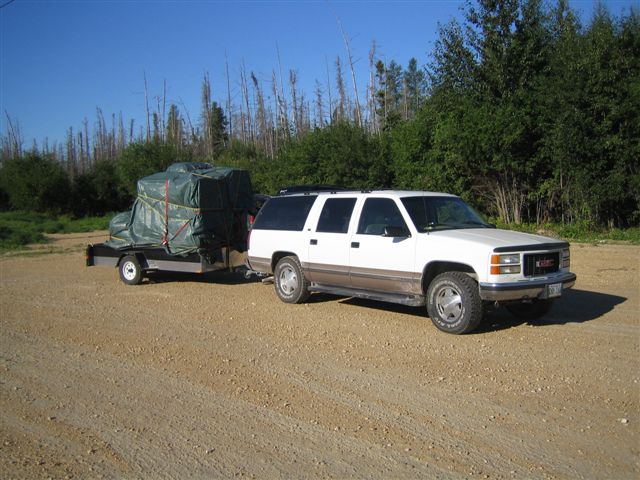 THE SCREAMING FORD HEADED HOME WITH A LIGHT LOAD OF LUMBER WHICH HE ENJOYED AFTER THE LOAD OF SCRAP METAL, LOL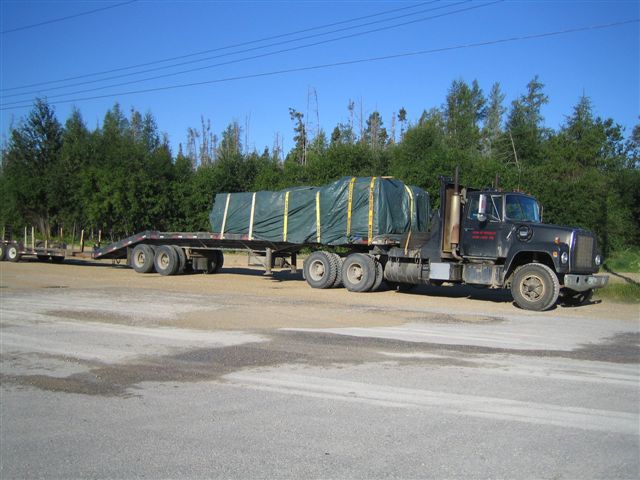 THANSK