COVER
OF
DARKNESS TOUR
I WENT TO ILFORD TO GET THE MAGNET SO WE CAN FINISH LOADING SCRAP AS PART OF THE CLEAN UP THE SCRAP YARD. WHAT A TRIP IT AS DUE TO THE WARM WEATHER CONDITION WHICH IS VERY UNUSUAL FOR THE GREAT WHITE NORTH FOR FEBRUARY 3 2005.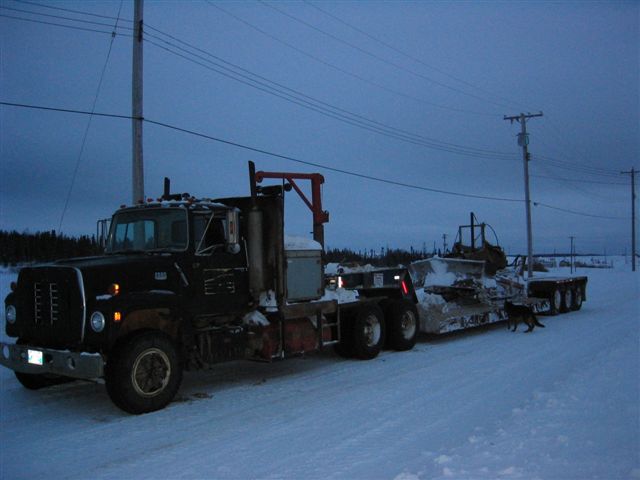 LOADED THE "FAMOUS BLACK CAT" ON THE LOWBED AND HEADED OUT.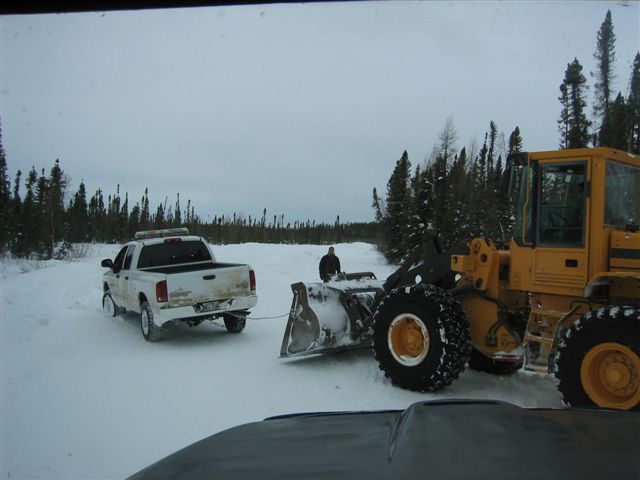 WITH THE WARM WEATHER CONDITIONS, EVEN THE POLICE HAD TROUBLE STAYING ON THE NARROW WINTER ROAD INTO YORK LANDING.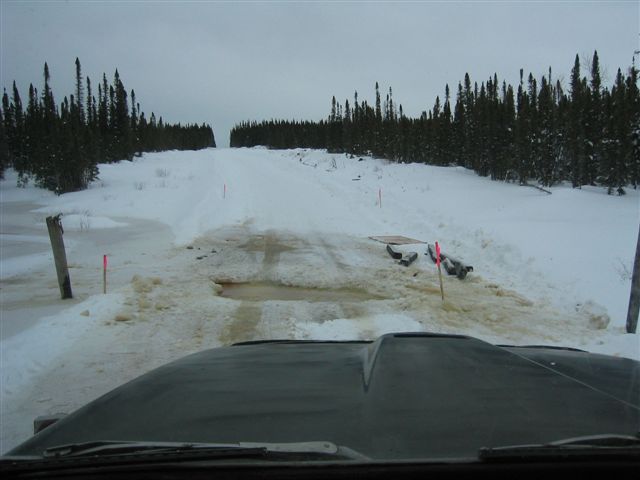 ON WINTER ROADS WATER IS ALWAYS A PROBLEM, SO AT THIS WATER CROSSING THE INSTRUCTIONS ARE SIMPLE. PUT THE RAILWAY TIES ACROSS THE HOLE AND DRIVE ACROSS, THEN REMOVE THE TIESSO THEY DON'T FREEZE IN AND BLOCK THE HOLE.
EVEN DRIVING BETWEEN THE POLE AND THE GUYS WIRES IS COMMON.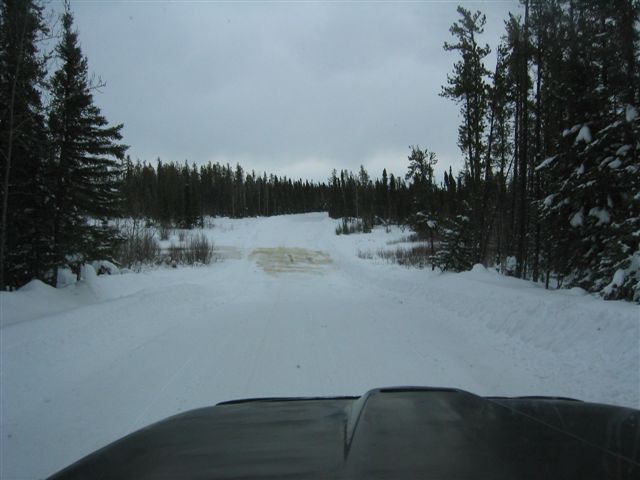 MORE WATER, LOVE IT, WANT MORE OF IT, LOL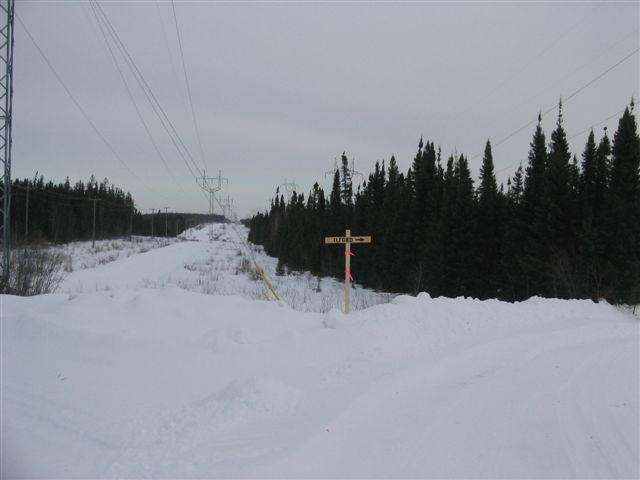 HIGH TECH SIGN, AT LEAST THERE IS A SIGN, MOST TIMES THERE IS NOT.
ARRIVED IN ILFORD WITH THE "FAMOUS BLACK CAT" WHICH IS NOT SO BLACK, MORE WHITE THEN ANYTHING.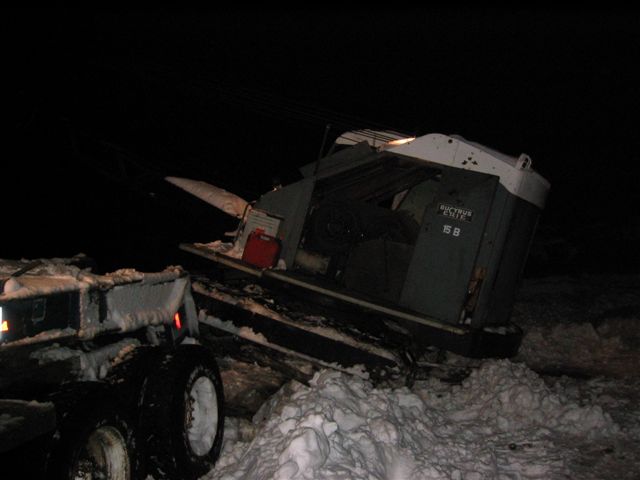 LOADING THE 15B DRAGLINE WITH THE MAGNET. LOTS OF FUN WHEN IT IS POURING RAIN, YES RAIN IN THE GREAT WHITE NORTH IS NOT GOOD.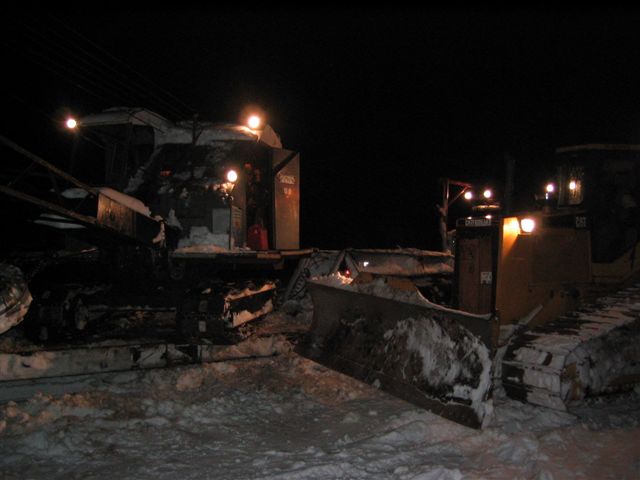 HAD TO GET JIM (THE FELLOW FEATURED IN THE CAT TRAIN NEWSLETTER) TO HELP LOAD THE DRAGLINE DUE TO THE WET CONDITIONS. ONCE AGAIN JIM IS A SMOOTH OPERATOR.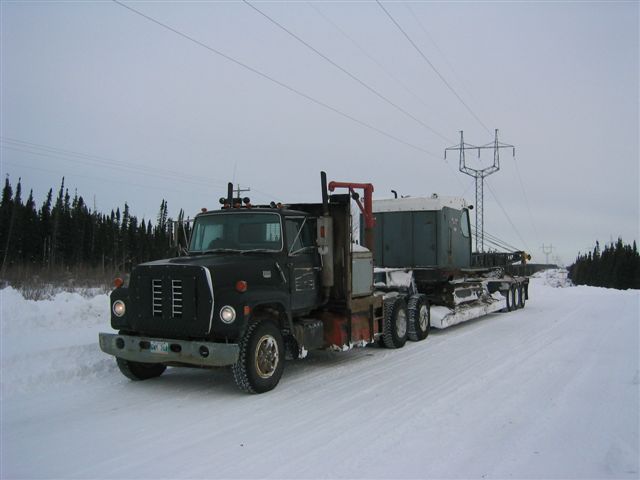 HEADING OUT WITH THE TIRE CHAINS ON, MORE TRACTION.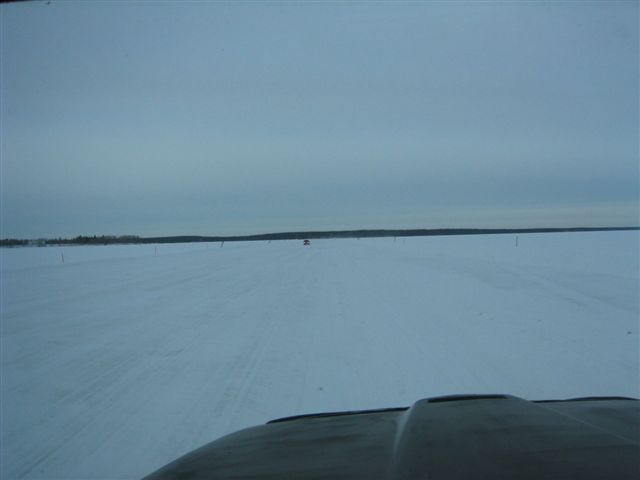 HEADING ACROSS THE NELSON RIVER TOWARDS SPLIT LAKE COMMUNITY.
EXCELLENT TRIP AND CAN'T WAIT TO DO IT AGAIN. THANSK