THE FOLLOWING PICTURES WERE TAKEN BY COLT-60 (HANDLE NAME MEANS COLT CIGARS AND MINUS 60 BELOW). COLT-60 AND THE BOYS WENT TO TADOULE, MB AT MINUS 47 TO MINUS 60 AND FINISHED THE CONTRACT IN THE ALLOWED TIME FRAME. WHEN THEY LEFT MY YARD IN JANUARY THEY SAID THEY WOULD BE BACK IN 2 WEEKS ON TUESDAY. I SAID TO MYSELF "YEAH RIGHT, SEE YOU GUYS IN 2 DAYS BECAUSE OF THE EXTREME COLD". SURE ENOUGH, ON THE "TUESDAY" MORNING THEY WERE STANDING IN MY YARD WITH PICTURES THAT THEY HAD MADE IT TO TADOULE AND BACK AND THE ROAD IS OPEN. I HAVE POSTED COLT-60'S PICTURES HERE FOR EVERYONE TO ENJOY, THANSK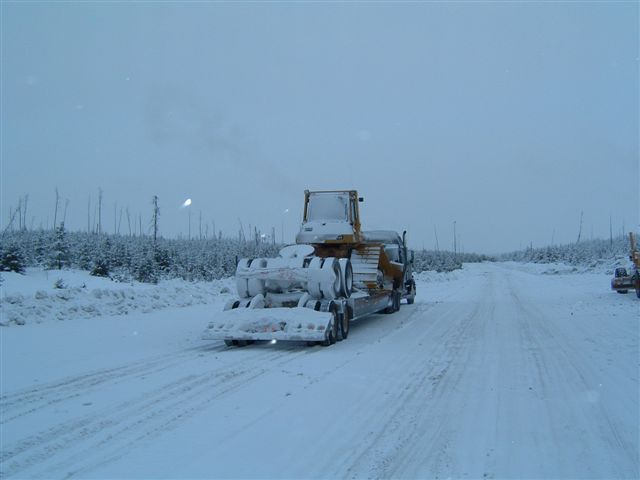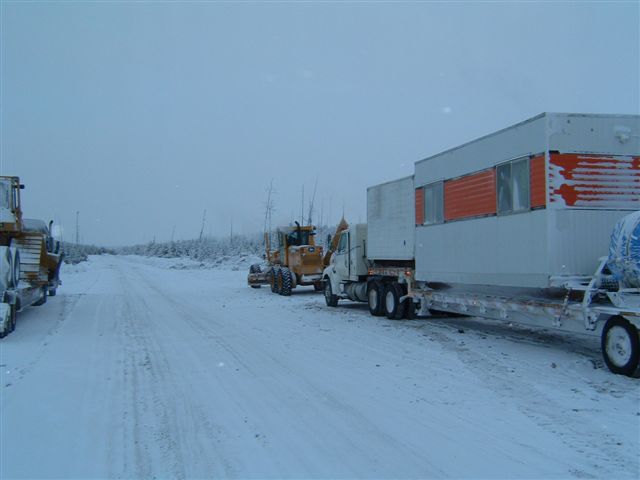 THIS IS THE START OF THE WINTER ROAD. IT WAS -22C, THEN IT GOT REALLY COLD.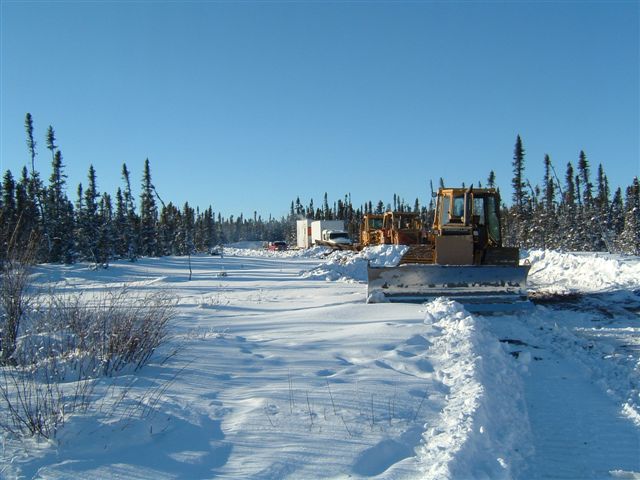 ALL THE EQUIPMENT TRAVELING TOGETHER
TWO CATS PLOWING THE SNOW OFF TO MAKE THE WINTER ROAD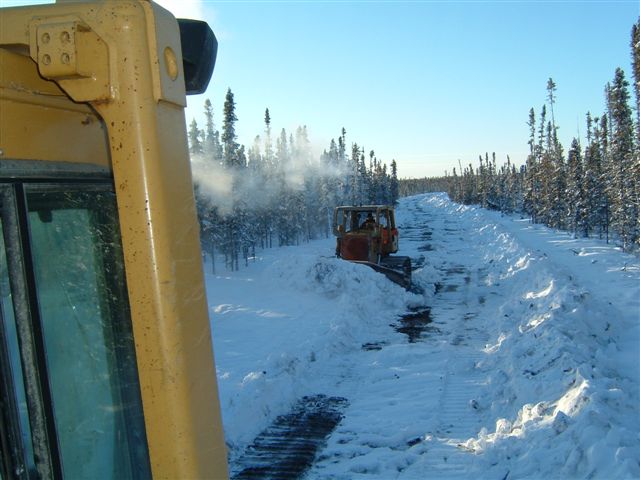 YOU KNOW IT IS COLD WHEN YOU SEE EXHAUST FOG, NOW THAT IS COLD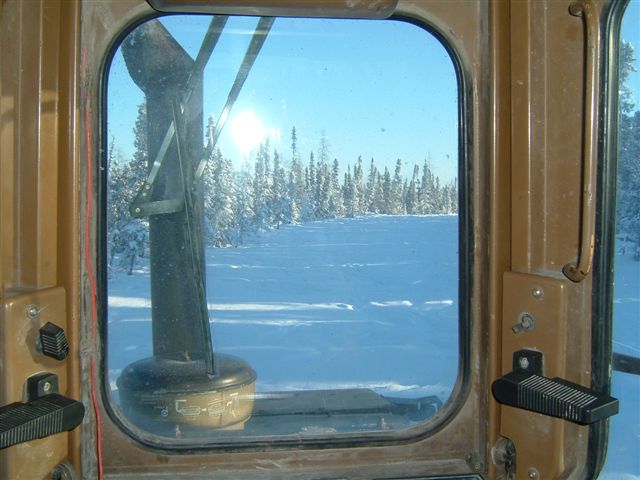 THE VIEW FOR THE 14 DAYS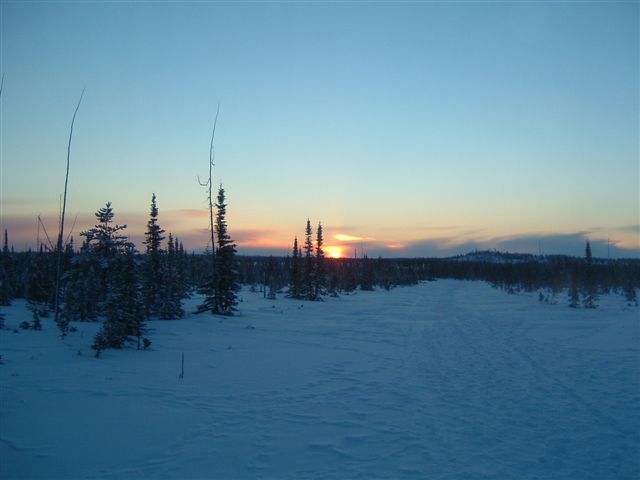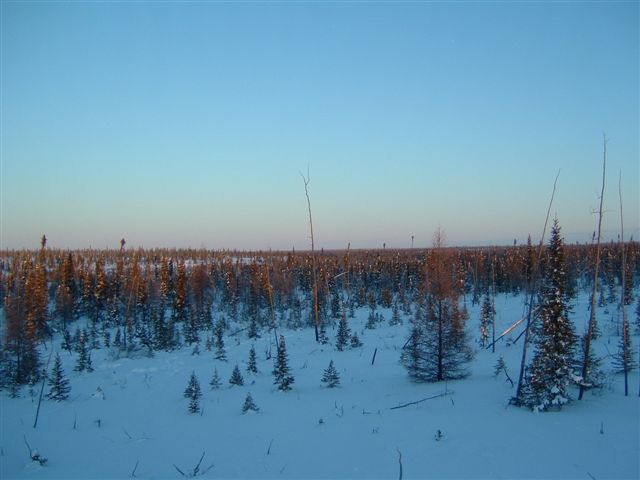 BEAUTIFUL COUNTRY AND IT IS KNOWN AS THE LAND OF LITTLE STICKS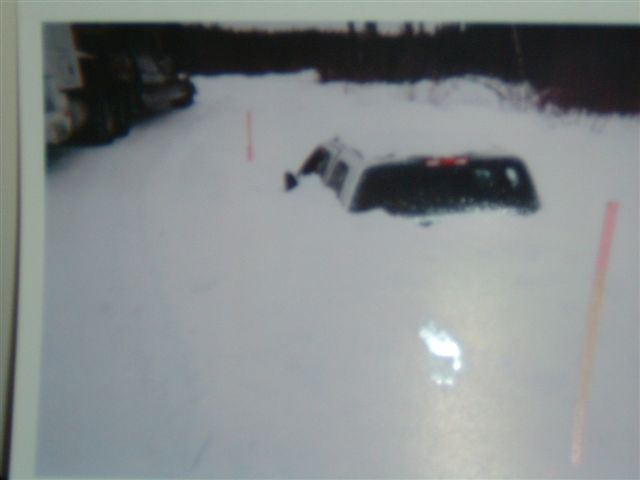 ONE WAY TO WASH YOUR PICKUP TRUCK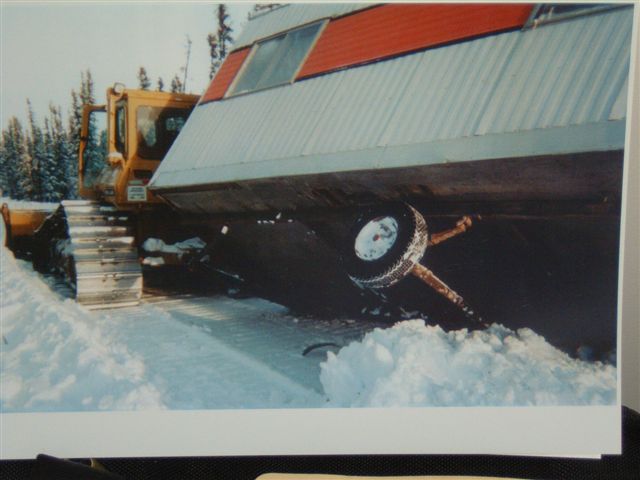 NOW YOU SEE WHY SOUTHERN CAMP TRAILER JUST DON'T LIKE THE NORTHERN ROADS, THAT IS WHY THEY ARE MOUNTED ON TOP OF SEMI TRAILERS.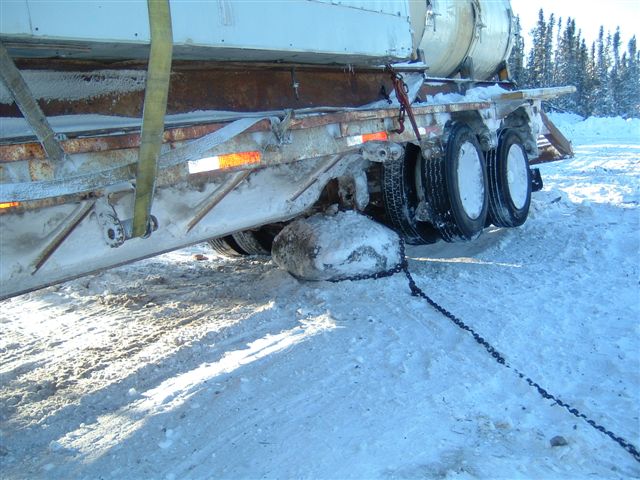 THE ROCK JUMPED OUT IN FRONT OF THE TRAILER AND THAT IS THE STORY AND THEY ARE STICKING TO IT. LIKE TO HEAR THE ROCK'S SIDE OF THE STORY.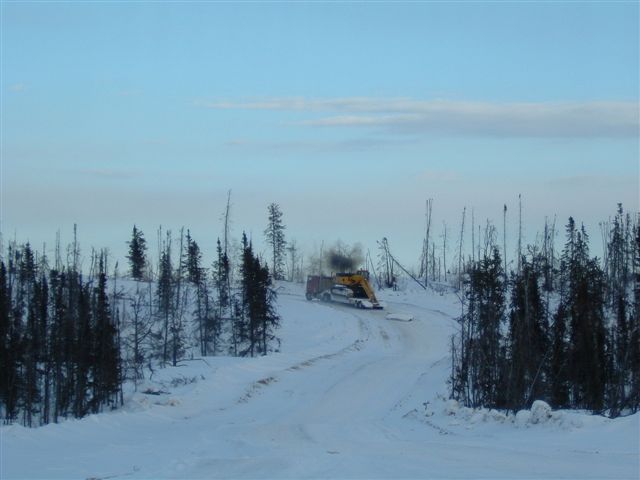 THE HILL DOESN'T LOOK THAT STEEP BUT IT IS VERY SLIPPERY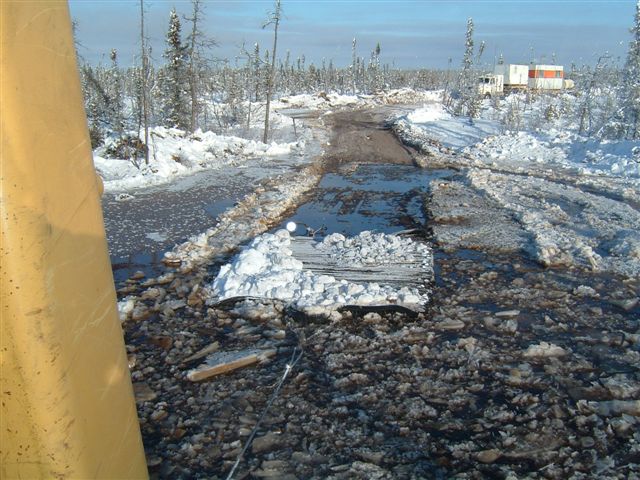 WATER CROSSING ARE ALWAYS FUN AT FREEZING TEMPERATURES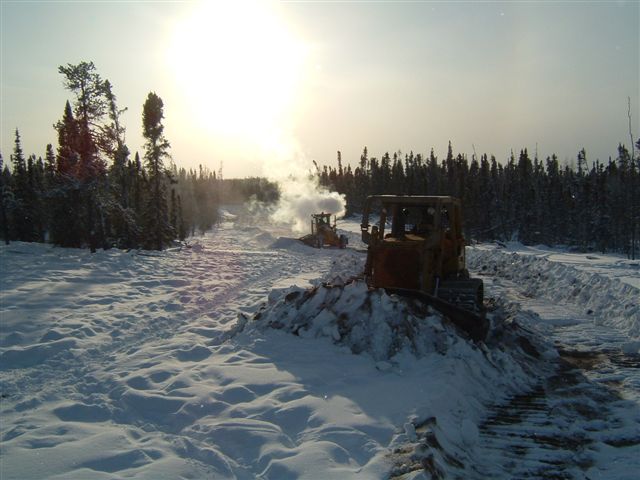 BOY IS IT COLD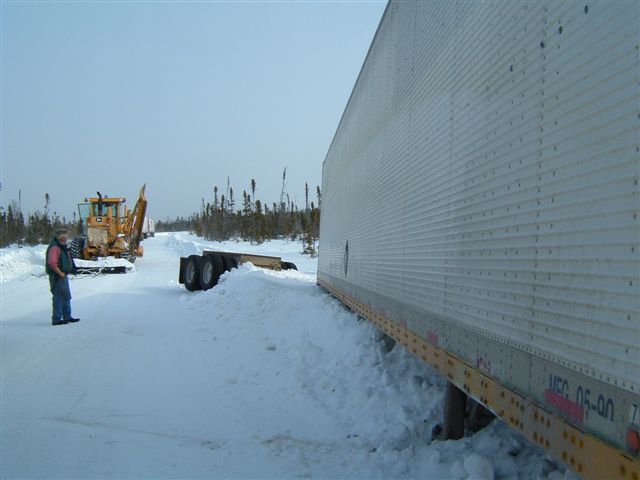 THIS IS WHAT HAPPENS WHEN YOU DRIVE LIKE YOU ARE ON A SOUTHERN HIGHWAY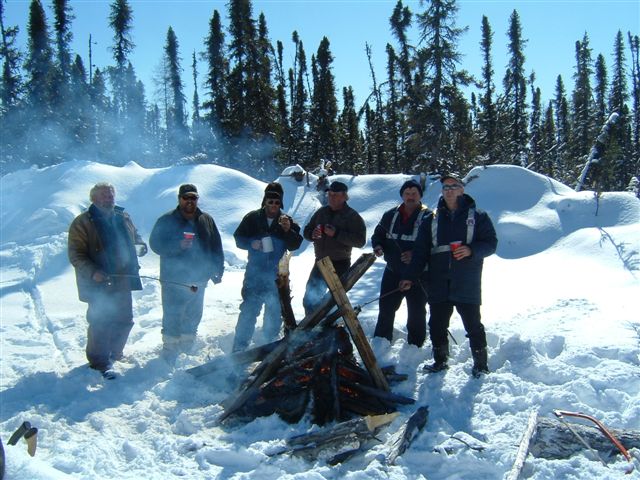 THERE IS TIME TO RELAX TOO AND ENJOY THE GREAT WHITE NORTH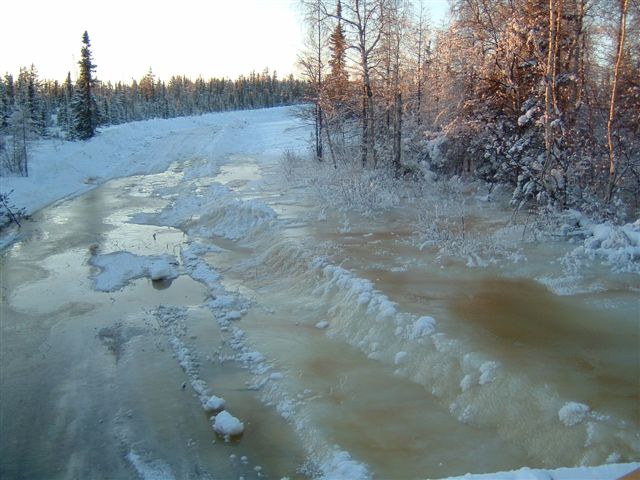 WATER IS A FACT OF LIFE, BUT IT DOES CAUSE SOME PROBLEMS WHEN IT FREEZES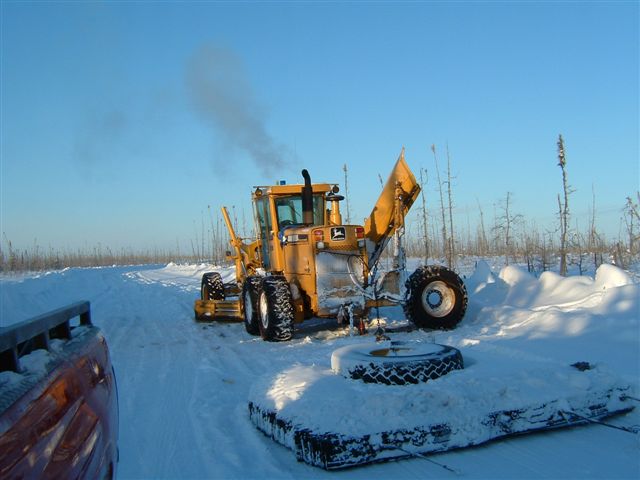 ANOTHER ONE OF THOSE FAMOUS JUMPING ROCKS BENT THE RIM ON THE TIRE OF THE GRADER. THE NEAREST REPLACEMENT RIM OR TIRE SHOP IS ONLY 10 HOURS AWAY ONE WAY. THE JOYS OF WORKING IN THE GREAT WHITE NORTH.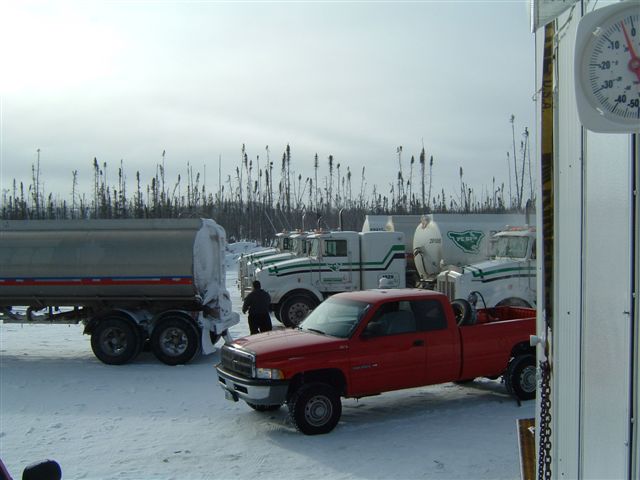 SOME OF THE TRUCKS HAULING ON THE WINTER ROAD STOPPED AT COLT-60'S CAMP FOR COFFEE AND A MEAL. NEXT YEAR COLT-60 IS GETTING HIGH CLASS WAITRESSES AND FRESH DONUTS TO MAKE THESE TRUCKERS FEEL LIKE DOWN SOUTH AND NOT 300 KM IN THE MIDDLE OF A FROZEN GREAT WHITE NORTH.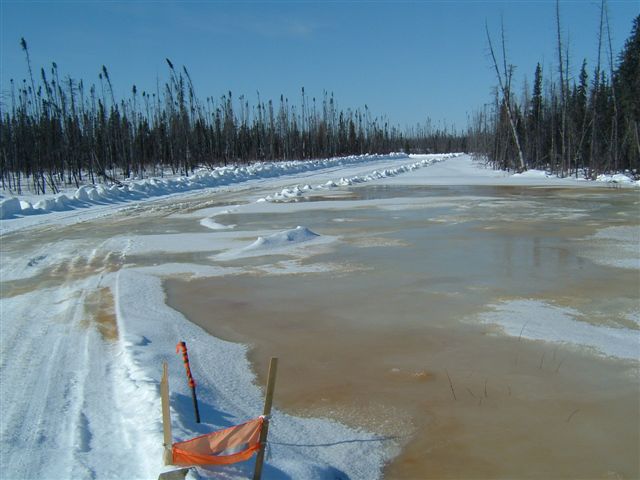 BUILDING THIS ROAD IN THE GREAT WHITE NORTH HAS THE SAME PROBLEM OVER AND OVER AGAIN. WATER OR ICE CROSSING THE ROAD, IT HAPPENED IN NUMEROUS SPOTS AND IF NOT CONTROLLED THE WINTER ROAD WILL CLOSE EARLY. SO COLT-60 MADE SURE THE ROAD WAS IN GOOD SHAPE AND USEABLE UNTIL MARCH 29 2004. WHICH WAS A VERY GOOD SEASON AND ALL THE FREIGHT WAS HAULED IN.
TO SEE MORE ON THESE CANADIAN WINTER ROADS CALLED ICE ROADS, CLICK ON www.thedieselgypsy.com WEBSITE OR http://www.thedieselgypsy.com/Ice%20Roads-3B-Denison.htm
THANSK